I have to say, I wasn't too sure what I was going to see tonight, and I naively didn't research it, thinking it would be a musical based on the life of the late Michael Jackson...Well, I was wrong but I have to say this time I don't mind..
With sparkly black trilby's everywhere you looked, the theatre was certainly alive with many a MJ fan.
The set was simple but effective with stunning colours running through it… Sound and lighting teams did extremely well tonight with no issues whatsoever. Ran very smoothly and was impressed with the video wall and special effects.
The band, cleverly hidden at the back of the stage produced a sound that I'm sure Michael himself would have been proud to perform to with some fabulous cameos, on stage, from the guitarists.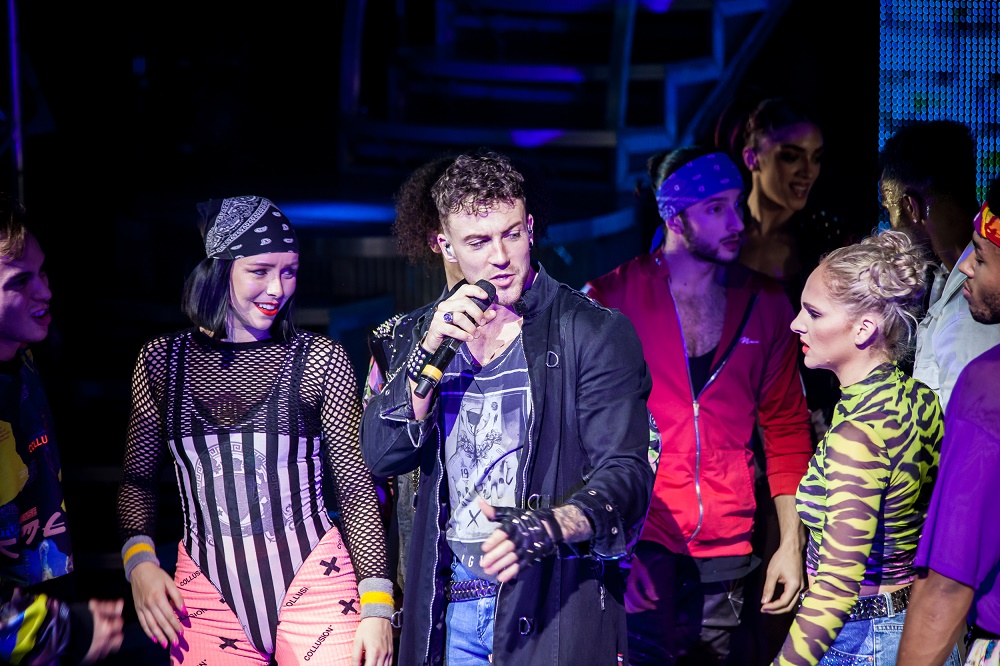 My only real negative on this production, I'm afraid to say, is that I didn't really care for some the costumes – I believe they looked tired in some places and that they didn't fit properly in others... I like the red 'club' dresses and suits – they were spot on and the MJ costumes were fantastic but others need a little look at.
The choreography was certainly a little mixed to say the least, taking us to the dark streets with a tango inspired routine and then street and disco in the next breath. Very clever, innovative and for the most part, a treat to the eyes with some very talented dancers to execute the fast paced routines.
The company of dancers and vocalists worked very well together and seemed to enjoy every second on the stage. Their energy was matched by their enthusiasm.
The vocals were provided by some seriously talented people and it would be remiss of me not to mention them by name. For me, resident director and vocalist Britt Quentin emulated Michael in vocals and the smooth tones he produced were fabulous. He was matched though, very well, by the other 3 vocalists Ariana Louise, Joseph Thomas and Warrington born David Julien who made his headlining debut last night. If any of these talents had any opening night nerves, it certainly did not show and they performed Michael's classic hits with absolute ease. From Motown to disco to pop, the show had it all.
Having said all of this, I have to pick out the following young man, Kieran Alleyne, for his outstanding performance as 'MJ'. His dance routines were simply sublime and could not have been any better. You could actually imagine that it was Michael up there. He was, in a word, phenomenal. The moonwalk was obviously a particular favourite of the audience, and he performed this so well – almost like his feet weren't even touching the ground and there was also a big cheer when he and his fellow male dancers, did the 'smooth criminal tilt' (my personal favourite move of MJ's). It was superbly executed. And if that wasn't enough, he then wowed us with his vocals in his performances of 'Billie Jean' and 'Thriller'. He is a true talent and I'm sure Michael himself would spot this in a heartbeat.
It's very easy to forget just how many wonderful songs Michael produced and as he certainly left us too soon, we wonder how many more were to come. My favourite of the night was the beautiful rendition of 'Earth Song' performed by the entire cast and that even as I write, is giving me chills.
It is very obvious to anyone watching this, that this is not a 'job' for the cast; it is a calling of such. Their enthusiasm, love and passion for Michael was massively evident on this stage tonight so well done all, on a terrific show and long may it continue. I encourage people to see this but to go with an open mind. It's not quite what you would expect and is a little slow off the mark but once it gets going, it really gets going…
Enjoy the rest of your run and your tour guys, you certainly deserve to.
https://www.atgtickets.com/shows/thriller-live/palace-theatre-manchester/
Reviewer: Hazel Bumby
Reviewed: 10th February, 2020
North West End UK Rating: ★★★★