Filled to the brim with sequins, glitter and sass; Insane Animals take us on a journey from the beginning of time to the future. The shows two glamorous Gods (Bourgeois & Maurice) are on a mission to save humans from extinction.
Insane Animals is the culmination of HOME's distinctive and pioneering project, the T1 Commission, launched in 2017. With generous support from PRS Foundation's The Open Fund and The Foyle Foundation, The T1 Commission aims to bring the next generation of the UK's most visionary and acclaimed artists to the main stage. It's an opportunity for pioneering theatre makers to make new work on a bigger scale.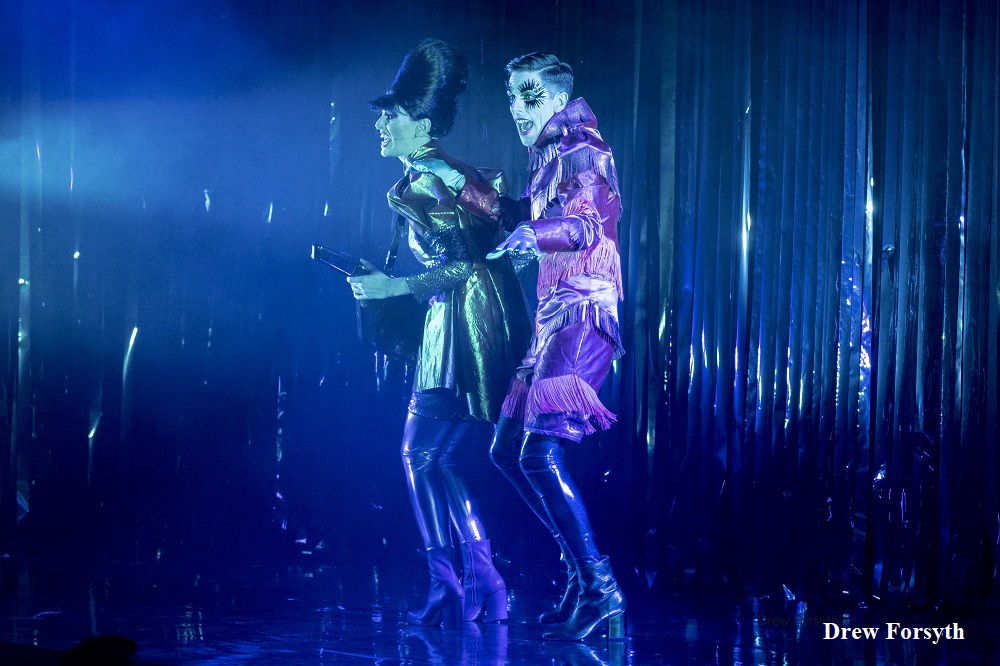 This is a musical like no other - at times it feels like a drag show and others it felt like stand-up comedy. It is certainly very funny with a nice score and good choreography.
Bourgeois & Maurice are very unique and difficult to describe. My impression was that they are non-binary characters with a flamboyant dress sense and at times a wicked sense of humour. That being said they are genuinely talented singers and given they wrote this show, great scriptwriters.
Directed by Phillip McMahon, the production is awash with talented actors, musicians, singers and dancers. It is a joy to watch this journey with more than a hint of glitter.
The props and set for the show are bright and futuristic, bringing the production to life. The costumes were an absolute favourite of mine. I am not sure how Maurice's hair stayed intact for the duration of the show, but somehow it did. The costumes were made from latex, glitter and satin just to name a few. All designed by Julian Smith who boasts credentials with Victoria Beckham and Sink The Pink.
Lyrically the songs are really smart. The comedy duo embarks on an impressive rap at the beginning of Act Two, which left me in awe of their breath control.
There is a lot of political references in the show, which made the audience chuckle. It is definitely relatable and left me questioning were they trying to show that us as humans are the Gods now and in control of our own destiny.
A special mention has to go to Lockie Chapman in the role of Gilgamesh. He has a fantastic baritone voice and brought a quality to the character that I couldn't imagine anyone else playing that role.
If you're looking for a bit of sparkle and a bit of craziness, then Insane Animals is definitely worth a watch. You won't be forgetting this one in a hurry that's for sure. https://homemcr.org/production/bourgeois-maurices-insane-animals/
Reviewer: Brian Madden
Reviewed: 4th March 2020
North West End UK Rating: ★★★★