Marisha Wallace at the Waterside Arts on her UK tour was a breath of fresh air on a rainy Sunday night! You felt lucky to be in a room with such an immense talent. Mariah Wallace has one of the best voices I have ever heard, with silky tones and insanely powerful vocals that blew me away. She absolutely blew the roof off with a beautiful mix of soulful and Musical Theatre songs.
Throughout the night she told her truly inspirational stories of her successes and failures. And these stories lead fittingly into her songs which made the two hours fly by.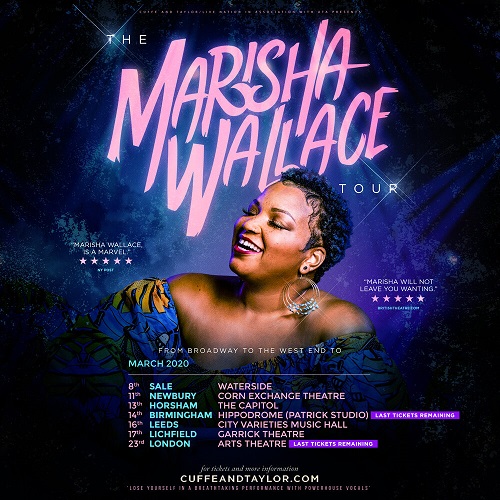 She spread warm positivity throughout the audience tonight and you felt like you really got to know her as a person. She was so honest and it felt really personal. There was some fun audience participation but not too much!
The strong band of 4 created a really full sound. There were 2 brilliant backing singers which added an extra layer of soul and warmth. Marisha spoke about her idols of music and sang some massive songs from them such as 'I Will Always Love You' (which earned her a roaring standing ovation) - rightly deserved!
Other incredible highlights include a jazzed up 'Heart of Stone' from the smash hit musical SIX. Marisha uses her musical theatre experiences to provide a masterclass in acting through song, she puts massive amounts of soul and emotion into her performance to leave you speechless come the end. Of course she couldn't leave the stage until she performed "And I am Telling you" she keeps you waiting but it is well worth it! https://www.marishawallace.com/
Reviewer: Eugene Griffin
Reviewed: 8th March 2020
North West End UK Rating: ★★★★★