As pandemics escalate and politicians prevaricate, group gatherings become 'terrifyingly intimate' in themselves, and an evening of music that promises 'real darkness' might not be what the doctor ordered. However, an evidently subdued Manchester Collective (who have already had future shows cancelled courtesy of Covid-19), facing the uncertainty and insecurity of so many freelance artists in the current situation, poured their heart and soul into the music of Gesualdo, Britten and Shostakovich to provide an apt soundtrack to the times in which we are currently living.
These three works are connected by their musical articulation of things that are difficult to say, allowing the string quartet to do the legwork, evocatively conveying deeply felt emotions. The evening opens with Gesualdo's expressive madrigals which give a small insight into the mind of the hugely troubled 14th century composer. Britten's String Quartet No. 1 provides moments of ethereality and virtuosity. This is a work of contrasts and juxtaposition which lives up to the title of this programme of work.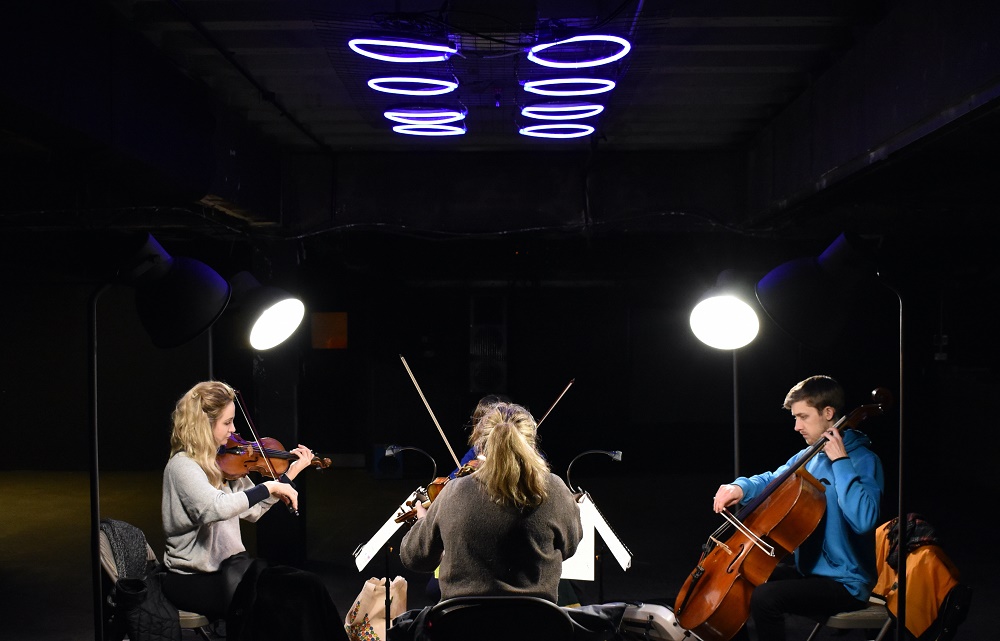 The quartet perform the work with flair and in the more humorous moments of Britten's composition there is a playfulness to their delivery as they appear to try and catch one another out. The lighting design enhances the music's resonance and the setting of the four performers facing one another adds to the intimacy of the performance.
The audience feel like voyeurs; able to see the annotated sheet music and observe the moments of eye contact and connection between the performers. The White Hotel's sparse décor and chill add to the emotional resonance of the performance, with the former garage's corrugated iron shutters providing some additional percussion. There was also a moment when as a movement ebbed away a distant siren began further underscoring the work. Shostakovich's String Quartet No. 8 completes the evening's performance. This is the most loved of the Russian composer's string quartets, performed more frequently than the other fourteen. Written over three days in 1960 when Shostakovich was visiting the former Communist state of East Germany the work was originally dedicated to victims of Fascism and war but more recent analyses have proposed that it is an autobiographical piece reflecting Shostakovich's suicidal state at this time.
Musically ambiguous, the work - like Britten's - runs the gamut of emotions with discordant bursts, repeated motifs and moments of harmonic resolution - which appear like the sun through the clouds. Here the performers are totally in sync absorbed by the complexity of Shostakovich's writing and the piece's rich sorrow. Manchester Collective have developed a reputation for thought-provoking programmes, performed with technical proficiency and emotional resonance, Cries and Whispers adds to their portfolio and we hope to see them back creating work in the future.
Reviewer: Clare Chandler
Reviewed: 13th March 2020
North West End UK Rating: ★★★★★