As we continue with closed theatre doors, the Royal Exchange Theatre has stepped forward with a reading of an Olivier Award winning play that was written by Katori Hall. Directed in 2016 at the Young Vic, by the current Co-Artistic Director of the Royal Exchange Theatre, Roy Alexander Weise; this play has been reprised with its original cast, to perform a reading to communicate the plays important message, to assist in igniting community spirit.
In partnership with Desara Productions and introduced by Katori Hall; the two artists perform the play from their homes.
For those who have been watching plays at home for the last few weeks, it is a familiar sight to see actors framed by the computer screen. In this case there is a background of a motel room to give the mind some encouragement to picture the scene. On 4th April 1968, Dr Martin Luther King Jr was assassinated on the balcony of his hotel room at the Lorraine Motel, Memphis.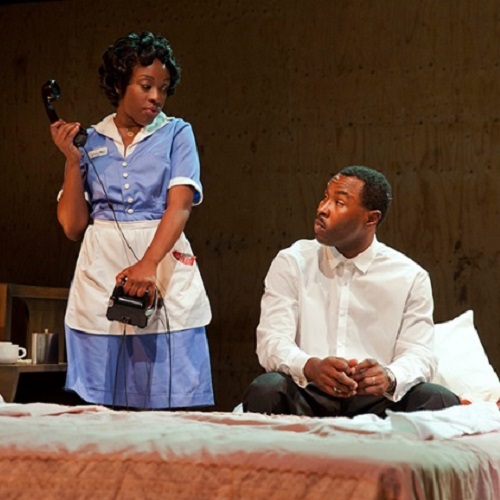 This fictional story is set on the evening before the assassination, when King (Gbolahan Obisesan) settles into his motel room; tired after a busy day. He wants some coffee, so he orders it from room service, and kicks off his shoes to look at his sermon papers. His room service order arrives brought by Camae (Ronke Adekoluejo), and they ease into conversation. He discusses a March where looters were taking TV's and a young boy Larry Payne age 16, was shot by police. The marchers were demonstrating for an increase in wages during the Memphis Sanitation Strike.
During the reading we begin to question why is Camae there? Who is she? It is easy to see why she would be interested in him; he was well known as a womaniser and Adekoluejo plays her role teasingly, playing with King, pushing his buttons to see how far she can push him. There is clearly an attraction there, at least from his side, but there is still the question of why does she know so much about him? You will have to watch the play to find out the answer to that question!
Obisesan plays the role of King as a man who is worn down by his commitments, the attempts on his life, the arrests. He has a scratchy voice from making speeches and probably too many cigarettes. We see a man who is an easy leader with ambitious ideas and has had the energy to whip up the people to follow him; but he is weary. On this; the day before he died, he made a speech entitled 'I've been to the Mountaintop' in Memphis, it was a stormy night and the lightening made him edgy. Even though he was a powerful man, Hall's script and Obisesan's performance, bring out a vulnerable side to a character who has fears and flaws, just as we all do. Adekoluejo shows a wild side to Camae which King appears to be attracted to, she is free with no pressures, as far as he can see.
Having not seen the original play, I cannot compare this version to the original, but even though it is fictional, it is based upon some true events and gives us Hall's version of how King may have spent his last night. As a reading, the performances jump off the page and bring the text to life. I would urge you to tune in to see this production quickly, as it only has a short run.
The play is available to watch until 15th June 2020 and is definitely worth viewing by going HERE. This is a fundraiser for the 'Mid-South Peace and Justice Center's Black Lives Matter Community Bail Fund' if you would like to donate.
Reviewer: Caroline Worswick
Reviewed: 10th June 2020
North West End UK Rating: ★★★★★