What can anyone possible write about someone who has already received more awards and been nominated for many more, than it is decent for any one person to have in a lifetime? A lady who made her professional stage debut in 1958, and has been wowing and wooing audiences continuously ever since? - But most of my family simply said, "who?" when I told them where I was going. So I said, she played the young female gold-digger Lily St. Regis in the film Annie to my sister; she plays Gloria in Mozart In The Jungle on Amazon Prime to my brother-in-law; and she is America's answer to Elaine Paige to my mum, who all then were satisfied.
It is 18 years since the wonderful Bernadette Peters last graced the UK with her presence, and I was amongst the lucky crowds thronging at Manchester's Opera House to hear her at the second of only three UK dates.
I have rarely seen the Opera House so full. I have never heard it so quiet. The whole audience hanging on to every syllable from this amazing performer. No-one shuffled in their seats; no-one ruffled sweet wrappers; no-one coughed. Instead we all listened intently and exploded in spontaneous bursts of applause at the end of every song.
As this multi-award winning performer stood on stage with her trademark ginger locks, and sang with that slightly gravely, raspy voice which she uses so well it was impossible to believe that she is already 68 years old. A Broadway icon, and recognised as one of the foremost interpreters of Sondheim, Peters has starred in the original Broadway casts of Into The Woods and Sunday In The Park With George, and has just finished playing opposite Elaine Paige in the Broadway Revival of Follies.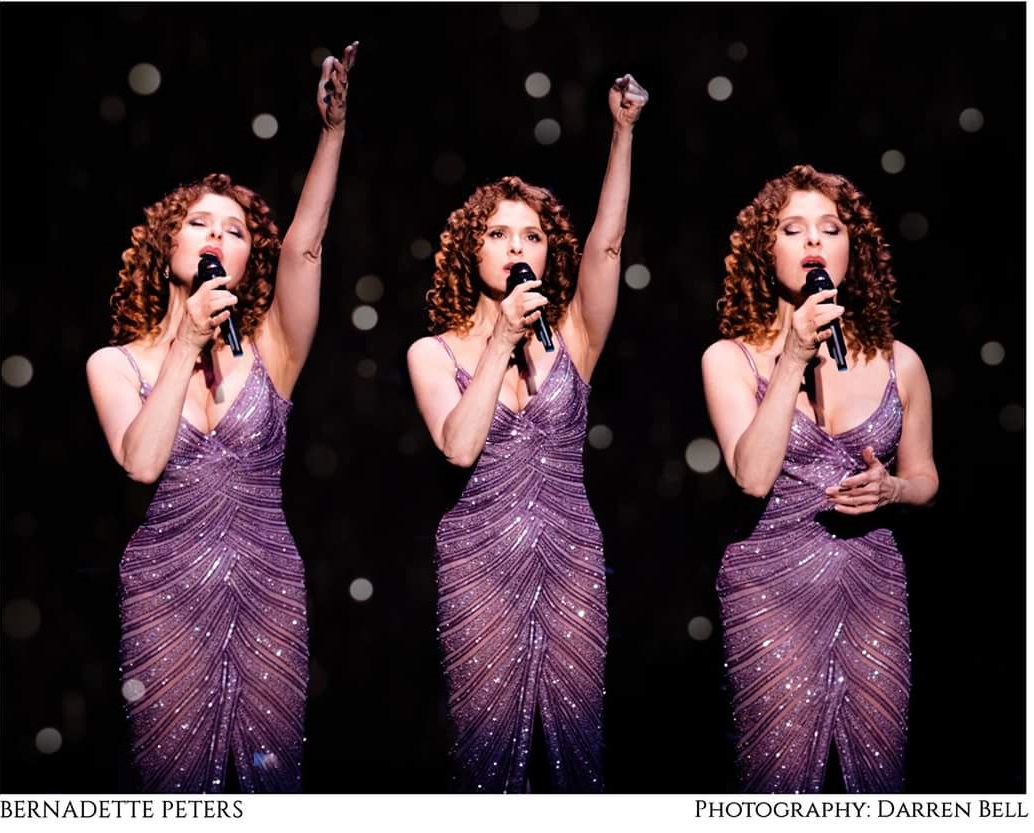 A consummate actress and performer, her personality shining through every song, astounding the audience with not only her ability but congeniality too. She introduced every song, and made a couple of little jokes along the way too; as well as introducing us to her 11-piece onstage band individually, including her pianist and Musical Director, Marvin Laird, who has been actively collaborating with Peters for over 40 years!
Everything about this concert was perfect, except its length. The time went so quickly that the 90 minutes was over before I had time to take a breath! Peters sang songs from several Sondheim shows, including of course songs from roles she had interpreted in both Into The Woods (Children Will Listen), and Sunday In The Park With George (Move On).
She also sang Peggy Lee's hit, Fever whilst lounging seductively on top of the grand piano, performing it better than even the great Peggy Lee ever did, and a better interpretation of Losing My Mind from Follies just simply will never be found!
I would have liked her to have sung a few more up-tempo songs if I have to be truly honest - but she stuck with her cavallo di battaglia, and sang some truly poignant and heart-rending versions of well-known Musical songs, even crying herself in one.
What an absolute star of the stage," a trailblazer of our generation, and an artist who has reinvented the expectations of acting through song." (Neil Eckersley). Of course, Miss Peters is not only a Musical Theatre performer; she is an actress and children's book authoress too; but it is with the modern Musical Theatre genre that she will be forever remembered.
I should also make credit here to the band who worked with Peters so wonderfully, and also the lighting, which was creative and (excuse the pun) absolutely spot on!
A genuinely touching, human performance from a Broadway goddess, and a concert that will live within me for a long time to come. What a pity that Peters has yet to star in a West End show... maybe by seeing how enthusiastic her UK fan base is, she might now be tempted...??
Reviewer: Mark Dee
Reviewed: 5th June 2016
North West End Rating: ★★★★★