The original Lady Sings The Blues was the title of Billie Holiday's autobiography first published in 1956 and was also the title of a film of the same name released in 1972 and starring Diana Ross. Billie Holiday was the stage name of Eleanora Fagan, born in 1915 to a teenage and unwed couple and she had a troubled and difficult childhood which followed her into adulthood. Holiday had great influence on pop singing and jazz music during her 30 year career before her tragic life of abusive relationships and a drug and alcohol addiction ended her life in 1959.
Val Wiseman is the lady singing the blues this evening, supported by a wonderful six piece band comprising of, Alan Barnes saxophone, Ben Cummings trumpet, pianist Brian Dee, drums Eric Ford, Len Skeet-double bass, and Roy Williams on trombone. Although classed as a tribute show, Wiseman does not attempt to emulate Holiday with mannerisms and is an incredible jazz singer in her own right and a natural choice for recreating and celebrating the life of Holiday. She is an elegant and humble lady and seems to truly appreciate the applause given to her and the band. Wiseman has been singing since a child and joined her first jazz band in 1960 at the age of 18 and has continued to perform ever since.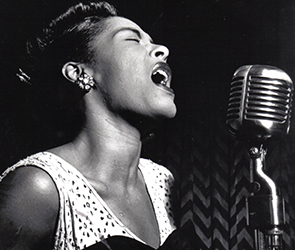 Performing to an almost full auditorium, the band were a little overpowering for Wisemans first number and the sound levels were much better for the second song aptly titled 'That's Life I Guess' followed by 'Miss Brown To You', 'All My Life I Have Been Waiting For You' and 'Me, Myself and I'. There were several other sound issues occurring during the show with Wiseman asking for a monitor to be turned off and other members indicating for levels to be lowered/increased at times. I found it distracting that other members talked amongst themselves during other members' solo performances. The stage was simply set with just the band and instruments with a twinkling star curtained background and various coloured spotlights to emphasise the mood of songs.
There followed an excellent instrumental of 'Lady Be Good' before the band left the stage leaving just the pianist Dee with Wiseman, performing a beautiful number 'God Bless The Child' a song Holiday wrote along with her pianist Arthur Herzog,Jr inspired after a row with her mother, leaving the audience totally mesmerised.
Between songs, softly spoken Wiseman relates the background story of Billie Holiday, which is interesting for those unfamiliar with it and gives insight to many of the song choices during the evening. The show is as much about the jazz music as the singing and Wiseman and the band have a good rapport between them. Throughout the show each musician has the opportunity to show off their skills and we were not let down by any. Wiseman frequently steps back introducing and seeking applause for them, which is freely given. During the last two numbers Cummings added some nifty dance steps to his brilliant playing of the trumpet and this was something I would have liked to see more of. Although saxophone is my usual favourite in a band, tonight I could not select one instrument above another, all artists performed in a relaxed and easy manner showing years of experience in their field.
It was interesting to hear about Holidays life throughout the show and the songs attributed to her during her career. At the end of the show despite calls for an encore, Wiseman and the band did not return and the audience were left wanting more... something that Holiday herself frequently did. Wiseman is elegant and sincere and is certainly the 'Lady Who Sings The Blues.'
Reviewer: Lorna Weekes
Reviewed on: 18th June 2016
North West End Rating: ★★★