What can I say? It may have been Too Darn Hot for a Summertime concert but as soon as the piano, bass, brass and Drum Boogie with Some Stuff Like That There it was Almost Like Being In Love, and when you started to Sing Sing Sing you too Soon had All Of Me, so Let's Face The Music And Dance!
Ok, I'll be serious now! I have heard and witnessed some excellent and famous Big Bands in my time, and through a wonderful and most unlikely friendship that developed between me and an old war veteran who lived close-by during my childhood, I was introduced to Duke Ellington, Nat King Cole, Count Basie, Ella Fitzgerald, Louis Armstrong et al and really loved this music. Although I daren't admit it at home, my dad liking and appreciating only Classical music and my mum listened only to home-grown favourites such as Val Doonican and Kenneth McKellar.
Tonight I really could not believe I was witnessing and hearing students. The Big Band sound had been given a slightly modern twist with the addition of an electric guitar, and even a xylophone for the last song in the first half, and the sound created was just amazing. Under the energetic leadership of Mike Hall, who bopped and swayed enthusiastically to every number, they created or re-created an amazing soundscape. Perhaps I would have liked to have heard maybe just one piece in each half that was band only, since their playing was so good.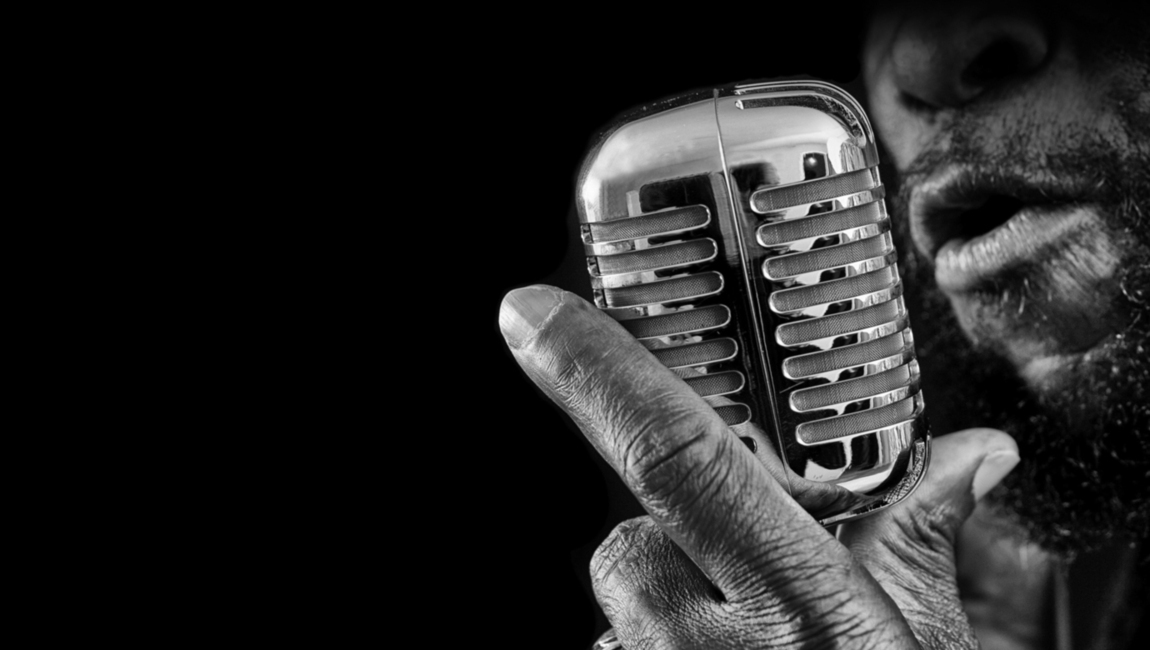 And of course, it only got better. Add to this 10 excellent soloists, who, over the course of the evening, sang 28 Jazz and Big Band standards with a few surprises thrown in with a professionalism and style worthy of the highest praise. On a stage decked out a la 1940s, including footlights and period mics, and the band placed behind with glitter curtains and a beautifully and imaginatively lit syc all adding to the atmosphere, these 10 young performers glided, crooned, tap-danced, sang, jitterbugged and entertained a willing and enthusiastic audience who were all disappointed when the concert ended.
It is very difficult to try and single out performers or songs which were better than the rest since all were simply excellent, so I will choose to mention those which pleased me the most. The whole show opened with three girls dressed in 1940s army uniform and in true Andrews Sisters close harmony style performed Boogie Woogie Bugle Boy to perfection, even down to the choreography. This was followed by a superb rendition by Rachel Abbott of George Gershwin's song Soon from the Musical Strike Up The Band. The next stand-out number came in the guise of David Thomas delighting us with not just his singing but dancing too with, Let's Face The Music And Dance. Another highlight in the first half was Drum Boogie, which saw Rachel Abbott flirt outrageously with the drummer to plenty of laughter and applause.
In the second act the showstoppers just kept on coming. My personal favourites here were Jake Robson's all-singing all-dancing interpretation of On The Street Where You Live; Kimberley Raw's hauntingly beautiful A Flower Is A Lovesome Thing; Ellen Lewis's cover of Sting's seductive and sensual Moon Over Bourbon Street; but the absolute highlight for me in the whole concert was an a cappella quartet singing the Manhattan Transfer arrangement of Eric Maschwitz's classic, A Nightingale Sang In Berkley Square.
Just in case I haven't already credited the 10 singers, then here they are. Rachel Abbott, Robert Brooks, Sarah Foubert, Eva Kyvalova, Ellen Lewis, Daniel McDwyer, Kimberley Raw, Jake Robson, Daniella Sicari and David Thomas. What makes this even more amazing is that these 10 performers were being taken somewhat out of their comfort zone for this evening's concert, as I am told that they are all studying opera at the RNCM. Well, if they don't make it as the next Carrreras or Caballe, they will always be welcomed as the next generation Frank Sinatra or Bette Midler! Amazing!
Reviewer: Mark Dee
Reviewed: 24th June 2016