The show begins with a grainy film of Elvis Presley at the very start of his career at the Sun Studios, (he first approached them wanting to record a song for his mother, 'My Happiness' which was produced for four dollars) Realising his potential Elvis was signed up and released 'That's All Right Mama' in 1954 which was performed tonight by Mario Kombou. Kombou has been performing as a tribute to Elvis for over 20 years and has trained as an actor and starred in the West End musical Jailhouse Rock as Elvis's character Vince Everett as well as television and film productions.
The show continues with archive film taking us through Elvis's journey of humble poor boy from Tupelo, Mississippi to his amazing success as the world's greatest musical icon, a true legend who lives on due to his wide and loyal fan base long after his death in 1977 and the demand for Elvis tribute artists continues.
The film clips, not all of good quality or sound, feature the many highs and lows of Elvis Presley's life, including his visit to the Sun Studios, The Grand Ole Opry, The Louisiana Hayride, the sad death of his beloved mother and appearances on the Ed Sullivan show. Kombou dresses as Elvis, sings as Elvis, but for the first half of The Elvis Years I felt did not truly connect with the audience as Elvis. With songs such as 'Blue Suede Shoes' and 'Hound Dog' the usual interaction from the audience was limited to just a few. Several of the songs performed were to pre-recorded backing music which questions the reasons for having a four piece band and two support singers. An example of this was to 'Don't Be Cruel', when the four band members became the backing artists leaving their instruments and singing at the side of Kombou, 'Love Me Tender' was also performed to pre- recorded music. There was a lack of Elvis's, or even Kombou's own personality showing and chat with the band or supporting singers appeared staged. I was willing him to talk to the audience or even smile but there was little connection.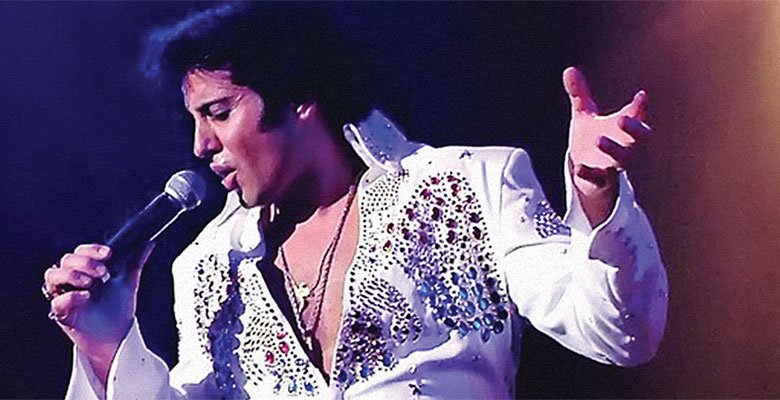 There seemed to be too many comings and goings with Kombou leaving the stage for the numerous costume changes, the band leaving when film clips were shown, returning as backing singers or back to their instruments and the two female singers also leaving for several costume changes. Following film clips of Elvis joining the army, Kombou appeared in army uniform and performed 'G.I Blues' and 'Wooden Heart' and came down into the audience for 'Did You Ever Have One of Those Days? 'Although Kombou has a brilliant voice there was a lack of true emotion until a screening of Elvis's mother's death in 1958 and he returned with a fabulous rendition of 'Don't Cry Daddy'. From then on the show improved slightly as he appeared to relax into the role but I would have preferred less costume changes as it felt that too much was being crammed into the show and everything was rushed, it felt as though the focus was on 'what's next? '
After the interval, Kombou returned, leather clad, in the iconic jamming session of Elvis and the '68 Comeback Special performing 'Lawdy Miss Clawdy' and 'Heartbreak Hotel'. Maybe it was the leather or maybe Kombou now appearing much more relaxed, whatever the reason the second half of the show was simply superb. Making contact and chatting to audience members including two young fans aged 3 and 6 dressed in Elvis jumpsuits (future tribute artists?) Kombou started to own the stage. Changing into a white suit and passionately performing 'If I Can Dream' brought several of the audience to their feet. The Las Vegas years followed with Kombou clad in a white fringed jumpsuit and the audience were with him for 'C. C. Rider' and particularly 'In The Ghetto', his performance of 'Polk Salad Annie' brought the first real cheers and signs the audience were warming up. I didn't really notice the film clips now as my focus was purely on Kombou, he was now truly performing as Elvis.
Handing out scarves as he walked around the audience to 'The Wonder of You' Kombou sang, he smiled, he danced, he connected, this was the show I had come to see and I feel that the latter years of Elvis's career are the ones that Kombou appears more comfortable with, it certainly seemed that way this evening. Many of the audience for the final numbers were standing and singing along and a few were dancing in the aisles. Kombou gave a great finale wearing the expected jumpsuit, costume and cape and did not disappoint with his performance, giving a prolonged encore.
I am unable to credit the four musicians and singers as some differ from 'The Elvis Years' cast that are listed in the brochure, a fact I did not realise until after the show and unfortunately I did not make a note of their names. I have seen many tributes to Elvis and was a little disappointed initially, Kombou gives the show everything and works extremely hard performing far more songs than I have heard other tributes do and certainly won me over by the end.
Reviewer: Lorna Weekes
Reviewed: 26th June 2016
North West End Rating: ★★★