"SWINGING"
The production took place at the Charter Theatre within the Guild Hall in Preston and although I am far too young to remember these great men in their prime, I do know all their music. I was impressed with the simple, but effective set using a video wall on the back wall to show pictures of Frank, Dean and Sammy. The band were very impressive and produced a great sound. The 2 Vegas Show Girls were amazing and their routines were on point every single time. They matched each other perfectly and their costumes were fabulous and plentiful (probably needing their own trailer)
Now, there is on-stage chemistry and there is what these 3 guys had – they worked so well together right from the start. Show founder and producer Wayne Kennedy portrayed the loveable guy, Dean Martin who sang well and always had a glass in his hands. Dane Fox as Sammy Davis Jnr performed well and his rendition of Mr Bo Jangles was great however, I would have liked to see a little more movement from him ( the young lady who danced to Mr Bo Jangles was fabulous).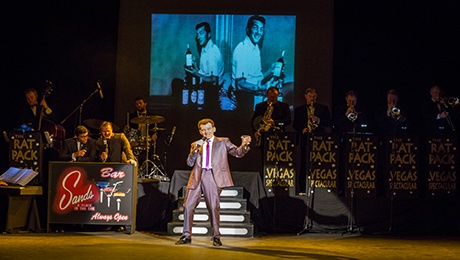 Now to my personal favourite, Frankie, the Chairman, Ol' Blue Eyes himself portrayed by Roman Marek... What a talent this man has – his mannerisms were Frank all over. His phrasing of the songs were perfect and his vocals were good. I suspect, however that Roman was suffering a little as on occasion he seemed to struggle with the higher and more sustainable notes – my thoughts were that he was may suffering from a cold, or a throat infection of some sort.. So, with that in mind and how impressive he was last night, I would love to see him at full strength –I'm sure that would be phenomenal.
These guys were fantastic with the audience who really enjoyed the repartee between them..And we hope that the guys enjoyed being in Prest On... (in house joke). If you like Frank, Dean and Sammy D then I encourage you to see this if passes through your town...
Well done "purveyors of cool"
Reviewer: Hazel Bumby
Reviewed: 23rd July 2016
North West End Rating: ★★★★