Yet more talented folk from this great city at Gullivers on Oldham Road in the Northern Quarter, Manchester.
Talented and witty (possibly due to the career of his namesake) David 'Dave' Gorman has an EP out called "A Thousand Miles A Day" and it promises that funds are guaranteed to go towards a great cause - I can vouch for that!
With great acoustic guitar and a Jason Mrazesque voice and melody style, it is no surprise he was invited to perform, being the last addition to the bill, on Wednesday! After the organiser recalled seeing him at Factory. We are so glad and lucky to have sampled his catalogue.
Kicking of the treat of pleasure to the senses was 'Chase This Dawn', before further self-centred tracks like 'New Day', 'Maybe', Bob Dylan's country style 'It Ain't Me Babe' (later by Johnny Cash) during which I was mesmerised by the versatility of his fingers plucking - he certainly knows how to pulls some strings and manipulate that guitar.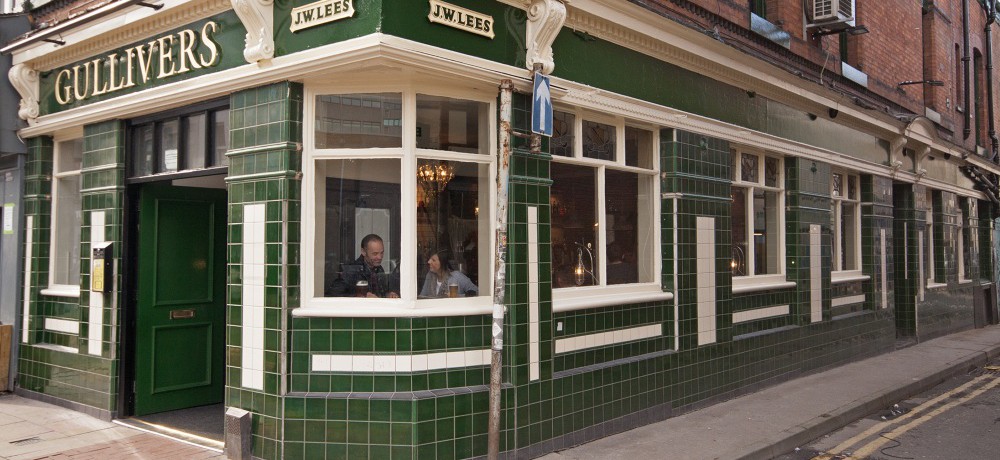 Then came 'Ache No More' as he promised the pace would 'pick up' after another slow one. I doubt anyone would have minded if it didn't. Through the lyrics we learned of his age (24) but 23 went with the lyrics when he wrote it last year. This was followed by 'You' where he stuck to his promise but started slow. Penultimate lyrics we heard 'Rain' which included audience participation with echo in the key of 'o'. He concluded 20th the title track of his EP. I can't wait to see him perform again.
Lynch kicked off with 'Killing Time' before their new single 'So Low', which is available from Taste Master 5, with its bass but electronic vibes and a hint of 80s rock n roll, reminiscent of Bowie. Falsetto towards the end. 'Shine' was followed by the moody "It Ain't Easy'. Band members; Stephen has to be good with his hands to manipulate the devices and 'assorted technologies' that in turn manipulate their voices and Echo delays, with Thomas on keys and frontman Dieter Lynch.
'Whisper' came before 'Heart-shaped box' which starts off like a grime track, ending with 'Good Disciple' which starts like a club track but has a jazzy guitar bit like a remixed Rolling Stones track with a funky harmony. All a slight contrast to New Radicals' You Get What You Give and One Republic's Counting Stars that played after their set.
Now back to the original programme and Stockport-based Templars began their 30-minute set of originals with bass GREEN Day-ish 'Guessing', before 'It's Fine' which was of Busted/Artic Monkeys influence with a nice guitar solo. 'You'll Go' was next with nice falsetto guitar style and an acoustic ending with the bass drum. 'I Can't Work Out' followed with 'Bamboo' named after a bar in their hometown, featuring an audience-involved chant. 'I Wanna See You Again' then 'Shimmer' saw lead guitarist Charlie playing synth and we're told that equally talented multi-skilled bassist Alec McEwan directed music video. They set finished with the bands' first ever track 'Under The City Lights' which is the most polished and, I believe, their own favourite. The lighting engineer seemed to want to test the 'random' setting in parts.
The Slovaks were headliners with their more hard-core indie rock style, performed under red light.
Reviewer: Chris Oatway
Reviewed: 23rd July 2016