'Walk right in, sit right down' ... very apt for the opening bars for this show which takes you on a nostalgic trip down memory lane with country, pop and rock from the 50's 60's and 70's, although before long you are very likely to be up and dancing along!
Dressed in country garb, Carole Gordon, Rachel Cantrill, Gary Thatcher are the singers encouraging the audience to clap and 'Yee Haw' to a medley of country songs 'Act Naturally', 'Shoo Fly Don't Bother Me' and Hello Mary Lou' amongst them and setting the pace for this nonstop, (apart from the interval) high energy and perfect for holiday entertainment show.
Forever in Blue Jeans was put together by Gordon and her late husband Bob and will be celebrating its 21st year of touring later this year. As was his wish Gordon has continued the legacy and with a great backing band and the two aforementioned singers, is delighting audiences up and down the country with the show.
Lead guitarist and vocalist Andy Saphir takes over with 'Oh Boy' and keeps the audience singing along during a costume change for the singers and they return to the stage to 'Happy Days' and great dance routines to 'At the Hop' taking everyone back to the 50's. Cantrill's performance of 'Lipstick on your Collar' will bring a smile to your face before we hear the talents of bass guitarist Graham Walker singing 'Shake Rattle and Roll' and 'Let's Have a Party'.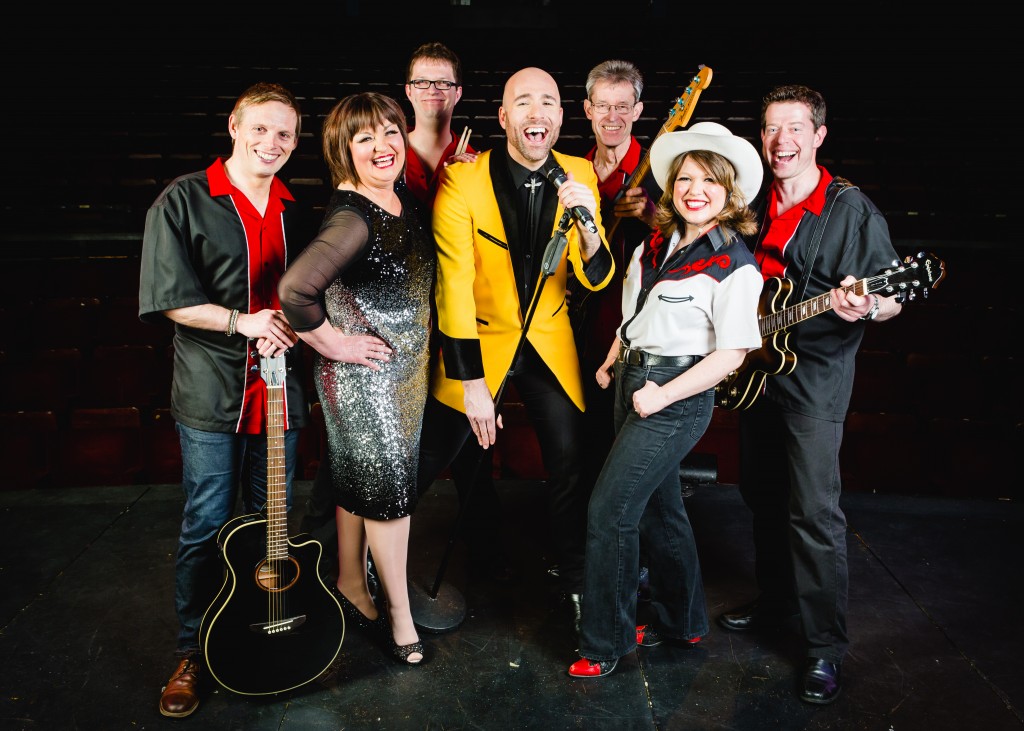 Slowing down a little, Gordon with her fabulous vocals treats us to a rendition of 'Crazy' and then back to the fast pace as Thatcher launches into a combination of rock' n' roll songs with Elvis hits of 'Jailhouse Rock and 'Teddy Bear'.
The show runs at high speed and there are no introductions to the songs, they simply start another as one ends and even during costume changes the pace does not drop as the band take over, displaying their other talents besides playing instruments. Completing the band line up are John Blackburn on drums and musical director and keyboards Martyn Cooper.
Cantrill sings a lovely version of Dr Hooks' 'A Little Bit More' allowing the others to pause for breath and costume changes before the sounds of songs from the musicals 'Oklahoma and 'Paint Your Wagon' are next up to entertain.
Thatcher also has a solo spot with Ronan Keating's 'If Tomorrow Never Comes'. Besides 'Forever in Blue Jeans,' Gordon performs (with the same members of this show) in 'Voice of the Heart' a Karen Carpenter tribute and there follows a section of Carpenter favourites.
With more of country, rock a billy, pop and rock, there are countless songs and sketches after the interval along with brilliant performances by lead guitarist Saphir, particularly 'Apache' which I absolutely loved and you can't help but hum along to it and play that 'air guitar'!
There are many smooth costume changes and the show is well put together although I feel there should be some more lighting effects to enhance it and maybe a different backdrop than the plain curtain with the show name and website on it.
The finale had everyone on their feet as they performed the title of the show Neil Diamonds' 'Forever in Blue Jeans'. If you like compilation albums of hits by various artists then you will love this show, personally I am not usually a fan of cover versions, but this show will sweep you along with the pace, the energy and the personalities of its cast, you can tell they are committed to having a good time and ensuring you do too.
As part of Blackpools' Grand Theatre MusicFest16, the show returns on 18th August and the 1st September...for further ticket information https://www.blackpoolgrand.co.uk/event/forever-blue-jeans/
Reviewer: Lorna Weekes
Reviewed: 28th July 2016
North West End Rating: ★★★★