The Continental is a popular bar/restaurant and was awarded Camra's West Lancashire Pub of the Year two years running, 2010/11. Situated close to the banks of the River Ribble, Preston, it has also become a popular venue hosting theatre, cinema and live music on a weekly basis in the Arts Space.
Tonight we were treated to the amazing talents of Emma Wright performing as a tribute to the late great Amy Winehouse who died tragically in 2011. Doors were due to open at 8pm but did not actually open until 8:45 but the show did however start on time at 9pm and as it was a fine evening it was no hardship to pass the time away beforehand with a drink in the pleasant gardens of the pub. There was no seating in the venue therefore viewing is restricted if you should happen to get behind someone taller (as I did, but, gallantly, he offered to swap places, turned out he was Wrights boyfriend....doubt Winehouse's boyfriend Blake would have done the same... and no, he did not know I was reviewing at the time!) Thanks to the boyfriend I also learned that Emma Wright was also on the X Factor reaching boot camp stage and was a winner on Stars in Their Eyes as Lady Gaga who she also performs regularly as.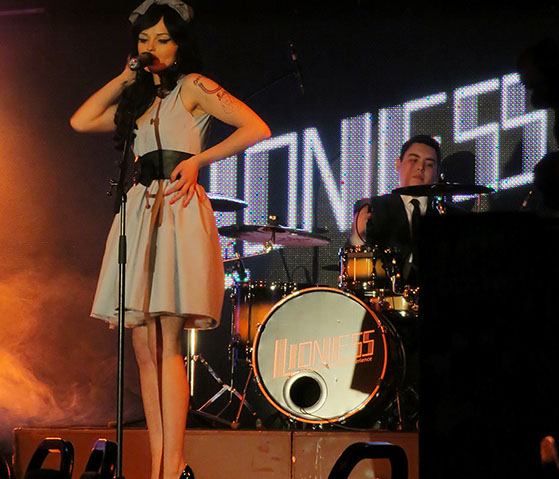 This is a small venue which added to the intimacy of the evening's entertainment. There was a small stage area set up with ruched curtains and three satin shaded standard lamps as favoured by Winehouse, which appeared rather cramped as there was also a supporting five piece band. Fortunately Winehouse was not a great mover, she more or less shimmied on the spot using exotic hand movements and so space was not too much a problem for the act tonight.
Opening the show with 'Back to Black' Wright took to the stage dressed in a tiny figure hugging leopard print skirt, red top and killer heels. With black hair cascading down her shoulders and 'tattooed' arms she looked every inch the part. Thankfully the vocals were also a pretty good imitation with the deep expressive tones of Winehouse. There can only be one Winehouse but Wright is as close as you can get. The mannerisms appeared so natural as she performed other great songs which included 'Me And Mr Jones' and featured brilliant saxophone, played by Johnny Marsden, who went on to perform what I thought was some pretty cool dance moves during 'Cherry', but my 20yr old daughter called 'Dad Dancing' and another member of the audience thought to be sexy, so I guess that depends upon your own interpretation! Great to see the interaction on stage anyway. 'Cherry' is about a guitar and highlighted the excellent guitar playing of Chris Lockyer. Other band members featured Stu Emery on Bass, Joe Orban on keyboards and Matt Chung on drums who each gave great musical support, but, as occasional backing singers their vocals are not really their best attributes.
Other hits included 'Addicted' and 'Pumps' (the lyrics are probably why admission is supposed to be for 18 and over, although there was one young girl present in the audience.) Wright also gave a fabulous interpretation in Winehouse style of the Shirelles, 'Will You Still Love Me Tomorrow' before leading into the interval with ' Rehab'. The 'short' interval of 20 minutes turned into 40 minutes but the crowd did not seem too bothered as they ordered drinks from the bar and danced along to hits from the 70's and 80's being played. Winehouse was a diva keeping her audience waiting so why not a tribute!
Returning in a stunning red and black satin dress, again Wright delighted the audience with Sam Cooke's 'Cupid' and Marvin Gaye's 'I Heard it Through The Grapevine'.
Wright has truly captured the essence of Amy Winehouse and continued belting out great soul, rhythm and blues and jazz songs, until the finale which could only have been the iconic 'Valerie'. If the audience hadn't already been standing this song would have guaranteed a standing ovation! The rapturous applause and cheers were well deserved.
Reviewer: Lorna Weekes
Reviewed: 27th August 2016
North West End Rating: ★★★★