For anyone who remembers the 1980s, just the names Chas and Dave will trigger memories of witty, playful tunes, snooker and rabbits. Their distinct sound and working class music helped define the decade but the duo are still producing new music with the same London sound even now. As they embark on their latest retrospective tour to celebrate 40 years since their debut album, Chas and Dave bring their cockney humour to Liverpool's St George's Hall.
When they arrive on stage, they provided a stark contrast to the opulence and grandeur of The Concert Room donning their traditional hats, sunglasses and casual clothes. Many bands would look out of place but Chas and Dave's down to earth charisma filled the room and at times it felt more like a stadium concert than a small theatre style hall.
The show was split into two sections. The first 45 minutes focuses on the type of music they played in the early years as a duo, playing in pubs and club in their native London and pulling inspiration from favourite artists of the time including Lonnie Donegan. The second half, following a 20 minute interval, was more recognisable Chas and Dave's featuring some of their biggest hits from 1980s as well and music right up until their last studio album in 2015. It was an hour of big sing-a-long songs.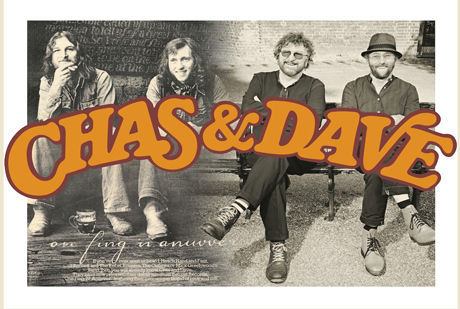 One of the highlights of the night was the performance of Margate, their ode to the British seaside holiday, however they swapped Margate for Liverpool suburb Bootle, much to the delight of the sold out crowd. Every well know song caused an exodus from the seats with every available aisle and space filled with people jiving, pogoing and dad dancing! The Liverpool crowd loved Chas and Dave.
For me, as someone who remembers the greatest hits of Chas and Dave but would struggle to name more than a handful of their songs, it was a good night but if you're a fan of Chas and Dave it would be a great one. They didn't fall into the trap many musicians do of playing primarily new music or giving monologues before every tune and there was something for most.
It was a night of great music played by very talented musicians, with Chas's son Nik supporting the duo expertly on the drums. For me, I probably didn't know their music well enough to fully appreciate the show but it was undoubtedly an enjoyable evening and has provided a guaranteed brain-worm in the form of Snooker-Loopy for the next week.
Chas and Dave: The Full Story, Nationwide Tour continues until 23rd December 2016.
Reviewer: Helen Kerr
Reviewed: 3rd September 2016
North West End Rating: ★★★