Karen Matheson, for over thirty years at the heart of Celtic folk band Capercaillie's sound, has made only occasional forays into solo work, and issued her fourth album, 'Urram' last year. So it's a relatively rare treat to see and hear her in a small group setting in the intimate confines of Sale's Waterside Arts Centre. Also on the bill were the young Orkney group Fara, who got the evening off to a rousing start.
Fara's Orkney roots are obvious from the start, since they are named after one of the smaller islands. The all-female line-up consists of Jeana Leslie, Kristan Harvey and Catriona Price on fiddles, and Jennifer Austin on electric piano. They play traditional tunes, many with an Orcadian connection, together with the odd surprise – I don't think the rather staid audience expected to be singing along with the old Joe South classic "Games People Play" when they took their seats. Fara are terrific: energy, enthusiasm, and technique in abundance. Jeana Leslie's breathy singing on songs such as "Three Fishers" was exquisitely evocative. They are lively, accomplished and surely destined for greatness in the folk world.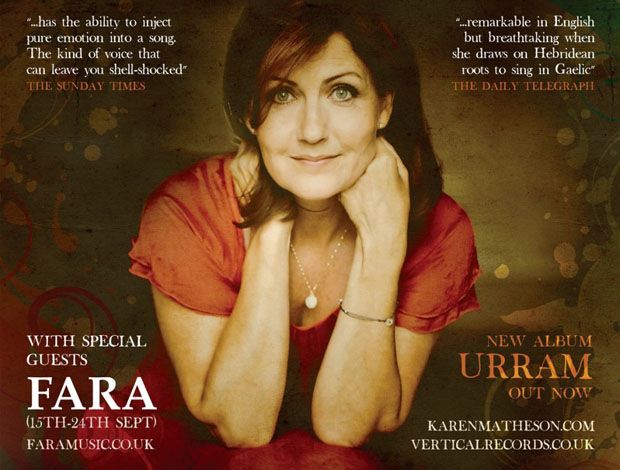 Karen Matheson's talented line-up did not feature husband Donald Shaw ("far too expensive," she joked) but did feature the two young guitarists who played on the new album, Sorren MacLean and Innes White, together with Hannah Fisher on fiddle. These three sensitive and skilful musicians provided a discreet backdrop to Matheson's mesmerising vocals. She began with a Robbie Burns setting, but was soon into a string of Gaelic numbers, including most memorably "Cha teid mor a Bharraigh Bhronach," the story of an insult-trading contest between two bardesses, from the Hebridean islands of Barra and Vesteray. We were also treated to several examples of the extraordinary mouth music, or puirt à beul. A kind of Gaelic scat singing at which she excels. She went back to her own roots as a young folk singer to give us a lovely, yearning version of the sixties song about the death of industry, "Aragon Mill" by Si Kahn. Sorren Mclean, whose subtle electric guitar was a highlight of the show, often providing atmospheric counterpoint to Matheson's voice, was given his own showcase, and chose the old John Prine track "Speed of the Sound of Loneliness," which was well-received by the disappointingly smallish audience.
Then it was back to the lovely, evocative singing of Matheson, switching from Gaelic to English for two of the songs written for her by James Grant, including the closing number, "At the End of the Night." The audience wouldn't let her go just yet, so she encored with the Robbie Burns song she sang at the end of the closing ceremony of the 2014 Commonwealth Games, "Ae Fond Kiss." It was a fitting conclusion to a beautiful, often rather melancholy set by a singer who just gets better as the years go by. She continues her short tour with dates in Saltaire, Gateshead, Bristol, Oxford and London. For anyone who wants to know what authentic Celtic roots music sounds like, Karen Matheson is the voice you want to hear.
Reviewer: Rob Spence
Reviewed: 22nd September 2016
North West End Rating: ★★★★★