30 years of touring and I have only just seen this production for the first time....how did I miss treating myself out to such a fun and entertaining time? The majority of the audience tonight in the Charter Theatre at Preston's Guild Hall may have been around during those 50' 60's and 70's years represented in this high energy, high content and totally enjoyable show but they were more than ready to party from the onset.
That'll Be The Day evolved from the original touring show The Happy Days Of Rock N Roll and is written and staged by Trevor Payne who in 1988 introduced friend and comedian Gary Anderson into the line up and the show began regular dates at several Southern holiday centres. The success has continued to the present date where theatre audiences are taken back on a nostalgic trip through the decades with an amazing amount of artists and songs covered which includes Cliff Richard, Mick Jagger, Elvis, Roy Orbison, Johnny Cash, Jerry Lee Lewis, The Everly Brothers, The Fours Seasons, The Shadows The Beatles, The Monkees, Rod Stewart, Tom Jones plus the Carpenters, females Shirley Bassey, Diana Ross, Sandie Shaw, Lulu, and a fabulous spot featuring Susie Quatro and so many many more. The list is never- ending and just as you think they can't pull anymore out of the bag they do with comic sketches and film clips of past adverts running in the background. There is a hilarious sketch of children's favourite Bill and Ben with Little Weed and ads you would never see nowadays for cigarettes and the comical 'Smash' potato advert with the aliens.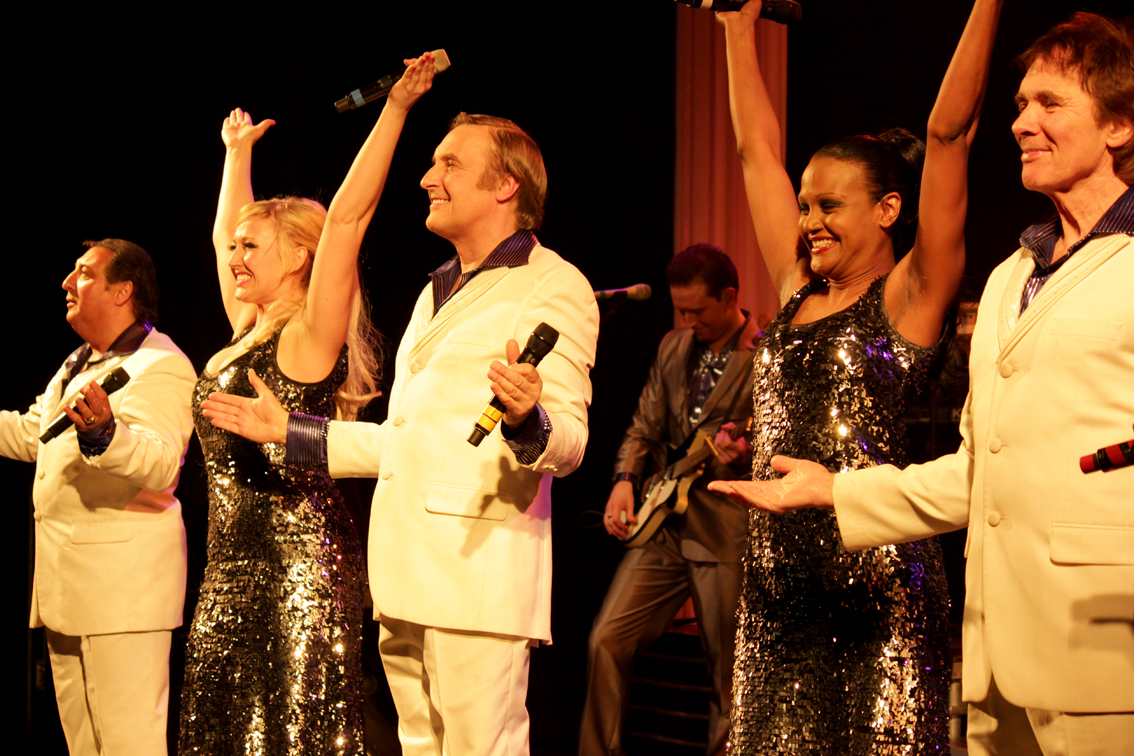 There is barely time to pause for breath as one act ends another continues immediately and each and every one of the twelve performers display fabulous talents whether vocally or with the playing of instruments and adapt from serious performances to the comedy sketches with ease. Whether its watching a single performer or the whole ensemble you will be totally engaged in their performances.
Despite featuring so many artists this is not a tribute show (although some of the impressions are brilliant, particularly Cliff, Jagger and Suzie Quatro), but a full on variety show and you can see why it has enjoyed the popularity at holiday centres for its sing-along, dance-along and laugh-along appeal. Tonight we were on one big holiday and the fun started the minute the stage came alive to the sounds of 'Lets Have A Party' and the pace didnt drop for over 3 hours with just a 20 minute interval.
That'll Be The Day entertains throughout and after seeing this show you will leave knowing 'That'll Be The Night' that gave you the 'feel good factor'.
The show continues to tour and for more information and tickets: http://www.thatllbetheday.com/tour
Reviewer: Lorna Weekes
Reviewed: 23rd October 2016
North West End Rating: ★★★★