If something is worth doing it's worth doing well and that is exactly what Some Guys Have All The Luck does. This is a show that is more than just a tribute artist singing the songs, Paul Metcalfe as Rod Stewart completely captures the look, the style, the mannerisms and the voice whether singing or talking to the audience. The show differs from many others too as Metcalfe takes us on a journey with a narrative of Rods life sharing his humble beginnings in the 1960's right up to the present day when Rod was recently knighted by the Queen and is now Sir Rod.
This is the true Rod Stewart Story as it's not just a snippet here and there thrown in between songs but actual real and interesting facts of his life although it was never in doubt of Rod's attraction to tall, blonde, leggy ladies......which was hastily corrected to include the disappointed brunettes and red heads in the audience! (more than a fair share of grey here too, remember, Rod was born in 1945 and his fans have been loyal since the start!) There is a compilation of photographs screened at the back of the stage supporting the story which bring back many memories of the years gone by and some very dubious fashions worn by Rod, but as they said, Rod being Rod he could get away with it.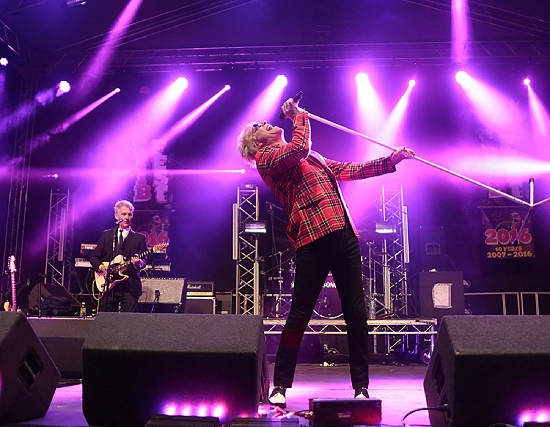 Metcalfe is supported by a fabulous four piece band with Andy Herbert on bass guitar, Steve Bruce on drums, Greg Vincent on keyboards and the entertaining Mark Pearson on guitar and vocals who is clearly enjoying the whole experience of being part of this show and performs some amazing guitar playing as Ronnie Wood, an original band member with Rod in the early years. The other three band members seem content to blend into the background but the sound they produce together is superb.
There is a great but simple stage set up consisting of a central stairway and low platforms for the keyboard and drum players, but with brilliant lighting effects (there's a pun!) accompanying each song the atmosphere can change accordingly whether it be lively rock 'n' roll or romantic, they were striking.
The show opened with an instrumental of Rod Stewart hits before Metcalfe descends the stairway and struts his stuff singing 'Can't Stop Me Now' a song taken from the Time studio album which went straight to number one in the UK charts on its release in 2013. From then on we are taken back to the early years and there followed 'Handbags and Gladrags' and an absolute spell-binding 'In a Broken Dream' which featured some of the excellent guitar playing of Pearson as mentioned earlier.
All the well known songs are there including 'Reason to Believe', 'You Wear It Well' 'This Old Heart of Mine' and the audience singing along to the iconic 'Maggie May' and all this in the first half. After a short interval and another costume change, there are several during the show and they are all authentic styles as worn by Rod, Metcalfe returns with 'Hot Legs' the song that is! (although I'm sure he has a very nice pair of legs) The hits flow, the audience get livelier, there's arm swaying and singing and dancing in the aisles and clearly everyone is enjoying the show. More popular songs follow with 'Downtown Train', 'You're In My Heart' 'The First Cut is The Deepest' and 'Da Ya Think I'm Sexy?' Rod has so many fabulous songs that it would be impossible to include them all in this show but there is a fair representation of the most loved ones performed tonight. All too soon the final song is upon us and it just has to be 'I Am Sailing' and the audience are in fine voice and refuse to let that be the end and after a long standing ovation Metcalfe and his band return with 'I Don't Want To Talk About It' and treating us to another performance of 'Maggie May'.
The show may have ended with 'I Don't Want To Talk About It' but I guarantee this is an act you will be wanting to talk about and if you get the chance to get to a show then it will be 'You Guys Who Have All The Luck! Metcalfe manages the mannerisms, struts the stuff and claims to have the best job in the world.....after Rod of course. I too have a great job reviewing and there is only one thing better than this tribute act....Rod of course!
The tour continues and for more information: http://www.someguyshavealltheluck.com/index.html
Reviewer: Lorna Weekes
Reviewed: 30th October 2016
North West End Rating: ★★★★★
Photo: Jordan Russell