In the cold autumn months people are reluctant to venture out, even if it is to see a great performer in a beautiful art deco variety theatre like the Stockport Plaza. Sadly this, and perhaps the limited promotion by his team, clearly contributed to this happening tonight. It was such a shame that the stalls were not even half full!
Nonetheless, an entertaining yet intimate night was had, made so by the simple and minimalistic staging of four talented and accomplished musicians - Ross (MD and Keys), Matt (Drums), David (Bass) and Max (Guitar) - and winner of The X Factor 2009 (seven years ago, as well as Popstar to Operastar in 2011) Joe McElderry! fresh from Bill Kenwright's tour of Andrew Lloyd-Webber's Joseph and his Amazing Technicolor Dreamcoat, which Joe disclosed (having been announced earlier in the day) would be playing the Plaza in May 2017.
Joe said he wasn't meant to be doing the tour, in hope of a rest after the musical tour, but he is glad, two months in, that he chose to and so are we. Opening the show with 'What Have I Done?' which featured on his 'Here's What I Believe' album, we were then treated to the gems of 'Skyscraper' (which also featured on the album) and 'Sorry Seems To Be The Hardest Word' which he performed during Judge's Houses on the TV talent show, which later merged into 'Don't Let The Sun Go Down On Me' which he had the pleasure to perform with George Michael, admitting that he still gets nervous when singing these songs and expressing that it is funny how music can take you back to a precise time or emotion.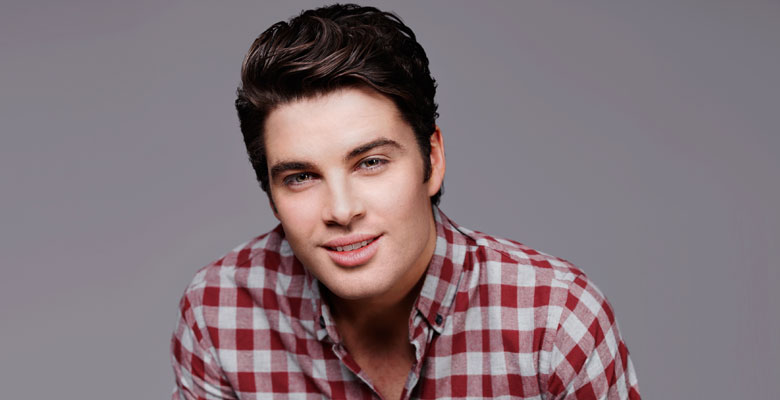 We were then treated to one of the first songs that he wrote; a song called 'Silence Is the Loudest Cry' which reflects that, no matter how angry you get about something, silence may be the best solution to remaining respected and strong as oppose to looking worse and situations escalating.
Throughout his opening songs he likes to 'trill' but boy can he thrill! His talent and versatile vocal ability is evident in bucket loads but he does make some odd faces despite clearly enjoying every minute of what he does.
The sound and lighting was great and this was shown through the 'pin drop' silences and impact the songs have (with reverb) during the likes of More Than Words (originally by Extreme) where we see guitarist Matt (of which he plays three throughout the show) showcased in a faultless offering.
We couldn't go away without hearing a musical theatre section, with Joe having starred in both The Who's Tommy and Joseph so we heard the showstopping 'Close Every Door', before Les Misérables' 'I Dreamed A Dream' - which was on his Classic album, which segued rather unexpectedly into 'Bring him Home' - aptly lit in red white and blue. Standing ovations were received for this section, and Close Every Door, but it was somewhat strange that Joe just took them brushing off modesty, almost as though they were expected from previous gigs - not that he wasn't grateful.
Italian 'E Penso A Te (I Think Of You)' was lit with Spanish colours but performed with confidence, telling a story of affection before we closed the first half with Elvis' 'Can't Help Falling In Love' which entered the set after being suggested/requested during a segment of 'Jukebox Joe' which we played in the second part.
Act 2 was more relaxed for him but enjoyable for all, giving the opportunity to get up and dance, with reggae-style 'Is This Love' and 'Someone Wake Me Up' - featuring the lyrics "When I see stop signs, I'm gonna run them down. When I see red lights, I'm gonna hit the ground." Then was time for Jukebox Joe in which audience members suggest songs for Joe and the band to busk (if not a song that he has done before), fitting as many as they can into ten minutes. These included 'Dance With My Father', One Direction's 'History' (in place of the suggested 'Everything I Do I Do it For You'), 'You Raise Me Up', 'Nessun Dorma', 'Tragedy', 'Happy Birthday', 'I Will Always Love You', 'When I Need You' and 'Over the Rainbow'. 'Any Dream Will Do' followed, before the "live lounge" rendition of Coldplay's 'A Night Full of Stars' and his first single 'Ambitions'. Concluding with a heartfelt vote of thanks to everyone who has helped him to live his dream, before the first song that many heard him sing if that didn't watch The X Factor - 'The Climb'.
This being his fourth solo tour, it is just a shame the audience was sparse and unresponsive at the start and that he left the theatre almost immediately in his camper van *sad face*
If you get the opportunity to attend his gig on a night that you are available, do it! You can even take a souvenir away in the form of merchandise.
Details of further tour dates are at: www.joemcelderryofficial.com/tour-dates
Reviewer: Chris Oatway
Reviewed: 10th November 2016
North West End Rating: ★★★