I first saw Fairport Convention when the band was a mere twenty-odd years old. That seemed remarkable at the time, and yet, here we are in 2017, and Fairport are, almost incredibly, half a century into their journey as England's premier folk-rock ensemble. The incessant personnel changes of the early days have given way to a slow evolution, and the current members have been playing as a unit for nearly twenty years, easily the most enduring version of the band.
Simon Nicol, whose parents' house gave the group its name back in 1967 is still there, and Dave Pegg, who has provided bass and occasional vocals since 1969 continues to operate a mean rhythm section with Gerry Conway, a permanent fixture for almost twenty years, but an occasional member before that. Ric Sanders on fiddle was a new boy when I first saw the band, but has now clocked up thirty-two years, and multi-instrumentalist Chris Leslie, a twenty-one year veteran, completes the line-up.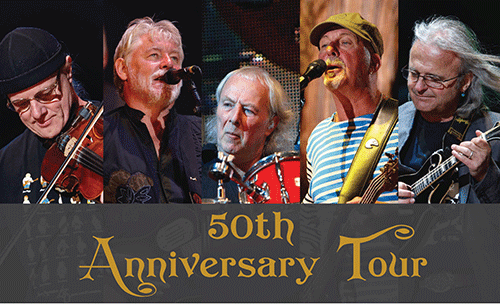 On this anniversary tour, the band is raiding its back catalogue, but also maintaining its momentum as a properly thriving and developing outfit: indeed, they have a new album, consisting of seven newly recorded songs and seven live tracks to promote. For this gig at the Lowry's Quays theatre, we were treated to a very generous selection of their classic songs, with one or two surprises, and some entertaining new material. The support was Sally Barker, known to older members of the audience as a part of 90s female folk band the Poozies, and to the younger ones from her appearances on TV's "The Voice." She warmed up the audience well, particularly with a revenge song called "Emperor of Cool" before being joined for her final number by Fairport.
The band offered us a well-judged mix of what their fans would have expected, together with some rarely played items from the vast repertoire. As is fitting for such an impressive anniversary, due attention was paid to the earlier work, but this was not entirely a set based on nostalgia. The recent songs, chiefly led by Chris Leslie, whetted the appetite for the new album, especially a whimsical self-reflective piece, "Our Bus Rolls On" which chronicles the bandmates' adventures. Another new Chris Leslie song, "Eleanor's Dream," revisits old folksong territory in a new guise, imagining a wife's dream of her husband far away on an expedition to find the North-West Passage. But the older songs predominated, and it was a treat to hear rarely-played gems such as "Genesis Hall" given an airing. A barnstorming "Sir Patrick Spens" featured Simon Nicol's wonderfully mature voice, as did a beautifully sensitive "Who Knows Where the Time Goes." Chris Leslie's vocal on "Now Be Thankful" was eerily like Dave Swarbrick, and another old favourite, "Matty Groves", provided the finale, delivered with blistering power.
These musicians know their stuff: Ric Sanders's fiddle is capable of evoking any mood from laughter to anguish; Chris Leslie can switch effortlessly from mandolin to fiddle to whistle, and Simon Nicol's guitar work is exemplary- never showing off, always at the service of the song. Dave Pegg's bass playing is often jazz-like, and Gerry Conway is a sensitive and subtle presence on drums.
Sally Barker returned for the encore which, as everyone knew it had to be, was "Meet on the Ledge.," a song that gains more resonance with every passing year. A lively and enthusiastic audience joined in lustily. After fifty years, Fairport can still produce the goods. This year's Cropredy festival promises to be a special one.
Reviewer: Rob Spence
Reviewed: February 19th 2017
North West End Rating: ★★★★