With an appearance on the X Factor in 2013 where she was selected as one of the seven finalists but unfortunately not making it to judges houses, Katie Markham has gone on to have her own tribute show after auditioning with others for what she believed to be a pilot for a new TV show 'Adele at the BBC'. Hosted by Graham Norton, Katie was quick to spot that 'Jenny,' one of the other impersonators, was actually Adele in disguise. She was actually handpicked by Adele to perform as her.
There is no mistaking Adele's voice and tributes have a hard task to follow her. Tonight, despite a heavy cold Katie Markham entertained an almost capacity audience at the Charter Theatre, Preston with her show featuring songs from three record breaking albums, 19, 21 and 25 (titled after Adele's age when released), and a couple of other artistes that inspired Adele.
Without announcement Katie walked onto the stage wearing a big woolly jacket and black dress and sipping from a mug (presumably honey and lemon!) and launched into her first song 'Hello'. There followed a couple more songs before Katie actually spoke to the audience, and I had prepared myself for a cockney accent and the colourful language associated with Adele, but Katie was just herself speaking in a northern accent. This is what I found a little confusing with the show, we neither got to know Katie, as she revealed very little about herself, or to learn more about award winning Adele as other than sing her songs and announce from which album they were from very little else was mentioned. It would be good to have more interaction with the audience and make a connection which I feel didn't really happen until the second half of the show.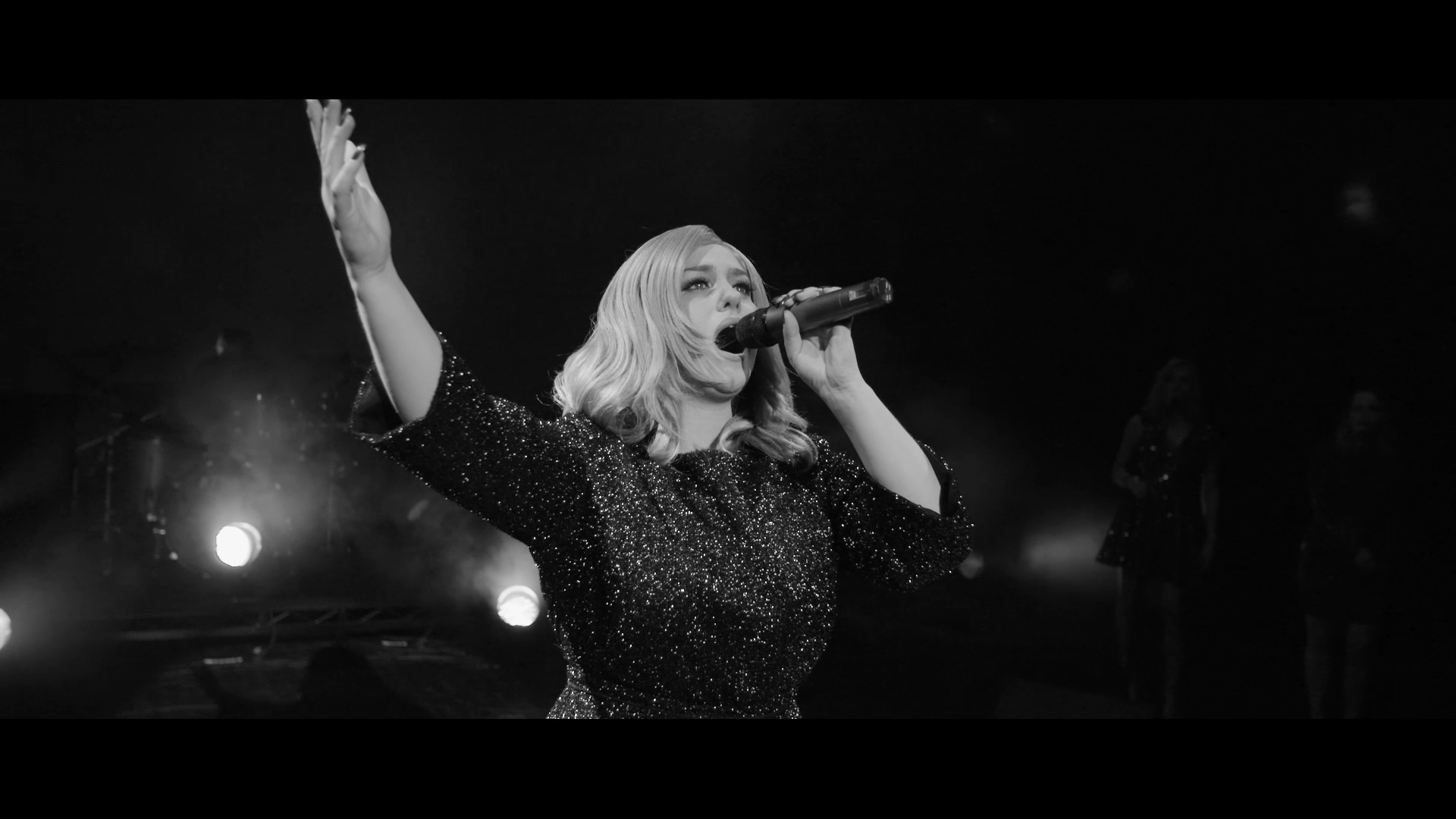 The stage was set very simply however the speakers at the front obscured the view of the keyboard player and a guitarist from our seats at the side. There was a screen projection of black and white landscapes accompanying the songs which coupled with lack of any special lighting made it all seem a bit drab and flat. It was only during 'One and Only' that some more colourful lighting was introduced and really made the show come to life. Katie revealed that Gary Barlow hadn't liked her when she sang this song on the X Factor, but she laughed and said 'Stuff him' Look where I am now!'... this is what I wanted to hear, a little more of Katie's personality! The next song 'Set Fire to the Rain' had the audience up dancing, singing and clapping along.
After a short interval, the show became livelier with better lighting and maybe, as the songs were more upbeat the audience interacted a lot more. Katie dressed now in a long sparkly gown, seemed more confident and the power in her voice was amazing considering she was suffering with her cold. Despite this she reached incredible high notes during 'When We Were Young' and deserved the standing ovations she received with this and her final two numbers 'Someone Like You' and 'Rolling in the Deep'. I did feel that this was Katie and not Adele that we were listening to but wow, this girl can sing and deserves credit for her own performance. With a talented band consisting of two guitarists (Drew Love, Mike Kenna), drums (Jonny Brister), fabulous keyboards and musical director Liam Holmes and vocalists Natalie Smith and Mary Garbe, the show is currently touring the UK. Info: www.someonelikeyou.co.uk/tickets
Reviewer: Lorna Weekes
Reviewed: 2nd March 2017
North West End Rating: ★★★★