The Bootleg Beatles are on a magical mystery tour and visiting the Edwardian splendour of the Buxton Opera House, for a hard day's night to remember.
The original Bootleg Beatles formed in 1980, a decade after the Beatles split up and the same year John Lennon was gunned down by Mark Chapman.
It's a chronological show, with newsreels and images projected onto a screen as a backdrop, introducing the audience to each particular era. So, we start off with four fresh-faced Liverpool lads, smartly turned out in matching suits and Beatles' mop tops. The resemblances and mannerisms are uncanny!
Adam Hastings has been playing John since 2011; he has the look, the stance, the voice, the sardonic wit and the Scouse drawl. Steve White is Paul McCartney's double, even playing his bass left-handed. He joined in 2012. Stephen Hill is a dead-ringer for the talented George and an accomplished musician. He joined in 2014. Newest member, Gordon Elsmore, has been playing Ringo for just a year; he perhaps bears the least physical resemblance, though he is an excellent drummer.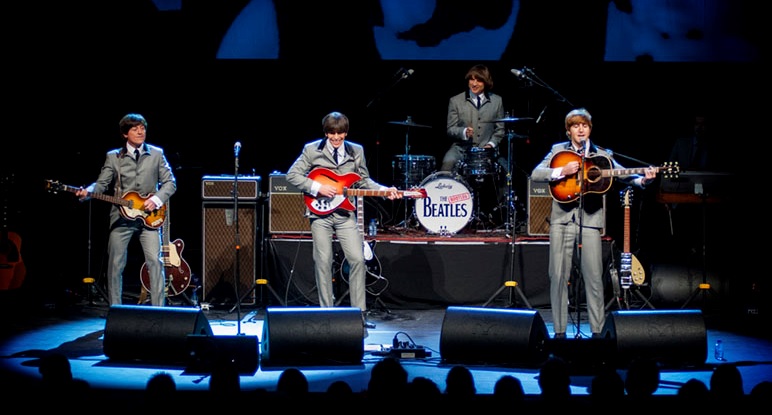 The show opens with I Saw Her Standing There and immediately the Bootlegs have captured the audience with their sheer "Beatlesness". Hit after hit follows: Help, She Loves You, Eight Days A Week...until John announces: "One more number before we go off and get older" which receives a chuckle from a knowing audience. They play a spirited rendition of Twist and Shout, then leave the stage as the newsreels start again.
It must've been a longer than it seemed, because when they return they've all grown moustaches. This is the Sergeant Pepper/psychedelic section of the show and accordingly, the Bootlegs wear the colourful long suits that famously symbolise this period of Beatles' History. Opening with the title track, Sergeant Pepper and going straight into Ringo's solitary contribution on lead vocals, With A Little Help From My Friends, which is admirably performed, then Lucy in the Sky With Diamonds, rather bizarrely dedicated to some young children in the audience.
This section is augmented by a six-piece orchestra of very talented multi-musicians, on strings, reed instruments and percussion. Most entertaining though, is their choreographed clapping and sheer gusto.
When I'm Sixty-Four follows, then Sergeant Pepper (Reprise) leading into A Day In The Life. Sergeant Pepper is considered by many to be the most influential rock and roll album of all time and is one of the best-selling; this truncated version of the album does it suitable justice.
There is still a trace of psychedelia in the Magical Mystery Tour songs, including I Am the Walrus, which is always a crowd pleaser. John introduces Penny Lane and Strawberry Fields Forever: "Paul's going to sing you a song… Then I'm going to sing you a better one… The A-side." (This was a double-A-sided single, which bizarrely only reached number 2 in the UK charts.) Everyone is then encouraged to their feet for a rousing, audience-participation version of All You Need Is Love.
The final section is the twilight years but there are still many classics, such as Come Together, Get Back and The Ballad of John and Yoko.
The stage is very effectively used throughout, with constant projected images in the background to illustrate the songs, though the performers are so captivating that I barely noticed the visuals. Also, the lighting is subtly used and doesn't seem anachronistic in a show that is unashamedly about the past. And what a great past!
As the evening draws to its inevitable end, John drily says "We've been on tour for four days… and I can honestly say, Buxton, you've been in the Top Four audiences." Which gets a hearty laugh.
Hey Jude finishes the main part of the show, followed by rapturous applause, which leads to an encore of Let It Be and then Revolution.
It has been a fantastic show. These four stars get five stars from me.
If you like the Beatles, then this is seriously the closest you'll ever come together. If you don't like the Beatles, you need Help. http://www.bootlegbeatles.com/
Reviewer: Gray Freeman
Reviewed: 2nd April 2017
North West End Rating: ★★★★★