Yorkshire-born broadcaster and singer Clare Teal graced Oldham Coliseum's stage for one evening only tonight, and despite the less than capacity audience, she received a warm welcome and many deserved rounds of applause throughout the evening.
Teal is the UK's foremost interpreter of the Jazz / Big Band era, and her love and indeed knowledge of this genre is apparent not only in her singing of the music but also in the snippets of information she imparts between numbers.
She is a very ordinary and down-to-earth lass, and her patter and chatter with the audience and band members is both humorous and intelligent. One has the feeling she is speaking directly to you personally, and that her well-rehearsed remarks are off-the-cuff. A more genuine performer would be very difficult to find.
This evening was totally dedicated to the late great Ella Fitzgerald, and some of the songs Teal sang this evening she was trying out on an audience for the first time. The only give-away being the reams of sheet music in front of her and her occasional glance at it to make sure she was on track. A consummate professional and extremely secure in her craft.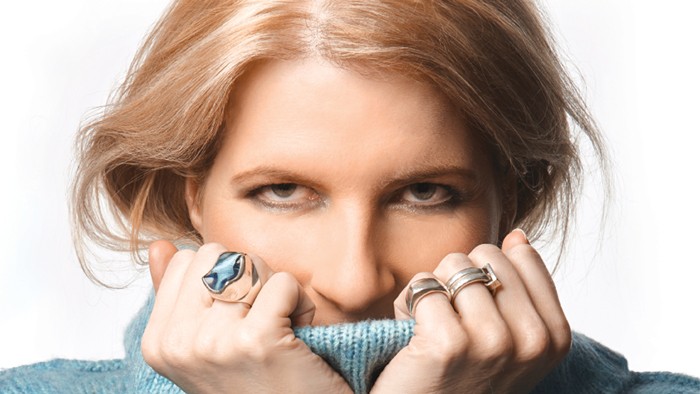 Ella Fitzgerald had a remarkable and long career, and as Teal quipped this evening before one of the songs; "Ella sang this song when she was 42, and she had a great career ahead of her." And as she went from traditional jazz, through to Blues and from Big Band standards to special arrangements, you could not only sit back and enjoy the talent that was on display this evening, but also get a truly lovely glimpse into the style and music of Ella Fitzgerald too. Well, Teal will be 44 in a few days, and she certainly has a great career still ahead of her that's for sure!
Accompanying Teal this evening was a 9-piece mini Big Band, and besides playing solo riffs in the pieces, a couple also were singled out to chat with her and explain things to the audience about their lives or about how they came about choosing or arranging tonight's music. My favourite moment in the evening though came mid-way through the first act, when the bassist sang a beautiful blues duet with Teal, "I'll Never Be Free". (I am guessing that to be the title). A song I had never heard before, but truly lovely.
The only thing to put a damper on the evening was the lighting. Annoying beyond belief, it kept changing with different colours washing the performance area, and often with a revolving gobo-style design. However, all this did was create unwanted shadows, plunge Clare Teal into semi-darkness, keep her face unlit, and generally make the Big Band appear other-worldly. Extremely odd and very irritating.
Reviewer: Mark Dee
Reviewed: 8th April 2017
North West End Rating: ★★★★