As the Easter weekend comes to a close, I found myself guilty of being rather over indulgent somewhat on chocolate... chocolate and more chocolate so I needed to get away from the remnants of eggs and wrappers and get burning off those calories and in doing so, found the perfect treat to finish the Easter celebrations. It came in the form of a concert, Not all concerts are the same; some live acts you will see disappoint you and never live up to your expectation, this was not the case with my choice; Billy Ocean live.
Ocean is heading very near to his 70th birthday but yet performs with such energy and vigour throughout his set to the delight of the Salford crowd.
The gig starts off with the rather apt 'Are you Ready' and Salford was certainly ready, the energy in the room was electric and things had only just got started, this was then slowed down with a couple of ballads, Billy Ocean has of course written some very powerful emotional ballads, this was evident during 'There'll be Sad Songs' and especially later in the night during the brilliant 'Suddenly' which I think I can safely say every single member of the audience at the Lowry was singing along with him, it was quite magical to hear Ocean and his fans in such unison.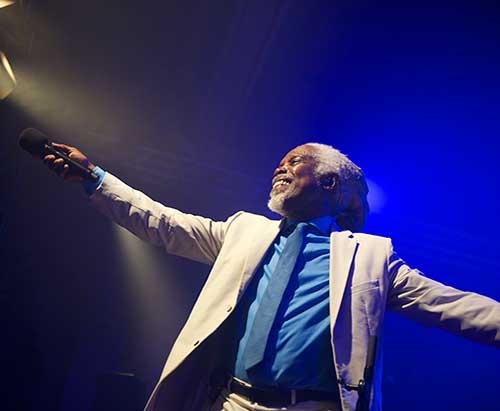 The stage is rather simple with no screens but Billy Ocean is an artist who is able to let his music do the talking, and it is remarkable; the amount of hits this man has achieved, they just keep coming with more and more energy as the night goes on; 'Love Really Hurts with You' was a huge fan Favourite followed by 'No Wan, No Cry' a nod to the late Bob Marley.
As the gig continues, it becomes apparent that I'm not going to need my seat, there's just too many amazing hits to waste time sitting down, hits like 'Get out of My Dreams' and 'When the Going gets Tough' are incredible live with such a youthful stamina from Ocean who certainly isn't showing his age and neither are the audience, it's a feel good concert and one you'll never forget.
Caribbean Queen closes the show to well deserved rapturous applause, Billy Ocean is a born entertainer who has more than proved why he's still such hit after decades of success.
Verdict: Ocean at his best, simply astonishing to experience live!
Reviewer: Max Eden
Reviewed: 17th April 2017
North West End Rating: ★★★★