Halfway to Paradise – The Billy Fury Story – two hours of the British legend Rock and Roller, featuring the original members of his band Fury's Tornados.
On vocals – Colin Gold The 1996 "stars in your eyes" performer, where after two weeks following the show one of the band members called Gold and since then they have formed together to keep Billy's name alive for 20 year. Drums, vocals – John Raynor, Bass, double bass, vocals – Graham Myvill, Guitar, vocals- Chris Raynor, Piano, keyboard, vocals and Fury's musical director – Charlie Elston.
Billy Fury was Britain's own Elvis, with the looks like James Dean with his chiselled profile - he was sex on legs.
Born 17th April 1940 in Liverpool Ronald William Wycherley remained an active songwriter until the 1980s. He commenced musical lessons on the piano before he was a teenager and bought his first guitar by the age of 14. In 1958 he started to compose his own songs and in 1959 he released his first hit single for Decca records "Maybe Tomorrow" and in 1960 he released his own composition "Colette" followed by "That's Love ".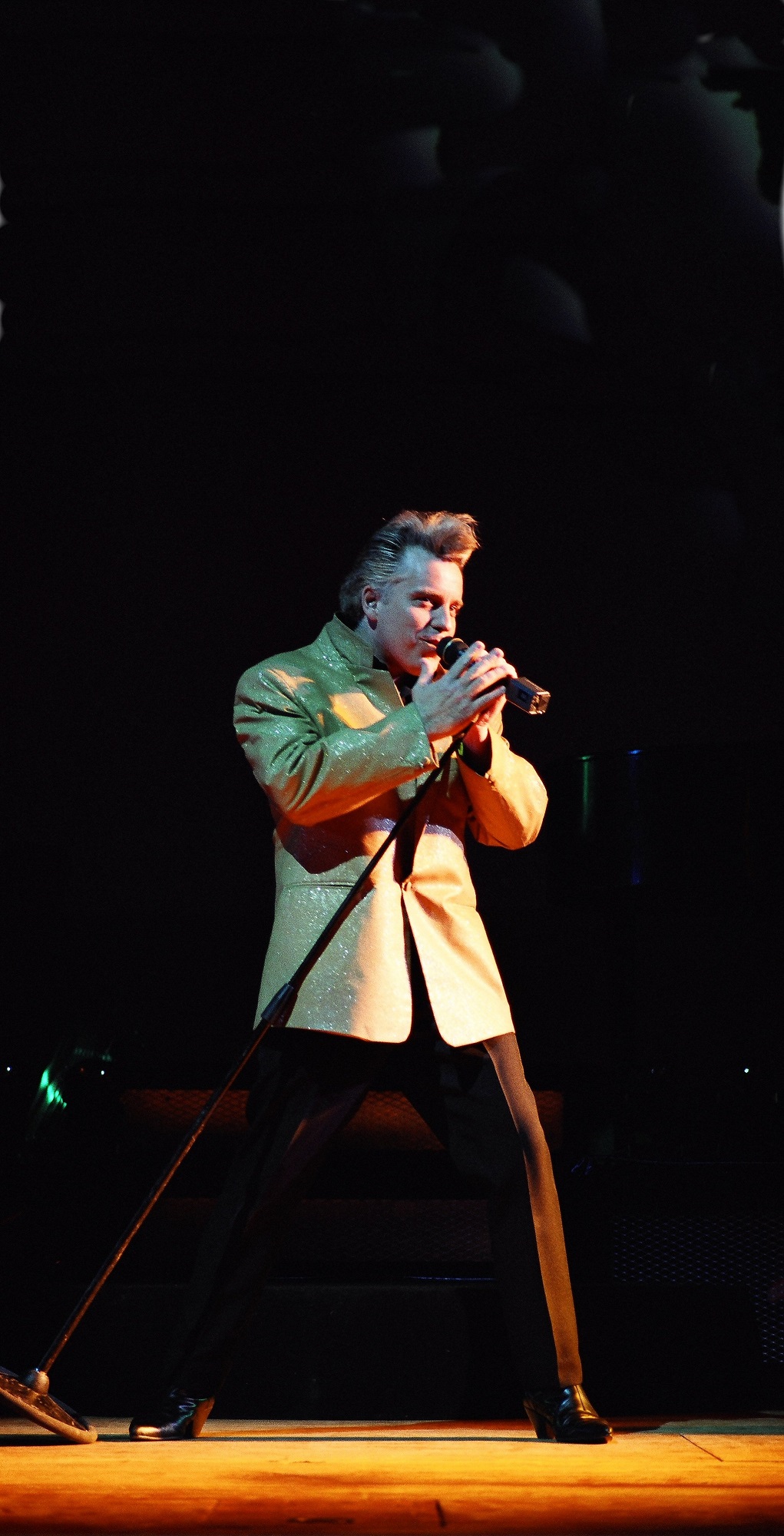 The auditorium was filled with avid Fury fans who had braved the Manchester city centre traffic to watch their teenage idol and his band and I have to say it was lovely to see so many males in the audience as many bands from the 50s and 60s era attract the female clientele only.
The stage was as you expect for a gig with a simple backdrop and instruments ready. Heiress Lisa Voice (née Rosen) opened the show on the backdrop screen speaking highly of Billy and his band and relayed the tales of life with him even though they spent the last two years of his life separated - Billy originally married Judith Hall but left her for Lisa in the early 70s.
Fury concentrated less rock 'n' roll and more on mainstream ballads such as "Halfway to Paradise" and "Jealousy "which reached number two in the UK charts in 1961.
Manchester 2017 the Tornados were at their finest with the infamous hand jives and brilliant instrumentals, the band oozed charisma and enthusiasm clearly feeling the passion for the Genre. John Raynor on drums was magnificent and shone like the star he was and still is.
The evening was an array of Fury's musical genius and tragic story, from a beautiful talented musician to a fragile body cheated by with Rheumatic fever taking his life at such an early age of 42 years old. Billy was associated with so many acts such as 'The Beatles', 'The Searcher's" and Marty Wilde.
In 1973, Fury emerged from a period of semi retirement to star as 'Stormy Tempest' and went out on the road with Marty Wilde.
The first part of the evening produced a display of his musical hits "like I've never been gone ", "A thousand stars ", "gonna type a letter", " maybe tomorrow ", "nobodies child" sang beautifully by 'Gold' accompanied by a single guitar with stunning images portrayed on the backdrop.
"Devil or Angel" sang acapella with fantastic harmonies from the band ending the first act with a permanent song that featured in each tour "that's alright now mamma ".
During the interval I got to meet some of Fury's avid fans and spoke to a lady who was 73 with her friend Gloria Deary from Manchester who had seen the show three times over the years. Gloria said "The music is really good and the backing is brilliant "she stated that in previous year's performances they had acted the story out where as this time it was very different, but she still glad she came ".
I have to say that it was clear the band Tornados oozed talent and purity but 'Gold' didn't sell it to me, more of a showman and a lazy vocalist he seem to struggle to show authenticity.
It was lovely to see so many images of the Tornados in their youth, the second half was opened by this magnificent band displaying the talent in its true form.
The performance of the night for 'Gold' was when he sang "in thoughts of you" the 1965 top 10 hit, Way he came to life and really shone as Billy Fury.
Billy Fury would have been 77 years old yesterday on 17th April if he had lived, make in the evening more significant as a tribute to this amazing singer.
Colin Gold's sons now contribute to the Fury act as sound and lighting producers making it a family tribute to Fury.
One of the most poignant points of the evening was a spine tingling projection of Billy singing "when will you say I love you" accompanied live by his amazing band and clearly loyal disciples.
The evening ended with encore of "only make believe" and "forget him" sung by 'Gold' whilst Billy Fury dominated the backdrop with a projection of his true beauty and talent leading to a standing ovation.
Fury died on 28 January 1983 leaving this huge gap in the musical world, the 20th anniversary tour continues to Mansfield from May 20th. Tickets still available
Reviewer: Katie Leicester
Reviewed: 18th April 2017
North West End Rating: ★★★