As the audience take to their seats they are kept entertained by films and photographs of Michael Jackson and his meeting with Navi plus clips from a movie to be released soon, 'Searching for Neverland,' based upon the last three years of Jacksons life and in which Navi plays the starring role. Considered the world's number one Michael Jackson tribute, a claim supported by the fact he is the only impersonator to have performed for him having had the honour of being requested at Jackson's 40th birthday party whereupon he received a standing ovation from the man himself. He was invited to Neverland (Jacksons home) and personally chosen by him to act as decoy over a period of many years.
Fifteen minutes later than billed and with no explanation Navi takes to the stage performing with a four piece band consisting of drums, keyboards, guitar and bass guitar. Looking more like Jackson than ever after having cosmetic surgery in an effort to emulate the star in every possible way Navi slickly starts off with 'Smooth Criminal.'
"How you doin' Preston, are we having a good time?" he calls out, but this begins to irritate when it is repeated constantly throughout the evening.
As expected, from someone who works tirelessly to get it right, there is impeccable choreography from Navi and his two male dancers who are joined by a third female dancer as the show continues with 'The Way You Make Me Feel.'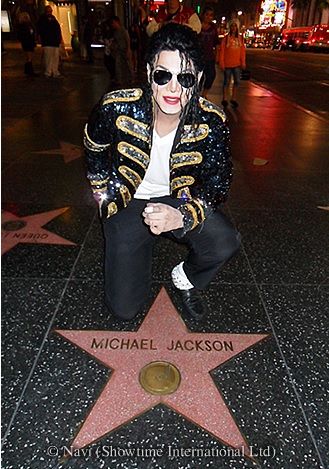 Introduced onto the stage is American guitarist Jennifer Batten who performed at all three of Jackson's world tours between 1987 and 1997 and is joining Navi on his current tour dates. Tonight she proved she still has what it takes to bring that guitar to life with incredible energy.
With frequent costume changes Navi continues with the hits, climbing down from the stage and mingling with the audience to cries of "We love you Michael/Navi" and clearly loving the adulation of the fans. A fan myself and having seen Navi on several occasions, tonight I was not feeling the excitement. There is no denying he has the look and the voice but some of the energy and feeling I have seen before from him seemed lacking. Maybe this is because it's a bigger venue than I have seen him perform at than previously and some of the intimacy is lost (although at only half capacity, possibly due to not being advertised as a venue in the official programme.) Sadly I know I was not the only one feeling this from comments overheard around me. However, there were many who left their seats and crowded the front of the stage obviously enjoying every minute and singing along. It was good to see many young members of the audience practising their Jackson dance steps in the aisles too.
Navi seemed to have renewed energy for the second half which brought a medley of Jackson Five hits including 'I Want You Back,' ABC' and 'Can You Feel It' and yes I was beginning to at last. Although giving a fabulous performance of 'Billie Jean' the infamous moonwalk was almost lost as unfortunately it was out of spotlight. I would have liked to have seen backing vocalists rather than pre recorded vocals for some of the songs too.
Undoubtedly Navi is passionate about Jackson and continues to thrill audiences around the country with his showmanship. For tour dates I would suggest researching online as those listed in the programme do not correspond to actual dates and venues plus more dates have been added. http://www.kingofpop.co.uk/
Reviewer: Lorna Weekes
Reviewed: 4th May 2017
North West End Rating: ★★★★