This evening Roy Orbison put on an amazing show singing all the iconic favourites and capturing the audience's attention from the minute he appeared on stage. Actually that's not quite true, sadly Orbison passed away from a heart attack in 1988 but his memory will live on thanks to tribute artiste Mr Barry Steele who will simply take your breath away as he recreates the image and sound of "The Big O' ".
His attention to detail is evident and he has mastered the almost lifeless stance, the barely moving lips and the whole appearance wearing the legendary dark glasses and this is all before I mention his vocals which are quite simply incredible. Listening after the show to recordings of Orbison and then Steele I could not tell one from the other, if you are a fan of Orbison this is a true and compassionate tribute and one you have to see.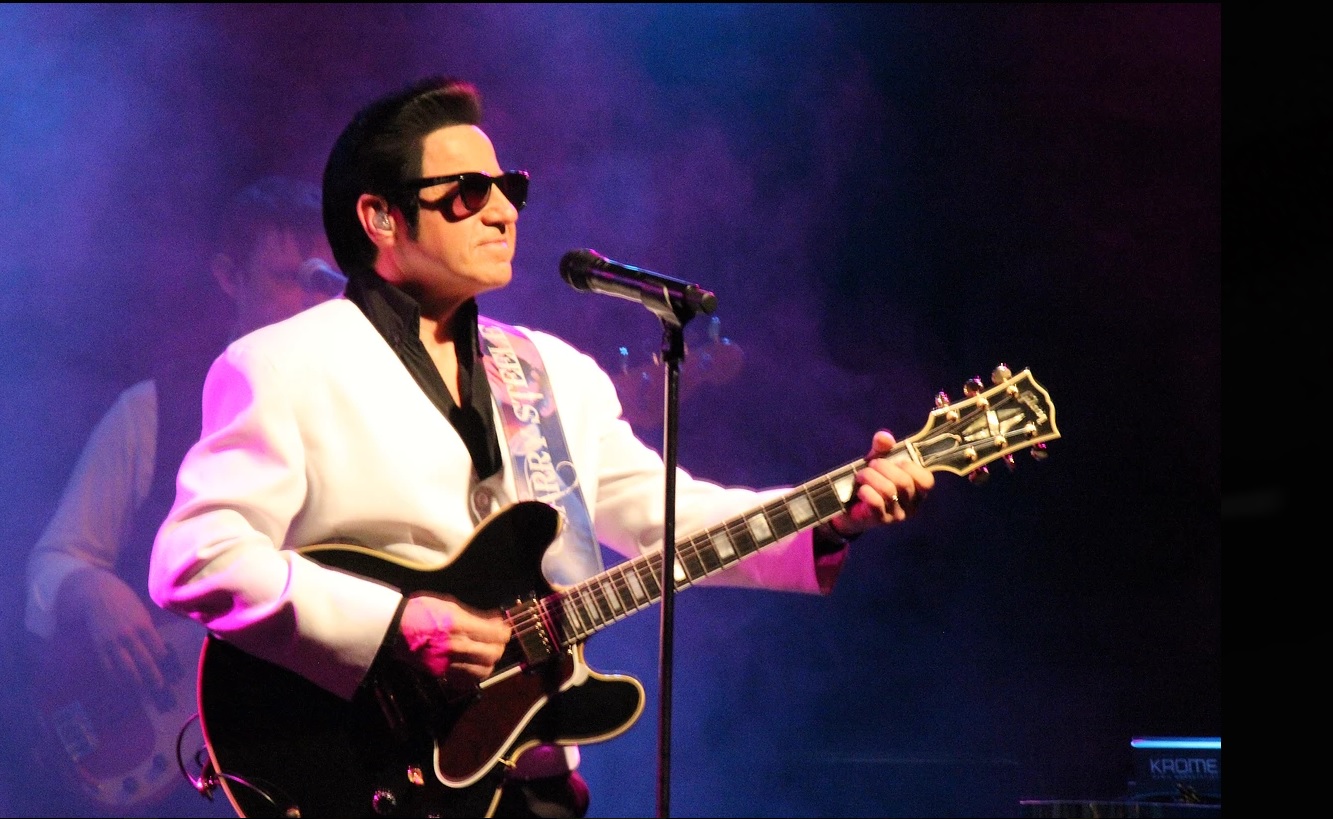 The stage setting is simple with illuminated panels each side of a screen which is used to convey snippets of informative trivia about Orbison, the song being sung, the loves and losses in his life, he had his fair share of tragedies losing his wife Claudette when she was just 25 in a motorcycle accident, then two years later two of his sons in a house fire. The lighting effects throughout the show are fabulous and the sound is spot on, vocals could be heard clearly from everyone and the music level perfect. Take a bow Matt (lighting) Chris (sound, Steele's eldest son) and not forgetting AV and merchandiser Dean who equipped me with a complimentary programme, thank you all for your hospitality when I was seeking information on the show!
Steele is supported by a band he refers to as 'the cast' and consist of Boogie Williams (Barney) who makes a keyboard sing with his talented playing and entertained us tonight performing Jerry Lewis hits such as 'High School Hop' and 'Great Balls of Fire'. Shane O'borne demonstrates his skill on lead guitar throughout but particularly during 'Roll Over Beethoven' and great vocals when he joins Steele and Williams when they perform as the Travelling Wilburys, a band formed in 1988 with George Harrison, Bob Dylan, Jeff Lynne, Tom Petty and of course Roy Orbison. (Told you that the screen was informative!) Alan Whitham (bass guitar/backing vocals), Tony Ariss (Keyboard/backing vocals), Steve James (drummer/backing vocals) and Tudor Morris (acoustic/electric guitar and vocals) complete this fantastic band/cast and totally complement one another.
Steele kicked off the show strumming his guitar along to 'Ooby Dooby' a song Orbison first performed with his schoolmates in a band called the Teen Kings followed by 'Candy Man'. Many of the lyrics in the songs are emotive and Steele truly captures the moments with his renditions, you cannot help but be moved by 'Too Soon To Know' a song originally written and performed by Don Gibson but many attributed it to Orbison after he released it following the death of his wife believing it to be about her.
Included in the show are all the known favourites and the audience sing and clap along to 'Penny Arcade'. All too soon, we reach the final song (wow! where did over two hours go?) There just has to be one more and 'mercy' we were awarded one, can you guess what it was? The clue is there!
Recently awarded official UK No1 winner at the National Tribute Awards, The Roy Orbison Story is currently touring, for more info and for tickets that you really need to get: http://www.royorbisonandfriendswithbarrysteele.com/events-2017
Reviewer: Lorna Weekes
Reviewed: 14th July 2017
North West End Rating: ★★★★★