It's a cold, wet and windy 'summer' evening in New Brighton and you could be forgiven for wanting to curl up in front of the fire and TV and for those that did, you missed a fantastic performance at the Floral Pavilion as Scott Ritchie Productions presented The Edwin Starr Band featuring Angelo Starr, younger brother of the late Edwin Starr and with special guest appearance of Northern Soul artiste, Lorraine Silver in a brilliant Northern Soul and Motown party night!
Angelo Starr is a charismatic guy with fabulous stage presence and a natural born performer. From the moment he walked onto the stage he has the audience captivated and treated us to hits from numerous Northern Soul and Motown artists. Supported by The Edwin Starr Band - 'The Team', consisting of several original formative members of the band that toured with Edwin and with others having been with them for over 20 years, it is evident that this is just like one big happy family as they recreate the exact sounds of the past. Beverley Miller and James Renford give incredible performances on saxophone as do the other equally talented musicians with Steve Greeves on guitar, Kevin Kendall, bass, 'Jonah' drums, Steve Owen, keyboard, Clive 'JJ' Hare, percussion and with the amazing backing vocals of Ingrid Dunkley who joined The Team in 1996.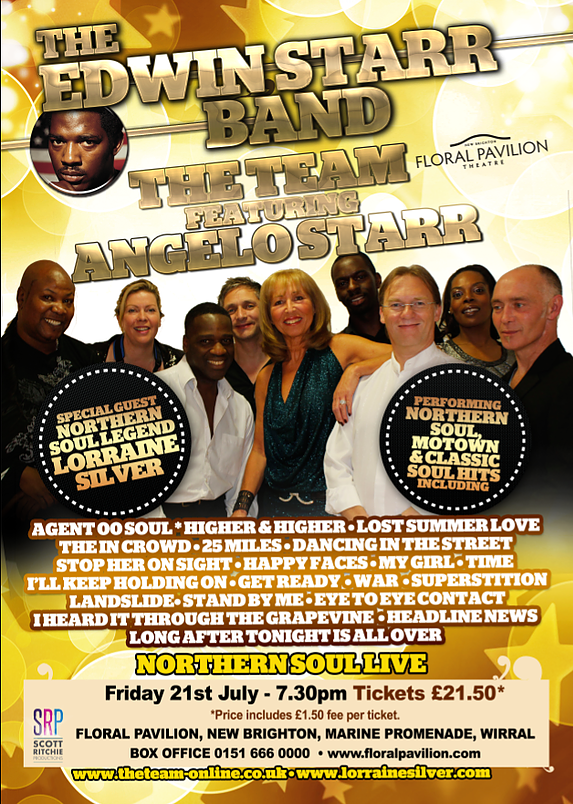 Angelo Starr first played guitar in The Team' during the 1990's standing in for a guitarist and then continued with them as musical director. After the death of Edwin in 2003 that could have been the end of it all, but after much thought it was decided that Angelo would front the band, a position he is truly appreciative of and is respectful to his brother's memory in every way.
Lorraine Silver recorded 'Lost Summer Love' in 1965 at the age of 13 and this hugely popular song on the Northern Soul circuits was a firm favourite with the audience tonight. Looking and sounding fabulous Silver performed in the first half with several songs including 'Landslide', '1.2.3.' and 'Long After Tonight is Over'.
Although Starr sings many of his brothers classic songs starting off with the 1969 hit '25 Miles', Edwin's first success with the Motown label, he is not a tribute artiste, this is a tribute to the legacy of the music performed by Edwin and others such as Otis Redding, Marvin Gaye, Jackie Wilson and Levi Stubbs (Four Tops) The show just flows from song to song and the music never stops. Starr constantly engages with the audience with such an ease that it really is like one big party and during the second half everyone dances and sings along through every number with even the theatres ushers joining in! He also throws in a few lyrics from present day songs for the benefit of some of the younger members of the audience who would possibly not have known some of the songs from what is probably not just their parents 'days', but their grandparents 'days'! But make no mistake, this audience may mainly be of an older generation but wow did this theatre come alive as they danced in the aisles, many side stepping and spinning in typical Northern Soul dance style!
Starr's performance of 'War' with the audience participating was yet another fun part of the evening. The show is almost two and half hours long and every single minute is an absolute thrill to be part of and I fully recommend if you get the chance, get yourself to a show and party the night away.
Reviewer: Lorna Weekes
Reviewed: 21st July 2017
North West End Rating: ★★★★★