Whether you are a resident of Blackpool, holiday-maker or just in need of an entertaining fun night out, then the place to be is The Grand Theatre, Blackpool this summer. Frankie Valli (Dale Adams) Nick Massi (Michael Riseley) Tommy DeVito (Ian Curran) and Bob Gaudio (Patrick Barrett) bring to the stage two hours of polished style as they recreate the sound of popular American group, The Four Seasons.
The Four Seasons climbed the charts during the 60's and 70's and became one of the best-selling groups of all time with over 100 million record sales worldwide. Judging by audience reaction tonight they are still very popular!
Adams takes the lead as Valli with his excellent falsetto vocals and the others harmonise beautifully, although they do all get the chance to perform individually showcasing their own talents. Choreography by Joanne Dalladay is spot on, I particularly liked the sharp moves of Barrett who appeared totally at ease on the stage as did the others but he just had that edge.....sorry guys he had the best of all your corny chat up lines too!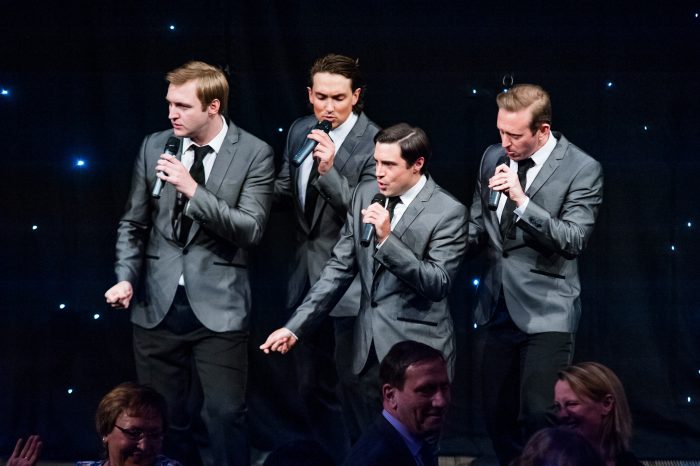 The group like to interact and venture into the audience several times (hence the chat up quote) which is all well and good if you are seated in the stalls but a bit annoying for us in the balcony seats who cannot witness anything going on. Joining them on stage one member of the audience is serenaded and danced around the stage by all four as they compete for her attention. She is escorted back to her seat clutching a box of complimentary chocolates, nice touch there.
'Walk Like A Man' was the third number one hit for The Four Seasons and tonight the guys open the show with it, setting a high standard from the start. They do not disappoint for the rest of the show performing hits such as 'Lets Hang On', Big Girls Don't Cry', 'Rag Doll and a fabulous A cappella rendition of 'Blue Moon'. There was a moving performance from Adams with 'Fallen Angel' a song that is claimed to have been written for Valli after the death of his estranged daughter and I have to say a favourite of mine. There are so many songs that are instantly brought back to memory when they are performed, you are guaranteed to know most of them and will be singing along.
Although smartly dressed alike in black suits and red ties it was a little disappointing to see the guys dressed in the same attire after the interval, having seen the show before with a different line up I had expected a change of jackets at least! Produced by Veritas Entertainment and directed by Mark Halliday ( a former performer in the West End musical Jersey Boys) the show is supported by a great band with two guitarists, keyboards and drums who capture the sound perfectly. Lighting is subtle and effective with a simple backdrop.
The finale features a medley of the songs performed and has the audience on their feet with a deserved ovation. The show is on just its second evening of the performances scheduled until 27th August and I can envisage that it is just going to get better. After the show, the Walk Like A Man guys appear in the foyer for photographs and to meet and greet their fans. (no charge like many performers!)
For further information, tickets and performance times: https://www.blackpoolgrand.co.uk/event/walk-like-a-man-17
Reviewer: Lorna Weekes
Reviewed: 26th July 2017
North West End Rating: ★★★★