When you are a tribute artist one thing that is for sure is the audience are going to watch your every move, your appearance, mannerisms and compare your vocals to whoever you are paying homage to and when that person is the late great George Michael it is no mean feat to impress a capacity audience. Taking on that challenge this evening at the Floral Pavilion New Brighton, is Wayne Dilks, a former 'Stars in Their Eyes' contestant first appearing in 2002 and who impressed so much he was asked to go on their nine-week live tour. Wilks has performed as George Michael for the last 16 years but this touring show 'Faith' was only created by Wilks and promoters 'Ellis Live' in January of this year.
So how did he fair? Well in the words of George himself ' If you're gonna do it, do it right' springing to mind from the song 'I'm Your Man', Wilks certainly fits that description. From the minute he appeared on stage the audience went wild, never have I seen such a reaction to a tribute so early in a show before and this continued for the whole two and half hours he performed on stage (plus an interval).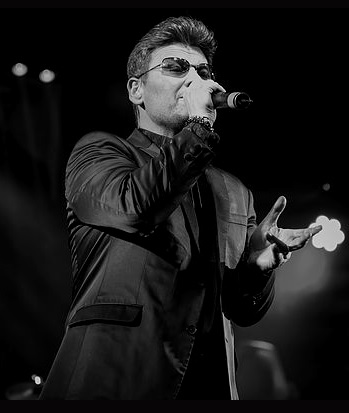 Bobbing up and down from their seats as an amazing amount of songs were covered switching from upbeat to ballads, no matter what Wilks sang he had the theatre in the palm of his hand listening to his every word. As Wilks himself says ' There will only ever be one George Michael' but this evening I have witnessed a show that pays a respectful and polished tribute to the icon. Wilks has charisma and stage presence supported by a fabulous band 'The Legacy' to guarantee an excellent evenings' entertainment. The show covers songs from George Michael's 2006 Greatest hits tour 25 live plus some of his final Symphonica tour and taking us back to those carefree days of when he performed in Wham during the early 1980's.
Musical Director Colin Jones playing drums, is accompanied by Dave Butterworth bass guitar, Tom Stevens, keyboards, backing vocals, Matthew Peacock, guitar, Sofia Wilks and Annette Campbell backing vocalists. Special mention goes to talented Jo Ashcroft for amazing saxophone, particularly during 'Careless Whisper' and who also plays Flute, percussion and provided additional backing vocals. The stage set has fabulous lighting effects with highly professional graphics which add to the overall atmosphere the show radiates.
'Faith' is a show that delivers, be prepared to be up and dancing from the start and singing along with plenty of arm swaying on the occasions you sit back down! Considering how loud the audience reaction was during the evening it was a poignant moment as Wilks dedicated 'Jesus To A Child' to George Michael and you could have heard a pin drop at this mesmerising performance.
The show continues to tour and more information on dates can be found at https://www.faithgeorgemichael.com/shows
Reviewer: Lorna Weekes
Reviewed: 7th October 2017
North West End Rating: ★★★★★