Wow, where do I start? What a wonderful night of music.
We were treated to not one, but two support acts both absolutely amazing in their own right with extremely different styles. Chloe Reynolds started the show; she did several of her own compositions with my favourite being 'Baby Sister'. I'm pretty sure that this young lady will go far. She put the audience at ease and had a good reaction from them.
Her time with us was all to brief but we had to move on to the main act, it was time for Lulu – or was it. No, it was time for Darren Hodson. Darren is part of the band that tours with Lulu – he plays a mean guitar and has vocals to match... Oh my, just phenomenal to hear him and to watch him play – 'Songbird' was just breath-taking. When not touring with Lulu, he is a singer/songwriter in a band named 'The Southern Companion' with musical influences such as blues, soul and country... If the rest of his band mates are as good as he is, they'll be in it for the long haul...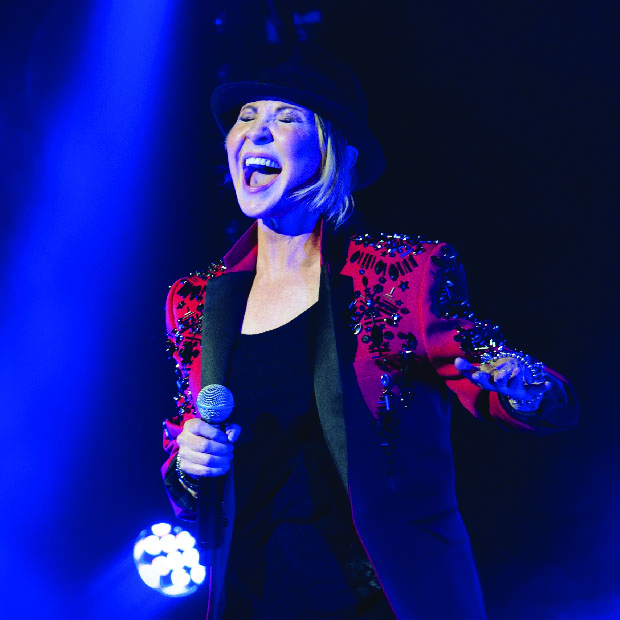 Then the ball of Scottish energy burst onto the stage (she was making me tired just watching her). She did not stand still. She was brilliant. The audience was in its element and the place was buzzing from the very start... She sang some of the older stuff 'To Sir, With Love', 'The Man with the Golden Gun' and a very emotional version of the wonderful Bee Gees classic 'Words' as she spoke about her time with Maurice and the brothers. She paid tribute to a couple of other legends too, David Bowie and Tom Petty to name a couple. But my favourite song of the evening was a song she had written for someone else, a song that some might not know she had co-written with her brother – the fabulous 'I Don't Want to Fight'. Tonight Lulu sang this as a very powerful duet, with John-Louis (Louis to everyone) Riccardi and brought the house to its feet... It was sensational.
She had to finish the set (before encore of course) with 'Shout' which started with Lulu on the floor in a fit of giggles as one of the female members of the audience tried to sing along and failed... Lulu took a few minutes to compose herself, still giggling but then delighted the audience with the song we all wanted to hear... She's still got it!!!!! And I personally, would like to know where she got it, and can I have some... She looks and sounds just awesome for someone who released 'To Sir, With Love' 50 years ago last month....
The lady sure knows how to surround herself with talent – the band were superb with each and everyone playing a key role in this evening's show... All possessed fantastic vocals, played extremely well and most had duets with the lady herself. Led by MD and keyboard/vocals, Richard Cardwell, they excelled.
Lighting was spot on with no errors and some superb, effects. Sound also had no issues tonight, everyone could be heard and there was no interference at all. Quite refreshing really. Well done to the crew.
If you do get chance to see Lulu's 'ALL ABOUT THE MUSIC' Tour, I highly recommend it – there is something for everyone. Whether you are a die-hard fan and someone like me, who admittedly knew less than she thought (oops), you will be entertained from start to end...
A fast paced, highly entertaining evening... Thank you Lulu (and your gang)
Reviewer: Hazel Bumby
Reviewed: 26th October 2017
North West End Rating: ★★★★