The nation took Jonathan Antoine to its heart when he made his first public appearance on ITV's Britain's Got Talent in 2012. The unassuming, shy, Tenor amazed the Judges and the audience with his outstanding vocal talent and was the runner up in the competition. He sang with his friend, Charlotte and they were immediately signed up by Simon Cowell. Two albums and a tour later, they decided to pursue solo careers and in October 2014, Jonathan's first solo album went to number one in the classical charts for three weeks.
This is Jonathan's first solo tour. It became very apparent that quite a lot of the audience have been to see him on every date of it. This is one popular singer with a very loyal (and in some cases, almost fanatical) fan base who simply love him to bits. He received a standing ovation for almost every song.
Jonathan's Musical Director is Robert Emery - an extremely likeable, charismatic and talented pianist as well as MD. He and Jonathan interact during the show and it is clear that they get on well and this adds to the feeling of warmth generated on stage.
Jonathan was greeted with rapturous applause by the audience who gave him a standing ovation before he'd even sung a note. He gave a very assured performance, starting the show with 'Granada'. He sings so expressively with engaging facial expressions and appears to be totally unselfconscious and at ease. His singing seems to be effortless and is totally compelling.
He was accompanied when singing 'Ave Maria' by the Heartbeat Chorus - a ladies' choir who are UK Gold Champions. They also appeared in the second half of the show when they sang "What'll I do" and "Life is a Cabaret". I have to say their arrangement of both songs was not to my taste at all but that's not for this review!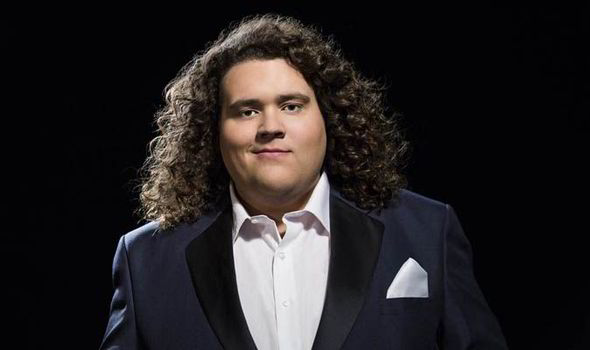 Sarah Ings, a Saxophonist, joined Jonathan on stage to accompany him during 'Hallelujah'. This was very stirring, with Jonathan going through a whole range of emotions in his singing. The audience was transfixed - including me. Sarah then played two songs on her own.
Towards the end of the first half, a 91 year old lady in the audience shouted out to Jonathan that 'you keep me alive!' I'm not sure how this made him feel (it's presumably quite a responsibility!) but he modestly thanked her and her comment is indicative of the love and affection that he engenders in his fans.
In the second part of the show, we had a variety of songs, including 'If I loved you' from Carousel, 'On the Street Where You Live', 'Some Enchanted Evening' and 'Summertime' from Porgy and Bess. Jonathan was also joined on stage by Mary Jess, a talented performer who then sang two songs on her own (after rather too much self-promotion for my liking, I'm afraid).
When Jonathan sings, he is lost in the music and the performance. It is a joy to watch him and listen to him. An observation I would make is that having the additional performers does not add anything to the show - Jonathan can hold an audience in the palm of his hand and he doesn't need any supporting artists masking his amazing voice.
Praise should go to the lighting crew who produced beautiful effects which matched the mood of each song.
I knew the majority of the songs but even those I didn't held me spellbound. Jonathan makes classical singing accessible without any starchy formality and his humble, unassuming manner makes it even more enjoyable.
In the early part of the show, Jonathan informed us that this was the last night of the tour and "let's make it bloody insane". I don't know about 'insane' but try totally compelling, moving and heart-warming. I think that's a pretty good way to end a tour.
Reviewed: 23rd November 2015
Reviewer: Nicky Lambert