It takes a special synthesis of talent, and empathy to get on stage and lovingly play tribute to any artist. But, doing so with one so tremendous, and tremendously adored in mind, takes nerve.
Lawrence Knight has toured with his Bowie Experience tribute show all over the UK, to passionate receptions by Bowie fans young and old, and was even lauded by Bowie himself. It seems he has found the balance between imitation and persona, and a dash of good humour that a show like this needs to really take off.
Tonight at Opera House, Manchester, I took my seat in the stalls surrounded by the usual cacophony of excited voices that permeates the theatre air before curtain-up. Nearly 2000 people across four generations were alongside me; from the three venerable ladies two rows in front, dressed up in their jewels and vintage Ziggy Stardust 1972 tour tee-shirts, to the two teenage boys behind me with their parents, asking, "Did you really see the real Bowie, Dad?" The eyes of David seared down on us, miss-matched pupils painted in Technicolor on the banner hung front the ornate proscenium arch; an allusion to the godly figure Bowie has come to be, over his life and since his death.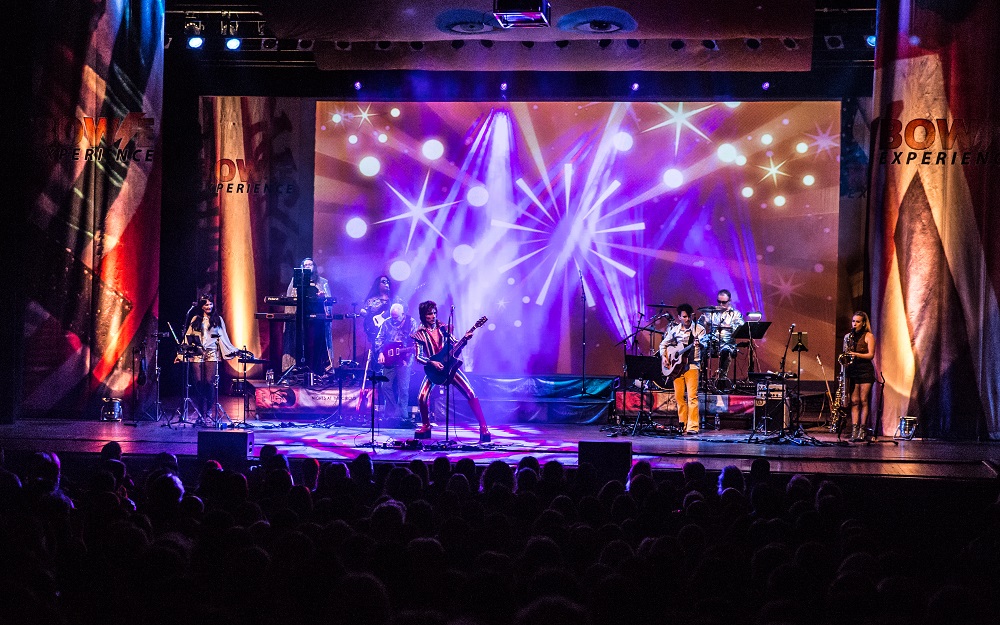 The show started to shrieks and excited clamouring, as Starman filled the atmosphere, and Knight strode on stage, poured into a Ziggy-esq skin-tight multicoloured jumpsuit. His voice is a good likeness to that of Bowie's, but that isn't the point. This is more of a celebration of the life and life's work of the man and legend, than an all out imitation. It is so fuelled by nostalgia, and sheer adoration of Bowie. With a good dose of glitter.
The first half (this reviewers favourite—just about) runs through all the classics and will have you dancing in the aisles before the intermission: Life on Mars? Soul Love, Diamond Dogs, Changes, Jean Genie, and Moonage Daydream to name a few, were blast out and echoed back as the crowd sang along. It was the opinion of the couple from Dublin just in front of me that these show stoppers could have graced a pretty encore, but we weren't even half way through. What was also interesting was the dramatic display of lights and projections, including the metamorphosis of Bowie throughout the years, showcasing that infamous haircut from his 1972 debut, to his wiser 2000s years.
The second half arrived, and fans may have though they were in a waking dream, as it featured Young Americans, Ashes to Ashes, Let's Dance and China Girl amongst others, topped only by Heroes, Under Pressure, sung alongside the talented Charlotte Elizabeth Talbot. Talbot played percussion and sang backing vocals throughout the show, until she unleashed high-notes we only thought achievable if your name was Freddie.
The band are made up of seasoned professionals who remain dutifully faithful to the man they revere enough to dedicate two and a half hours nearly every other night to, with great performances all round by Emily Westwood on saxophones, Tim Wedlake and Darren Jones on guitars, James Stead and Stuart Darling on keyboards, Lidia Close on bass guitar and Paul Gill on drums. There were a few appearances by costumier Amy Knight, who colourfully recreates the innumerable different styles of Bowie, with much attention to detail. I don't know quite how many costume changes there were (quite a few) but all were much appreciated by the adoring crowd and executed without any absence being felt.
Overall, the performance is one that is exceptionally well rehearsed and very enjoyable, catering to the nostalgia of a late, great man whose career and, some like to think, soul, touched millions over the near half-century in which he fuelled our imaginations and inspiration.
Reviewer: Natalie Romero
Reviewed: 12th January 2018
North West End Rating: ★★★★