In 1958 three brothers, Barry and twins Robin and Maurice Gibb formed a group and now, sixty years later their music is still as popular as ever. The name for their group came about after singing at a racing event in Australia and they got chatting to a DJ, Bill Gates and a racing driver Bill Goode and along with their mum Barbara and of course Barry, Gates referred to them as the "BG's" and the name stuck although later changed to the 'Bee Gees'.
They were known for their amazing harmonies, Robin's clear vibrato on lead vocal and Barry's instantly recognisable falsetto vocals. Sadly Maurice and Robin passed away in 2003 and 2012 respectively.
This evening, after flying in from Dublin just a couple of hours before and often dubbed the Irish Bee Gees, we have Tony Kelly as Barry, Dominic Feekery as Robin with Peter Simpson as Maurice. Accompanying them is a superb three piece band with JBlack, MD/piano/keys/guitar, Johnny Leon, drums/percussion and John Malone, bass guitar. As the audience take their seats there is a screen at the rear of the stage displaying images and interviews of the Bee Gees with snippets of rolling information on.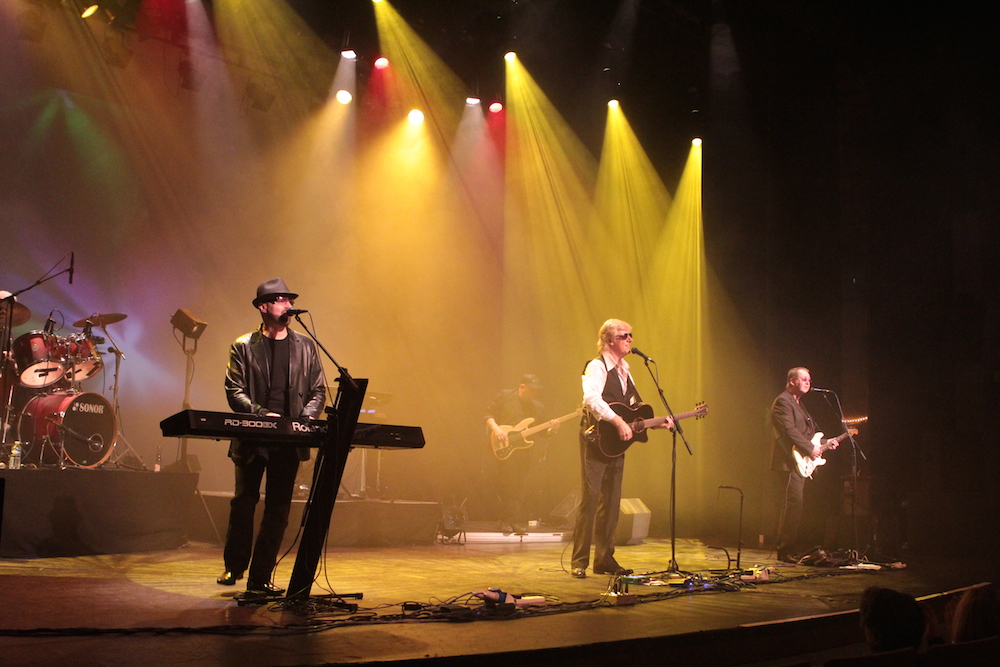 During the performance these continued, along with totally irrelevant images which only served to distract and actually became quite annoying. This talented group do not need gimmicks and much of the information given was related on stage by one of them anyway.
The Show opened with the 1976 disco hit 'You Should Be Dancing' before transporting us back to the 60's with a very well received 'Massachusetts'. As hit after hit is performed it's apparent that this trio work very hard to recreate the sound of the Bee Gees, none more so than when gathering together with fabulous harmonising. Simpson is the most convincing visually as Maurice, but it is not difficult to distinguish who is who with Kelly sporting Barry's long hairstyle and Feekery giving an air of moodiness, synonymous with Robin, who was actually quite shy preferring to keep out of the limelight. Working through the decades, there are so many successful songs from the Bee Gees that it would be impossible to cram them all into a two hour show, but The Bee Gees Story manages to give a varied programme with many of the most loved songs being performed. They include many songs that were written by the trio for others including Celine Dion and Diana Ross, plus other songs they released that also went on to become hits for other artists such as 'Words,' recorded by Rita Coolidge in 1978 and a number one hit for Boyzone in 1996. 'To Love Somebody' was actually written for soul singer Otis Redding but he never got chance to record it after being fatally injured in a plane crash. The Bee Gees released it themselves and tonight Kelly and Feekery give a perfect rendition. They paid a moving tribute singing Andy Gibbs', (the youngest brother of the three who had also sadly passed away, at the age of 30 in 1988), 'Our Love, Don't Throw it All Away'.
Between songs these guys revert back to their native Irish accents, although all trace of accents disappear as they sing. Many tributes keep up the image of who they portray throughout and although there are no right and wrongs for this I found it quite refreshing to hear them as themselves. All three are amazing performers and bring their own special talents vocally. They are also accomplished musicians with Kelly playing acoustic guitar, Simpson on keyboards/guitar and Feekery on lead guitar.
All too soon the show arrives at the finale and now needing no encouragement Nights On Broadway - The Bee Gees Story are deservedly given a standing ovation as they perform 'How Deep Is Your Love' and judging by reaction, very deep, it would certainly be a 'Tragedy' to miss this show.
Reviewer: Lorna Weekes
Reviewed: 29th March 2018
North West End Rating: ★★★★