Over the years, Show of Hands have established themselves as among the top performers in the crowded folk and roots field. The duo of Steve Knightley and Phil Beer are, collectively and individually, multiple award winners, and together they have produced some of the most memorable and topical music in the genre.
One of the keys to their success has been the great relationship they enjoy with their fans, perhaps first demonstrated in their career-defining make-or-break decision to book the Albert Hall for a gig in 1996. That triumphant sold-out concert set the tone for the career that followed, seeing them go from strength to strength so that now they are undoubtedly one of the biggest names on the folk circuit, with an ever-growing fan base, drawn to Knightley's sharply observed songs of personal and political identity, and Beer's astonishing virtuosity on any stringed instrument.
For this tour, entitled "Where We're Bound" the duo return to some old favourites, voted for by fans, in the original stripped-down format, so Miranda Sykes, who has provided bass and vocal support since 2004, is not present. Instead, Geoff Lakeman, the patriarch of the Lakeman family of folk performers, opened the show, accompanying himself on concertina, singing songs from his debut recording – not bad for a 69-year-old!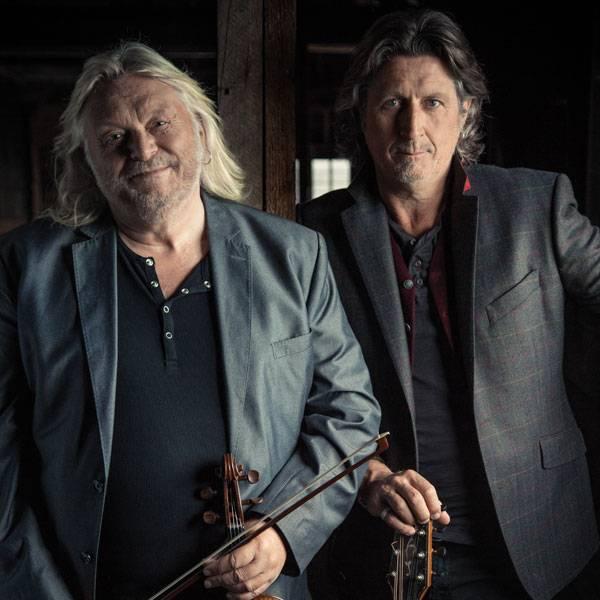 Knightley and Beer then took the stage for a set that dug deep into the roots of their repertoire, and which mainly concentrated on their early material, though not exclusively so. As usual, Steve Knightley was the main focus, introducing the majority of the songs, and entertaining the audience with a string of anecdotes from their lengthy career. Phil Beer (has there ever been a better name for a barrel-chested folk musician?) busied himself with his bewildering array of instruments, providing some spine-tingling moments on fiddle and slide guitar, as well as contributing mandolin and more conventional guitars. For long-term fans, one burning question was always going to be: did they miss the presence of Miranda Sykes? The answer is yes, though perhaps not as much as might be expected. Her bass playing and harmony singing have become such an integral part of the Show of Hands sound that her absence was always going to be noticed, though the effect was mitigated by the decision to return to some of the earliest songs the duo recorded, before she joined them.
The set mixed old folk tunes, such as "Fenneario", with some of Knightley's originals, which have now themselves acquired the air of traditional songs. In essence, the songs documented the early and middle phases of the duo's career, and it was enlightening to hear new treatments of songs that had not been aired for so long. Particular highlights included a version of the traditional ballad "Seven Yellow Gypsies", the beautiful yearning Knightley original "Exile" and his chilling tale of death and thwarted desire, "The Preacher." Beer's playing was, as usual, impeccable, but Knightley's voice seemed a little underpowered, with a throatiness appearing at intervals: maybe this is not so surprising considering the number of shows he has played solo and in tandem with Phil Beer recently. Life on the road can be rough. Having said that, he was able to conserve his voice sufficiently to allow for full commitment when necessary.
The emphasis on the more obscure parts of the repertoire meant that there was a danger that the more well-known songs would not make it on to the setlist, but this fear proved groundless, as a medley of "Arrogance, Ignorance and Greed", "Roots" and "Country Life" showed once again how relevant and poignant Knightley's lyrics are in Brexit Britain. No Show of Hands gig is complete without a rendition of "Cousin Jack" and since this tour takes its name from a line in that song, tonight was no exception. The word-perfect audience joined in enthusiastically as the duo, augmented by Geoff Lakeman, encored with this evocative song of mass migration.
The intimacy of the Quays theatre suited this set, which stands as a celebration of an enduring partnership, that's still delivering after more than twenty-five years on the road. As much as anyone in the folk and roots scene, they have taken the traditional virtues of this music, and invigorated it with a power and originality that never gets stale.
Reviewer: Rob Spence
Reviewed: 22nd April, 2018
North West End Rating: ★★★★