Liza Pulman, widely known for being one-third of the satirical comedy trio Fascinating Aida, walks confidently onto the Liverpool Philharmonic stage wearing a beautiful white jumpsuit and captivates the audience's attention immediately, belting out one of Streisand's most well- known hits 'Don't Rain on My Parade.' Supporting her on stage is an incredibly talented ensemble (including acclaimed musical director Joseph Atkins) and the impressive, award-winning Brighouse & Rastrick Band. Despite the powerful sound of the brass band, Liza Pulman holds her own; her voice breaking through their sound impressively and faultlessly.
Pulman makes it clear from the beginning that she is in no way trying to impersonate Barbra Streisand, nor is the she to be viewed as a tribute act to her. It is simply a celebration of Streisand's beautiful voice and musicality.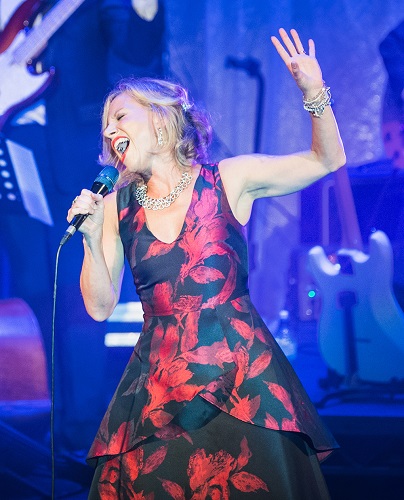 Pulman's programme includes songs we all love including 'The Way We Were' and 'People', as well as a few others that you would not necessarily expect but were nonetheless performed beautifully. As Liza states towards the end of the show, there will always be songs that audience members wish were included but, considering the vast amount of material there is to choose from, Pulman did a good job in selecting the most obvious and popular crowd favourites. (Although I have to admit, Woman In Love was greatly missed by me.)
Pulman's operatic training is clear due to the power and control she has over her instrument. Those familiar with Barbra Streisand's voice will know that tackling one of the many songs from her vast repertoire is no easy task, yet Pulman achieves impeccable pitch with effortlessness and ease (despite mentioning that she has recently suffered with bronchitis.) 'My Man' was particularly breath-taking and was a perfect choice to end the first half with, leaving many audience members stunned at the passionate performance.
Pulman includes an impressive amount of songs in her show and seamlessly moves from one to the other with a witty comment or moving anecdote to tie it all together. Her genuine love for Streisand and for the songs she is performing does not go unmissed and her humble presence on stage makes her very likeable and an absolute joy to watch. The show is successfully put together, well-rehearsed and professionally executed and a joy from start to finish.
Reviewer: Sarah Goldsmith
Reviewed: 29th April 2018
North West End Rating: ★★★★