What was I even thinking? What did I expect? It made me melancholy enough immersing myself in Bowie's songs before this event; The Next Day and Black Star are such stunningly brilliant albums, who knows what this incredible man might have gone on to produce? So I expected to feel sad, and indeed I did – but not in a good way.
I suspect this show is on the lines of Marmite, and although I can't say I hated it, it was profoundly irritating on so many levels. Sadly, the Paul Scott quote from Staying On': 'Enthusiasm is the most ruinous thing I know' is all too often appropriate, never more so than here. It was rather like being licked do death by a big-eyed, floppy-eared, fluffy puppy dog.
For one thing, it is hard to believe this band has been going since 1987, what with all the problems in the staging. The stage itself was so cluttered with equipment it was a wonder there wasn't an accident. As for 'Sound and Vision', microphones had to be fixed, not once but twice, and the lighting did them no favours, casting extremely distracting sharp silhouettes and frequently concealing rather than revealing the backdrop. That in itself was dreadful. Rather than enhancing the show, it was a confusing jumble, a random mixture of video and stills which rarely had anything to do with the songs being performed. And when they did, well, you know what they say about comparisons.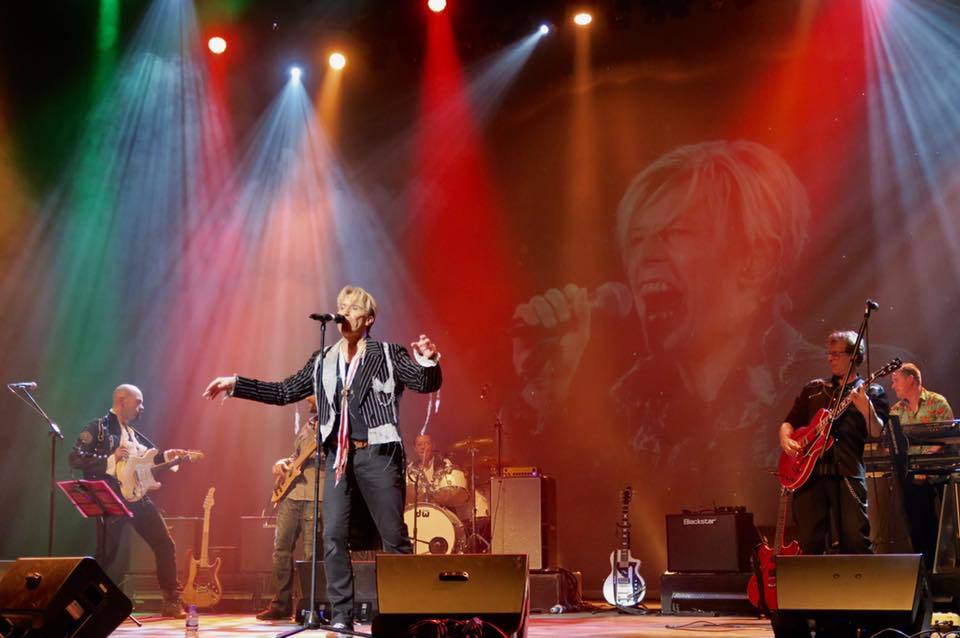 The songs were occasionally overwhelmed by the drums and the keyboard, with one guitarist who looked like he'd impulsively left a death metal band and bitterly regretted it ever since. And the lead singer, as my companion remarked, looked and sounded like Adam Faith as Budgie: more geezer then legend come to life. Bowie, the epitome of 'clothes maketh the man' - costumes here ranged from a black suit with a Romantic frilly white blouse (nope, me neither), a seemingly authentic stripey dresscoat garnished with ribbons and a Noel Coward style dressing gown affair. But that smart dressed man with his snappy suits, in jeans and T shirt? At least this bloke had the sense to eschew the star's chameleon side and cosplay, although that would have been interesting to see.
The songs did at least sound like him, that distinctive timbre, but were largely delivered at the singer's own pace. What you got was basically the Greatest Hits, maybe one or two from each album/decade, up to the 90s, but given the title of the show and the name of the band, there was nothing from the later catalogue, although several from 'Ziggy Stardust', including the eponymous song, obviously. The grandiose opening, on a par with the film, 2001..., equally obviously, led into 'Space Oddity'. We got a lot, with 'Changes', 'Drive-in Saturday', Little China Girl', All the Young Dudes' etc, but some choices were a little surprising; lesser known songs such as 'Moonage Daydream' and 'Five Years'; moot point with 'Sorrow'. After all, at times, Bowie was a flawed genius, coming up with one of the sloppiest lines ever, in 'Fashion', the three syllabled 'the' of 'on the-e-e dancefloor' But the collaboration of 'Pressure' came over well, and opening the second half with 'Rebel, Rebbel' was a good choice; in fact, the show gathered speed as it went along: 'Heroes', 'The Man Who Saved The World'; 'Gene Genie' et al.
Kipling certainly had a point about Triumph and Disaster; let's be honest, no matter how well somebody does an impersonation, they are still an imposter. That third star is, you could say, maybe, the sympathy vote, particularly with not being caught out by all the technical hitches. And after all, it was a case of third time unlucky, following Bowie shows at the Empire and the Philharmonic, hence presumably such a poor audience turn out; barely half the seats. Nor were they responsive at all initially, but fair play, the singer's passion steadily won most of them over, and they ended up rapturously dancing in the aisles, offering a standing ovation.
We often, far too often these days, use the word 'fanatic' but mostly without recalling that's where 'fan' comes from. You can, I realise, divide fans into those who lap up absolutely everything even remotely to do with their hero, and those who appreciate a wee bit of authenticity. Yeah, no guesses...
Reviewer: Carole Baldock
Reviewed: 3rd May 2018
North West End Rating: ★★★