How do you turn an unexciting evening into something fabulous? Go and see The Swing Commanders, that's how!
This five piece, multi-talented band is made up of Peter Riley, Claire Roberts, Dan Smith, Siena Lloyd and Stuart Smith and they are quite simply phenomenal.
They have fantastic stage presence and charisma and as for the talent they possess between them – it's exceptional to put it mildly. Siena in particular deserves a huge pat on the back as not only does she switch between no less than five instruments, she's also the Musical Director and in charge of social networking!
The Swing Commanders are Europe's number one Western swing band and it's not difficult to see why. Their style is versatile and ranges from songs from the 30s to the 50s. The arrangements make them impossible not to enjoy, even if this type of music isn't your thing.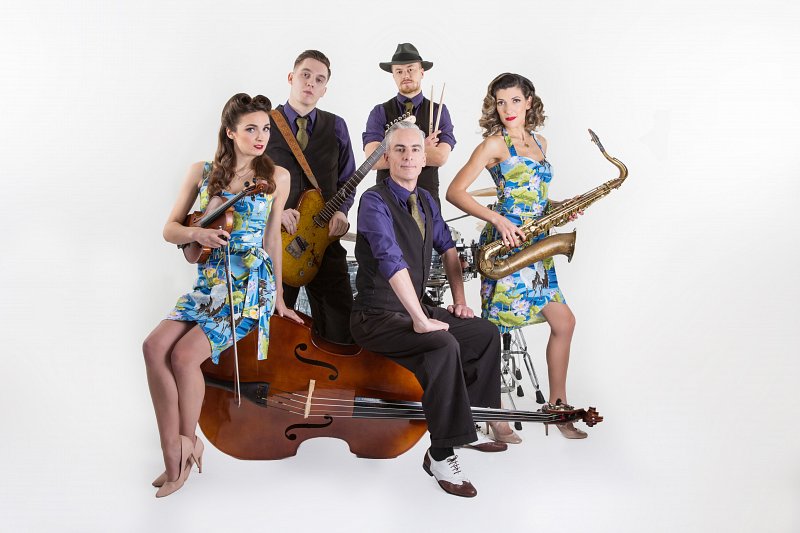 They started with a great version of "In The Mood" which certainly set the pace for the evening. It drew the audience in immediately, as who doesn't know that one? In all, they played ten songs in each half, including a wonderful medley towards the end which was made up of songs that everyone could sing along to.
The band appear to get on extremely well and it shines through in their performance and extends to the audience. They just look as if they're having a party on stage and are there for the sheer joy of it, not just because they're being paid! Some bands seem unable to acknowledge the audience and simply trudge their way through their sets but The Swing Commanders produce an irresistible array of fabulous tunes, done in their own inimitable style, while fully involving the audience at all times. Whilst they perform with a relaxed and easy style, it is abundantly clear that they are absolute professionals, performing with a polished and slick ease. They have easy banter and repartee and the sound they produce is instantly immersive.
Peter is a fantastic front man who has a quirky way of almost thinking out loud and coming out with occasionally random statements which just make you laugh. He has a great personality and is a joy to watch as he is clearly loving what he does and this is evidenced by his charming and endearing yet cheeky smile. The first thing he said when the band first came on stage was "all you have to do is have fun...whether you like it or not". Well everyone certainly did. I also do like the way he often looks as if he's sharing a private joke with his double bass as that charming smile was flashed in its direction a lot. Oh – I need to mention his strangely hypnotic, almost alluring, dance moves during "Sixteen Tons"...rather weird but also quite mesmerising!
All the band members are instantly likeable and make the audience feel valued and involved. Their show is very entertaining and leaves you wanting much more. It doesn't matter whether you're a fan of this type of music or not: it's instantly accessible due to The Swing Commanders' warmth and their engaging performance.
I must mention Artful Voices who are a Sale-based community choir and they performed at the beginning of part two and during the encore. Siena is the Musical Director for them also. They did a great job and treated us to a medley/mash-up of songs from the 11th century up to modern day pop. It must have been a nightmare to learn and rehearse but they did themselves proud.
To sum up: if you've had a bad day, go and see The Swing Commanders. If you've had a good day, go and see The Swing Commanders. They are feel-good, foot-tapping and spirit-lifting. The arrangements are lively, upbeat and fun. This is how music should make you feel!
Reviewer: Nicky Lambert
Reviewed: 16th June 2018
North West End Rating: ★★★★★