Despite the blustery night, Buxton Opera House shone brightly and celebrated the wonderful work of Whitney Houston in utter style. 'Whitney Queen of The Night' starred the powerhouse voice of Shanice Smith who, along with her fabulous band, and extremely talented backing singers, provided a stunning night of entertainment for all.
With an undisputed phenomenal voice she belted out all the classics. Not only that, she danced with choreography that could have been Whitney herself. She introduced each era to the audience engaging with them throughout. Full of charisma and clearly wanting the audience to acknowledge how great Whitney was, she was certainly the 'next best thing'. For anyone who was questioning or unsure of her talent, her rendition of 'I will always love you' would certainly cast any doubt aside.
Hard really to pick a favourite but 'Run to you' was a personal standout and also completing the night to 'The Greatest Love of All' for which she gained a standing ovation. 'I Wanna Dance With Somebody' was the one that probably got the entire audience singing and dancing, even from their seats.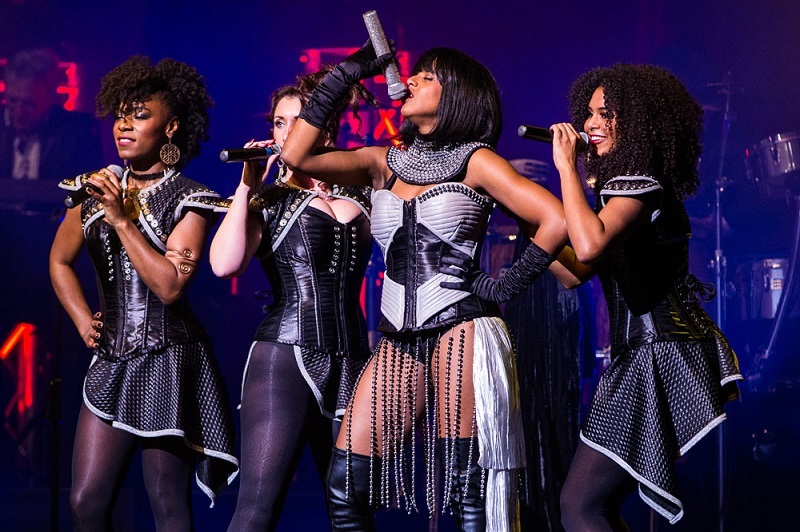 Her three backing singers were seriously talented. The term 'Backing singers' doesn't seem enough as they also added very neat choreography to each song. In addition, each singer performed some solo pieces. They undoubtedly complemented Smith on stage but also were clearly part of the very together 'Whitney team'.
The band were very tight, and complemented the whole show. All undeniably talented but it was the Saxophonist that certainly gained the most rapturous applause.
Outfits were spot on - the glamourous dresses for the power ballads to leather jacket, t shirt and jeans to more up tempo numbers. The detail was all there, allowing the audience to channel the entire Whitney experience in full.
Always a difficult one to call regarding standing and dancing on a night like this however towards the end pretty much the whole audience were engaged in singing along and dancing whether it be in their seats or in the aisles as the theatre politely requested. With some dancing and (very loud, out of tune) singing by the adoring audience at the front of the stage, Smith carried on undeterred.
'Whitney Queen of the night' is definitely more than a tribute to one of the greatest female artistes of all time- it is more a journey through her life and almost encourages you to remember 'where you were at the time'.
Certainly when you wake up humming a Whitney classic you know you have had a great night!
Reviewer: Angela Kelly
Reviewed: 21st September 2018
North West End Rating: ★★★★