Christmas Day, 2016 – following a day of socialising, eating and watching TV, I casually turned to my phone, opened the Twitter app and was met with countless posts about the sudden death of George Michael. On what is supposed to be a joyful occasion, I was devastated to learn of the passing of one of the UK's most successful artists. I remember thinking back to the two times I'd seen George in concert as part of his 25 Live tour.
At the time, I described those gigs as being up there with the best live productions I've been to and they still feature high on that list today. 2016 was a year when many famous artists died and I remember being genuinely touched by two of those deaths - Prince and George Michael. It suddenly dawns on you that you'll never again witness them perform live; that you'll have to make do with the DVDs, the records, the CDs, but the buzz of entering an arena knowing that you're going to see them perform live has vanished.
On entering the Floral Pavilion – I was greeted by fans who, like me were out to capture just a taste of seeing George Michael's music being performed live and by someone who had dedicated their time to imitating the man himself. That someone was Wayne Dilks. Accompanied by a five piece band and two backing vocalists, Dilks strutted on stage to the sound of Michael's familiar hit 'Fastlove.' Prior to the performance, I said to the person I was with that I would close my eyes for the opening lines so as to listen to the similarities without my judgement being swayed by physical appearance. And it was a pleasant surprise to hear how familiar Dilks' voice is to George's on the whole.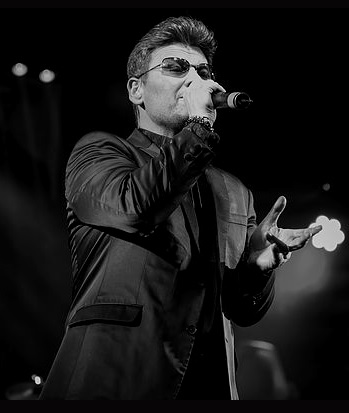 When I opened my eyes and took in the following songs including 'I'm Your Man' and 'Flawless,' you appreciate the resemblance and how Dilks has studied the movements and how he replicates George's unusual sway and clapping of the hands. There were times when I thought, Dilks' voice was just shy of the authenticity to match Michael's but it'd be somewhat unfair to expect an exact replica, because as Dilks himself declared 'there's only ever going to be one George Michael.' There were parts of the show where Dilks would speak to the crowd and sounded like George and other times when he would drop the impersonation and reveal his west Midlands accent.
There was no faulting the backing band which consisted of MD and keyboard player Tom Stevens, Lewis Knight (drums), Dave Butterworth (bass guitar), Matthew Peacock (guitar), Jo Ashcroft (saxophone/backing vocals) and finally backing vocalists Nicky Prince and Sofia Wilks.
The audience, primarily, made up of women were receptive to the invitation to get up and dance and sing along to the likes of 'Everything She Wants,' before the band left the stage leaving only Dilks and Tom Stevens on keys. They performed a touching rendition of 'Praying for Time.' Sofia Wilks then took centre stage to duet on 'I Knew You Were Waiting for Me.' Wilks whose voice is as big as her smile received a deserved standing ovation. We were then treated to 'A Different Corner' and 'Amazing' which concluded the first half.
Returning to the stage, dressed as an American cop, Dilk's powered through more of George's back catalogue including songs such as 'Outside,' 'Faith' and 'Jesus To A Child,' Fans of Wham were not disappointed; an acapella version of 'Last Christmas was performed before 'Club Tropicana,' 'Edge of Heaven' and 'Wake Me Up' all promoted a mass sing-a-long. Dilks described how he'd passed up the opportunity to meet George when he was alive but had met his father and been performing as Michael for 17 years, even appearing on 'Stars in their Eyes.'
For fans of George Michael, Faith – The Legacy is a strong production of timeless songs performed by fantastic musicians and a front man whose love of his idol is evident from the moment he steps on stage. But, like Dilks himself admitted 'there's only ever going to be one George Michael' and at times the likeness faded vocally, but it didn't take away from being a satisfying evening.
Reviewer: Matt Houghton
Reviewed: 22nd September 2018
North West End Rating: ★★★