It is a slightly surreal experience watching a tribute act knocking out the hits of a fictional band who were themselves a covers band.
For many music fans these sort of enthusiastic wannabes seem a bit pointless as they are, always inferior to the real thing, but this lot have just been voted the best tribute act in the UK. For their new show they have combined the more Southern soul sounds of John Belushi and Dan Aykroyd's movie outlaws with crowd pleasing Motown Hits.
This is a totally Caucasian take on the blues and soul back catalogue, led by local lad Chris Hindle playing Jake, and Gareth Davey from down the road in Leeds playing Elwood. Both can hold a tune, crack loads of cheesy jokes and work really, really hard copying the movie's dance moves, but having seen 'Motown: The Musical' recently, the gulf in class was evident.
This show is in desperate need of an experienced director to knock the narrative into shape, as the frequent nods to the iconic movie from the leads and the video links were perfunctory at best. Lord knows why they decided to do a genuinely terrible version of the outdated Stand by Your Man and the Cab Calloway segment was excruciating.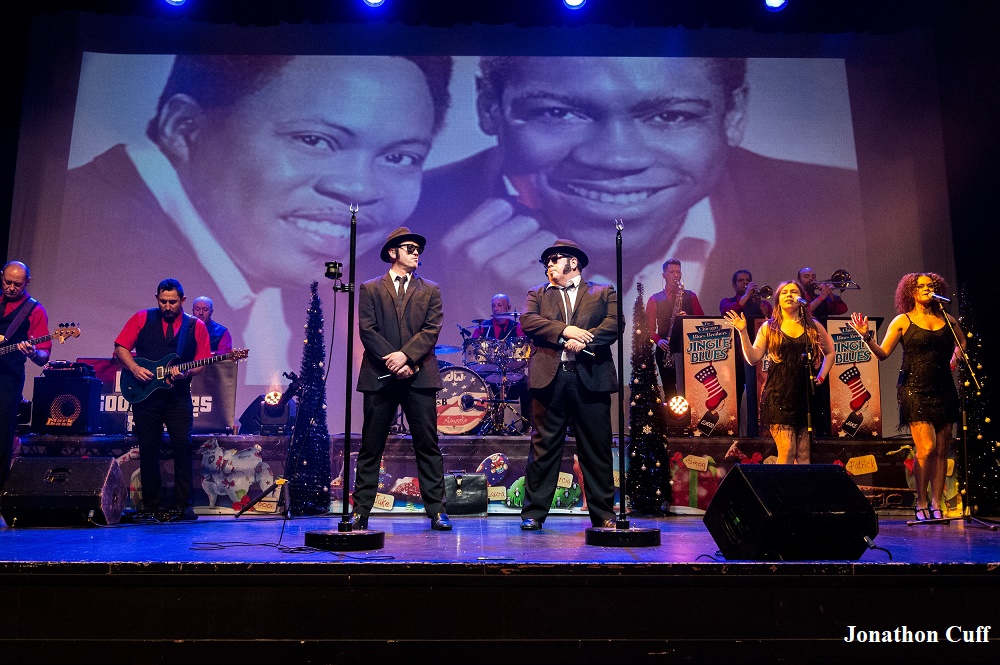 The three female vocalists were decent enough singers, but when they tried to be The Supremes it was very disheartening that they hadn't been able to master the polished dance routines that were hallmark of that ground-breaking trio.
What saves this show is the well drilled band led by a great lead guitarist, a rock solid bassist and a tight three man horn section who were also game for few laughs along the way. Mind you, the drummer's over-fussy work suggested he'd never head of the Funk Brothers.
The audience seemed in a strange mood in the first half not quite knowing what to do, but when the band ditched the film for the hits, with Hine dragging them to their feet after the interval, things really took off. Some decent Jackson Five covers, a punchy Gimme Me Lovin' and a heartfelt Four Tops medley got the crowd shaking their metaphorical tail feathers.
With Belushi long dead, and Ackroyd now chunky enough to play his former sparring partner's part, this is only the chance to see an ersatz version of their own watered down tribute to blues and soul. It says something for the Blues Brothers enduring appeal as a cult movie that a tribute act can fill a magnificent Victorian building like the Alhambra.
Reviewer: Paul Clarke
Reviewed: 16th November 2018
North West End Rating: ★★★