Fans of the 1996 film Brassed Off starring Ewan McGregor and the late Pete Postlethwaite will find much enjoyment seeing the Grimethorpe Colliery Band live in concert. Performing beloved music from the film such as March: Death or Glory by R. B. Hall and Finale from William Tell by Rossini, the band did not disappoint and reminded the audience exactly why we love the film so much; for the music!!
It doesn't take a connoisseur of music to recognise the incredible musical talent within the band. Particular stand out performances from principal cornet player Roger Webster, co-principal cornet player Jamie Smith, principal euphonium player Michael Dodd and solo baritone player Michael Cavanagh highlighted the band's strengths even further, leaving the audience completely blown away.
The programme was cleverly crafted with a mix of both sombre and uplifting music. Solemn songs such as Irish Tune from County Derry (more famously known as Danny Boy) and a beautiful piece called The Spirit Within by Ben Hollings left many in the audience teary eyed; however soon to be uplifted by more upbeat music such as Let's Face the Music and Dance and The Carnival of Venice which put a smile on everyone's face. Helpful anecdotes provided by the band's conductor Brian Grant gave relevant background information to the composer's histories and only helped the audience appreciate the music even more. A sentimental mention of their performance of Danny Boy at Pete Postlethwaite's funeral, and its failure to leave a dry eye in the audience, had a similar consequence in St George's Hall with many people moved by the beautiful sound created by the brass band, made even more poignant when remembering Pete Postlethwaite's life.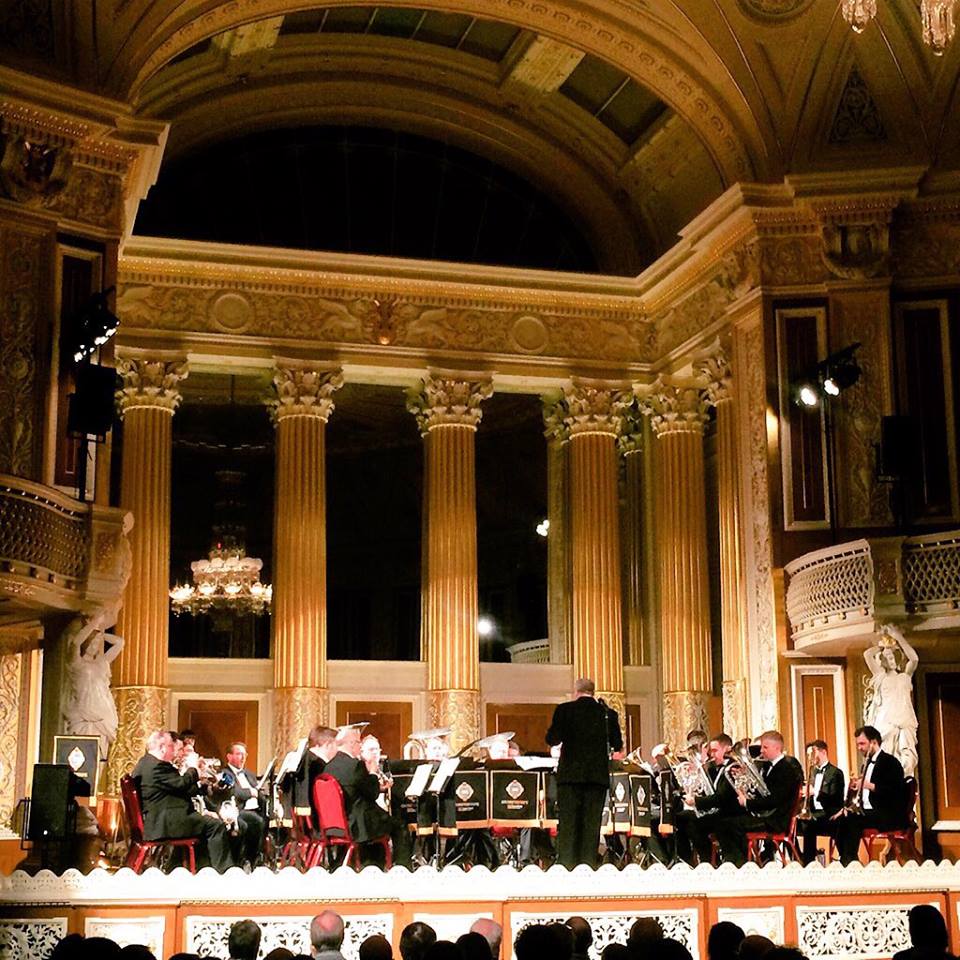 It is certain that a brass band can only be appreciated live. Despite being a fan and very familiar with the music involved in Brassed Off, the amazing sound that these players were able to create and the admirable stamina exhibited did not fail to blow me and many others away. To produce a performance of such high quality is nothing other than admirable!
What pleased me most was to see the players and conductor share smiles and laughs together on stage. There is nothing more pleasing to an audience than to see those providing the entertainment enjoy what they are doing as much as those who are listening. Despite the challenging repertoire, the band remained in high spirits and their energy was infectious. The audience were eagerly nodding along and tapping their foot to their favourite pieces of music.
Witnessing the Grimethorpe Colliery Band live will have you whistling the tunes fondly for hours after and, for those who love the film, have you running to your DVD cupboard to put Brassed Off on and appreciate the music all over again. I would urge anyone lucky enough to have the opportunity to go and see them to definitely do so. A wonderful afternoon or evening spent that will not fail to put a smile on your face.
For more information on upcoming performances, please visit their website www.grimethorpeband.com or visit their Facebook page. It's not one to miss!
Reviewer: Sarah Goldsmith
Reviewed: 10th January 2016