I have to say that with such a title, and with this being at The Palace Theatre, Manchester, I rather expected it to be a play or documentary interspersed with examples of their music, rather than what I was presented with, a pop concert tribute act which played their music in chronological order.
Well actually it was a little more than just that. They did provide snippets of background information to some of the songs of this famous duo. It was minimal, but what they did say was interesting and informative and was amplified and exampled by the addition of a large projection screen behind them which throughout the whole evening was awash with images, newsreel footage and cinematic footage relevant to the song or the era, and showed many photos of them at the different stages of their career in studio or candid pictures. In fact for me, the screen became my point of focus and the most interesting thing, since without it, I would have been sitting through what would effectively have been a folk-rock concert.
I have done my research. I googled and youtubed away to find Simon and Garfunkel, and in particular the songs they performed, and what I found actually astounded me. Yes, they looked like the pair - that was obvious through the images projected on the screen behind - but they also sang and sounded like them too!
Until last night, there were only two Simon and Garfunkel songs which I remembered; or indeed might ever have known. Those being Scarborough Fair, which was given a truly lovely rendition in the first half; and the other, Bridge Over Troubled Water, which they didn't perform! Oh no, wait..... Yes they did... they did that clever thing whereby the concert finishes, they take their bows and walk off stage, and then come back on again to play a planned encore... and finally I got to hear what surely must be the most famous of all their songs, and finally it eased my mind!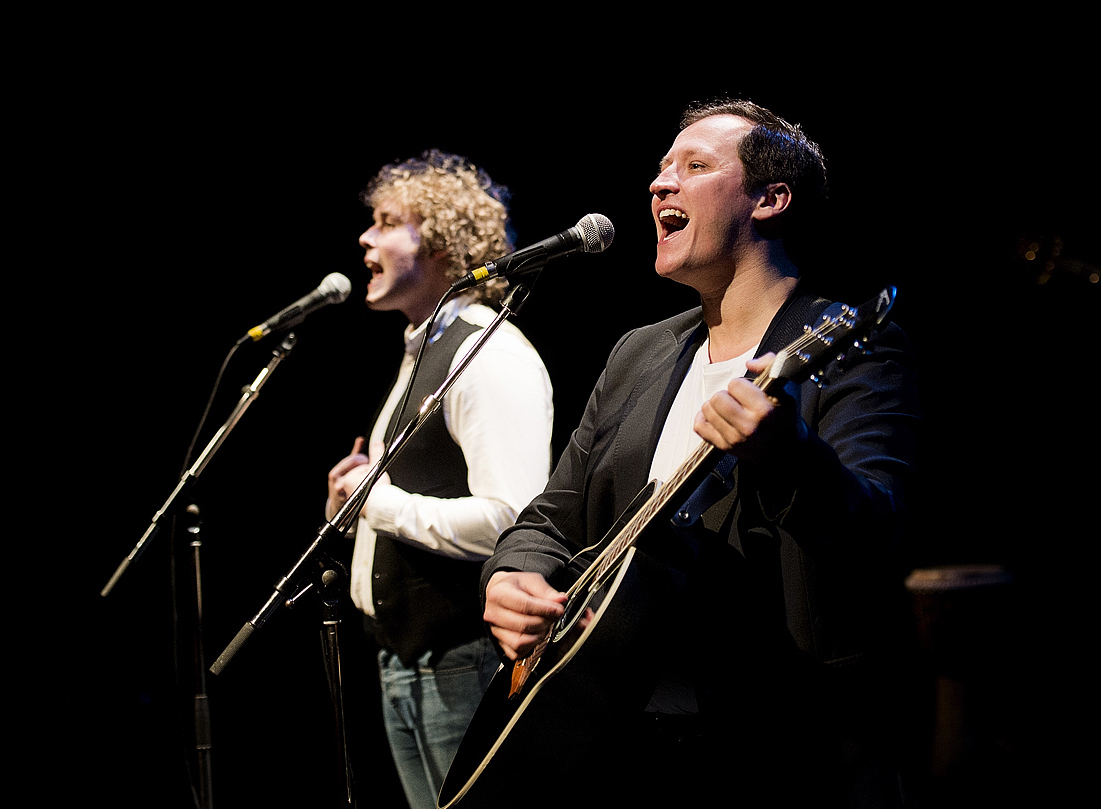 So, The Simon and Garfunkel Story starts you off with their humble beginnings in New York where they attended the same school and first performed together in a school production of 'Alice In Wonderland', and then formed a band together as Tom And Jerry at the tender age of 16 before reinventing themselves on the folk-rock scene under their real names, and becoming international sensations with their album Bridge Over Troubled Water being three years consecutively the biggest selling album not only of that year, but of all time! Sadly for the fans, it was also the reason for their split and going their separate ways. The fame and the workload taking its toll on their personal friendships and private lives. Both wanting to move in slightly different directions with their careers, they became solo artists in their own right.
For fans, then you really couldn't get a better tribute act! They crammed untold songs into the evening, each receiving huge applause from the near capacity audience last night. And for the less initiated like myself, then it is a superb way of getting to know the music and a little about the two men behind the music of one of history's more successful musical partnerships and certainly the most famous folk-rock duo to date.
Dean Elliott plays Paul Simon, and Joe Sterling, Art Garfunkel; and with seeming ease these two performers work so well together, bringing both the men and their music to life in a most unassuming and pleasing way. If you know their music, you'll love it, and if you don't, you cannot fail to be enthralled by this wonderful introduction to them. Once I got over my initial disappointment of not seeing a more theatrical presentation, I watched, listened and learned - and enjoyed!
Congratulations!
Reviewer: Mark Dee
Reviewed: 13th January 2016