Kate Bush was 19 when she strutted her way onto the music scene with her debut single, Wuthering Heights in 1978. Once seen, heard and experienced she was never to be forgotten. Her first mesmerising performance on Top of the Pops left people open-mouthed, taken-aback by her vocal style and her presentation. Not surprisingly it made it all the way to the wuthering heights of number one – for four weeks.
Kate Bush is not known for touring. In fact she's known for NOT touring. She did the Tour of Life in 1979, then after a 35 year hiatus she shocked the world with the 22 date residency at the Hammersmith Apollo known as Before the Dawn. The chances are most of us are never going to see Kate Bush. And we're certainly never going to see her perform her old songs as they were.
Enter Cloudbusting: a Kate Bush tribute act fronted by the instantly likeable Mandy Watson, backed by a very able four piece band. Their tour is celebrating four decades of Kate Bush's timeless music, with the playing of her first album in its entirety. To witness this band playing this music in the Edwardian splendour of the Buxton Opera House is like a Valentine's Day gift.
The show opens with Running Up That Hill, which brought Kate to a whole new audience. It's a popular choice and well performed. Love and Anger follows; it's a great song but not really an essential Bush track, however, Mandy nailed the vocals and perfectly captured Kate's brooding yet childlike tone.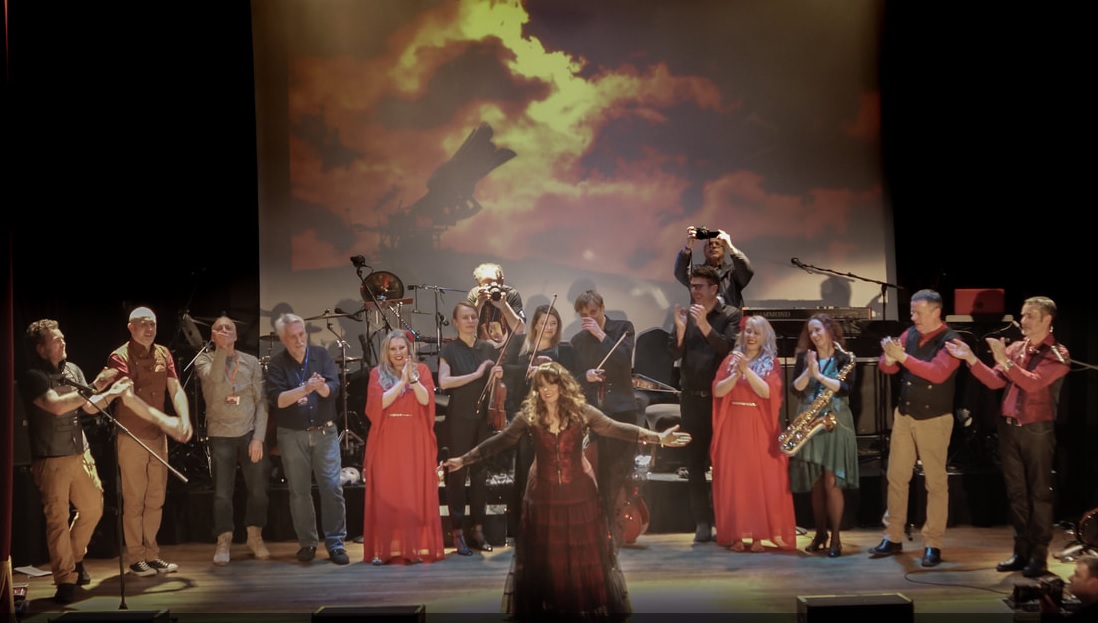 It was Army Dreamers though that sold them to me. The music was perfect and the vocals were Kate Bush; it was as though they'd just put the vinyl on an unseen turntable. It was accompanied by images of soldiers in the background, which made it all very poignant. This was followed by Breathing – from the same period – a nice song about nuclear annihilation. Although it's a powerful song and a powerful performance I didn't feel it quite captured Kate Bush in the same way. Also, the accompanying images were in the style of the Raymond Briggs graphic novel When The Wind Blows, complete with holocaust animation, which made it into quite a devastating experience. When the last note of the music faded there was a long, stunned silence. Then one person clapped and everyone joined in. Thankfully the tone was lightened with Hammer Horror, a tale about perceived stalking and revenge within the theatre. Again, Mandy did a very convincing and effective vocal.
Then we move onto The Kick Inside section of the show. Mandy appears wearing a kaftan-type floaty dress, very much of the time. Four album tracks follow in order, all very faithful renditions, from the lyrical Moving to the jaunty Kite. Her voice is very suited to these earlier songs, with their unusually high vocal range that made the fledgling Kate Bush so distinctive and instantly memorable.
The Man With The Child In His Eyes creates a stir of excitement. Kate's second single was written when she was 13 and recorded when she was 16. It has an innocent beauty, despite being about a thirteen year old girl's imaginary "friend with benefits". Then, rounding off side one of the album and part one of the show, Wuthering Heights. The lyrics are extraordinary, based on the film of the title and not the book. The music is haunting. Mandy's vocals are authentically brilliant. It was a highlight of the evening and of a 40 year career.
Part two and side two open with James and the Cold Gun, which EMI wanted to release as Kate's first single. If it had been, we wouldn't be talking about her now. A cowboy tale based on a film, as were many of her early lyrics. It is a very faithful portrayal. The other album tracks are quite stunningly performed, giving Mandy's super-high vocal range a good workout. We come to Them Heavy People, which would later be released as the lead track from a live ep. It was written about the period between the ages of 16 and 18, when Kate had been given a contract by EMI but was paid to wait for two years so she would be better able to handle the inevitable musical success. This kind of wise investment just wouldn't happen now. She used the time to read, perform in pubs and learn dance and mime from the renowned Lindsey Kemp. It is a lively and fun performance.
The album draws towards its end with Room for the Life, about the joy of getting pregnant – a celebration of womanhood, and closes with the title track, The Kick Inside, a simple story – sister meets brother, sister gets pregnant, sister has to leave brother to avoid shame. It is quite beautifully performed with piano and cello, haunting and mesmerising.
The album shows a startling maturity both musically and lyrically – and definitely in the subject matter of many of the lyrics. The music and vocals by Cloudbusting have been outstanding. The boys all contribute to the highly complex and challenging backing vocals, which are really well done. They are a very talented group of performers.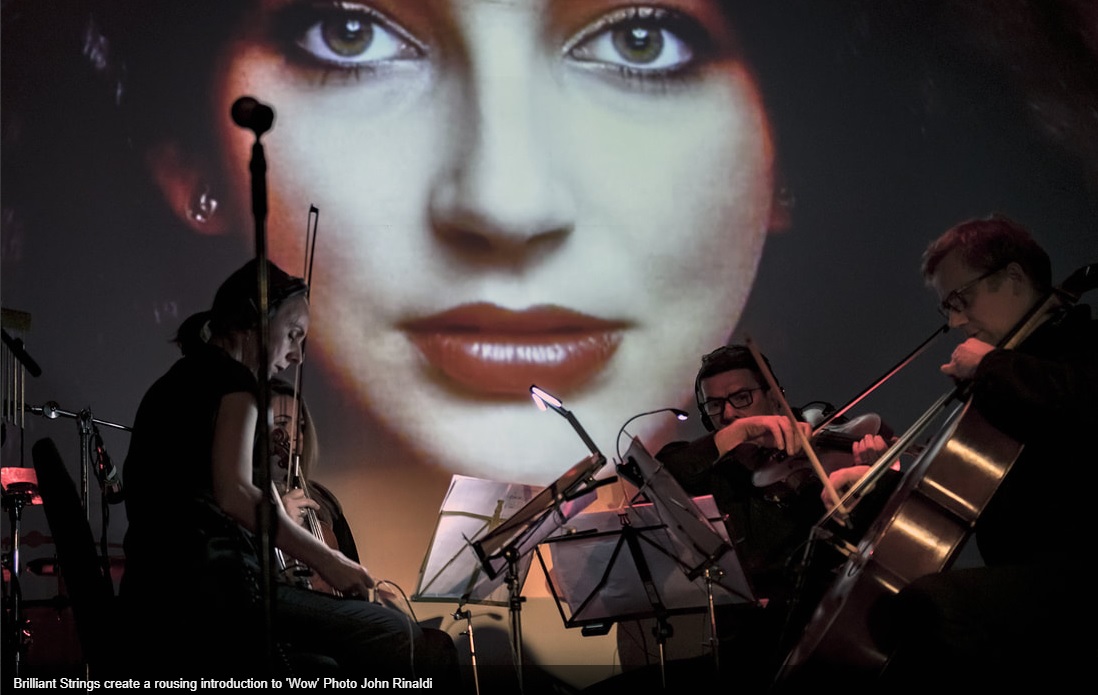 To round off the evening, there are still a handful of songs spanning 40 years. With over 30 singles we're to going to get the whole story, just a taste. Babooshka seemed very Kate Bush. There is the surprise addition of non-single Aerial which was amazing. Then after rapturous applause a beautiful piano and cello introduction to Wuthering Heights, which showcases the extraordinary talents of the band; this is just a brief teaser which segues seamlessly into Moments of Pleasure. Mandy gives a stunning performance – possibly her finest of the night. It is a moving song about friends who have died and includes the line: "I can hear my mother saying 'every old sock meets an old shoe.'" Mrs Bush had found it so amusing when she first heard the song, but she died on Valentine's Day (today) in 1992, before it was released as a single. Mandy delivers that line with a wavering voice, clearly caught up in the emotion. At the end of the track she pauses to wipe tears away.
As their final encore, Cloudbusting perform Cloudbusting. It brings the house down and they get an extended and much-deserved standing ovation.
The show and the performance is first rate. Personally, I would like to see more of the physical performance of Kate Bush incorporated. She has always presented her songs in such an individual, interpretive and theatrical style – and though there were definite acknowledgements of this, I would like to see more. But that's just my personal opinion and I'm sure Cloudbusting want to keep it about the musical body of this woman's work and the strength of the songs, rather than the visuals. I understand you don't want to risk tripping over into a parodying cabaret act. This isn't a cabaret performance; this is a world class act which is actually out of this sensual world. https://www.cloudbustingkatebushtribute.com
Reviewer: Gray Freeman
Reviewed: 14th February 2019
North West End Rating: ★★★★