One of England's most influential and famous folk rock and electric folk bands. In fact it could be stated that it was Fairport Convention that 'invented' the English Folk Rock sound - and that was in 1967! And although the members of the band have swapped and changed around a little since then, their music is still as alive and as popular today.
However, before we were allowed to hear them play last night at Salford's Lowry Theatre, we were treated first to a support musician, who himself has won quite a few accolades. From 'humble' beginnings playing with Brighouse And Rastrick Brass Band, this unashamed Yorkshireman now plays and sings self-composed folk music on guitar and occasionally the harmonica. His name, Roger Davies.
Davies played a few songs for us, one of which is actually quite well-known - well it has to be well known if I had previously heard of it! And was an unabashed tribute to that beautiful place where all your dreams can come true - Huddersfield Town.
Davies proved to have a very pleasant voice and personable manner, even slipping in a couple of jokes between songs. He then introduced Fairport Convention and they took to the stage together. Davies saying that as a young lad at school he had a meeting with a 'careers advisor' [showing my age - but that is something that I too had to contend with whilst still wearing shorts to school!] and he told her that he wanted to be the lead singer in a folk rock group. And so, Fairport made his wish come true, and their opening song 'James Dean' we heard Fairport Convention with Roger Davies on lead vocals and guitar!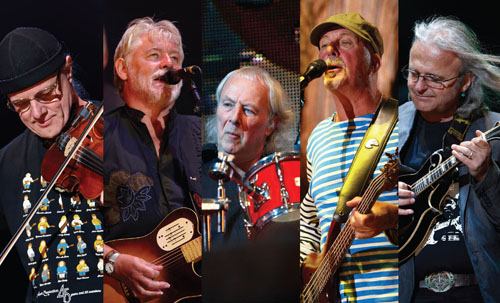 Fairport Convention are currently, Simon Nicol ( guitar and lead vocal); Dave Pegg ( bass guitar and backing vocal ); Rick Sanders (violin); Chris Leslie ( mandolin and lead vocal ); Gerry Conway (drums). They are beginning to look a little old but they certainly haven't lost any of their zeal and enthusiasm for their chosen music genre, and their playing and performing is just as professional and as entertaining as ever. Their vigorous, confident style and their joy of performing oozing from the stage and infecting us all.
As the evening progressed the four frontmen took turns to introduce songs and tell a wee anecdote or two. Once again, their manner was most personable and friendly, and made the audience feel welcome and a part of their concert rather than being apart from their concert! Their concert featured music from all of their recording decades, but with the emphasis on their new and more recent material from the album Myths And Heroes. I had never heard Fairport Convention before, nor had I ever attended a folk rock group concert before, and so it was a rather interesting journey of discovery for me. No, you have not converted me to your music sadly, but I did rather like some of your pieces, and you have made me respect your style and genre much more. I left with a deeper understanding of your music and respect for you and your style. So I thank you for that most sincerely.
Actually there was one piece they played last night which secretly I really enjoyed very much (but, shush - don't tell anyone!), and that was in the first half of their concert and was a vibrant instrumental piece entitled The Gallivant.
Their visit to Salford last night was part of a long UK tour which I believe is coming to and end soon; so if you are a fan of folk rock music, you really cannot get much better than this, so go to www.fairportconvention.com for full details of when and where. You may, like me, be a folk rock virgin, and you might also, like me, find the evening actually really quite entertaining in the company of some intelligent and interesting members of one of England's leading electric folk and folk rock groups.
Reviewer: Mark Dee
Reviewed: 28th February 2016