You could sense the excitement in the Theatre Royal before the show had even begun. From arriving there was a great atmosphere in the foyer with sequinned hats, gloves and flashing lights amongst the merchandise for sale. People wearing Michael Jackson T-Shirts, it all added to the anticipation of what was about to take place on stage.
Now if you are a true fan of Michael Jackson then you are in for a concert like no other tribute. Navi, The King of Pop has gone to extraordinary lengths to be the best impersonator there is of Jackson, even having plastic surgery to look like him. (Although not of Jackson's later surgery) Originally from Trinidad and Tobago he has worked for companies such as Sony Music, MTV and Coca Cola in adverts and used as a decoy for Jackson several times. He is the only impersonator you could say is endorsed by Jackson as he was asked to perform for his 40th birthday and was humbled to receive a standing ovation from the man himself! He was also lucky enough to receive a personal invite to Neverland.
Bursting onto stage with bright lights and pyrotechnics Navi with his band and dancers kicked off with Jackson's 1988 hit 'Smooth Criminal' and then straight into 'The way you Make Me Feel' both taken from The Bad Album.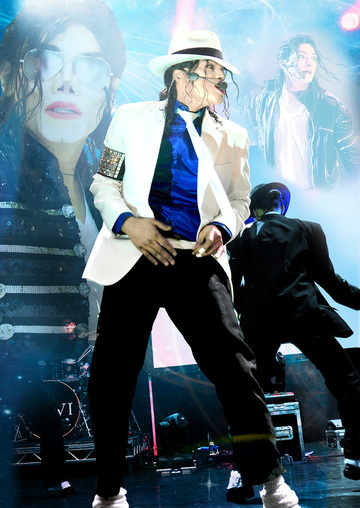 Setting the pace, many of the audience were on their feet from the beginning, the applause and cheering given normally to the last song of the evening happened on every song tonight… and deservedly. Navi is a true professional, his voice and his moves show the passion he has to be the best there is, no other tribute I have seen of Jackson comes close, I have seen Jackson live at Aintree in 1988 on his 'Bad' World Tour, this man is the next best thing to Jackson.
The band and dancers supporting Navi both gave excellent performances, everything just as it should have been, perfection as Jackson himself would have insisted upon. With fantastic sound and lighting it all added to a great show.
There was a backdrop of newsreel clips of Jackson but from our seats in the 'gods' only the lower half could be seen. Navi left the stage on a couple of occasions which was frustrating to those of us not in the stalls as we could not see what was going on.
After the interval there was a medley of Jackson5 hits including 'ABC' and 'I want you Back' then into a performance of 'Billie Jean' and then slowing down into the iconic 'You are Not Alone' which had everyone on their feet and swaying along.
The whole evening went too fast but left you feeling you had just been to a concert of a top star. Considering Navi has appeared in over 300 international shows and 59 countries also selling out at stadiums and arenas and performed for over 25,000 at the F1 in Bahrain it's good to know he is happy to perform at smaller events such as these. After tonight's show he posed happily for photographs and signing autographs and chatting to his fans who ranged in age from 9 to 90! Good to see he appreciated the fans.
There may have been only one Michael Jackson……..there is only one Navi.
Touring the UK at the moment I would fully recommend booking to see The King Of Pop.
For tickets and information http://www.kingofpoptour.com/
Reviewed on: 5th March 2016
Reviewer: Lorna Weekes