Fleetwood Mac's career spanned 3 decades and left a legacy of blues, rock and dream pop without equal.
However, Rumours of Fleetwood Mac, the internationally recognised leading tribute to their namesake, have become so successful they've gained the seal of approval from Mick Fleetwood himself; as he announced on a short video introducing the band.
Last night's concert celebrated 2 hours' worth of Fleetwood Mac classics in outstanding note for note detail, from nearly their entire record catalogue. So many favourites were played: Gold Dust Woman, The Chain, Tusk to name but three, from the hub of the 60s London blues scene to the overwhelming commercial success of the 70s and 80s.
It must be a curious thing to emulate one of your musical hero's as a profession, and on top of that to have to come up with a set list from such a massive amount of material, to make sure everyone hears at least one favourite. For all the outstanding talent in the line-up, I left the show feeling that although I enjoyed it immensely, it could have been slightly better organised. I can only put this down to the sheer volume of material to work with. Over the course of the concert, I learned that these dedicated players have led a double life in their tribute, and truly relish in all there is to do and learn from their idols. They change their set with every tour and make last minute alterations on nearly every show, so I'm confident that were they to return to Salford, none would be disappointed.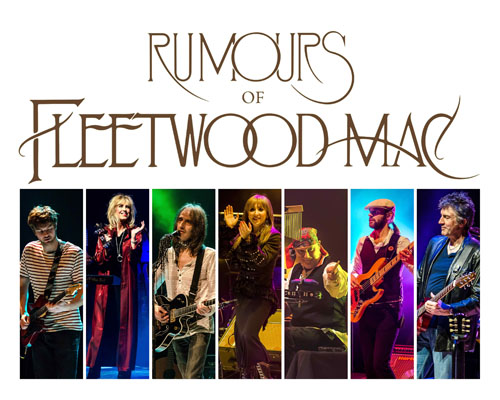 Opening with Gypsy, the atmosphere was mellow and relaxed. First impressions were of the amazing likeness in lead vocalist Louise Rogan's voice to that of the first Mac gypsy Stevie Nicks. A veteran in this band since 1998 and dressed last night in head to toe black velvet with swooping chiffon sleeves that swayed with her esoteric dancing, she is in every way the part. Her powerful voice is able to capture the spirit of the music and even jerk a tear or two during 'Landslide', which came with a dedication from the audience.
Dave Goldberg, who performs as Peter Green, was an enigmatic figure behind 3 keyboards, draped in shadow until the second half, when suddenly he unleashed a staggering voice, hugely emphatic and more than just a compliment to his electrifying guitar skills. He took centre stage for my favourite blues version of Black Magic Woman, Man of the World and some audience ad lib. Up till then the crowd had been firmly seated in the plush purple seats of the Lowry's Lyric Theatre, which is all very nice, but frustrating when you are one of those who like to get up and really enjoy the moment. Thank god he and Alan Hughes, Lindsey Buckingham's doppelganger, got everyone up and dancing for the last run of hits and geared up the atmosphere several notches.
Amanda Kostadinov, performing as Christine Mc Vie on keyboards, accordion and lead vocals for Silver Springs amongst others, has been with Rumours from the start, contributing her booming voice to the mystical mix. No one could ever replace Mick Fleetwood, but Alan Cosgrove and his drum kit certainly strike a likeness; through the dry ice fog at the back of the stage, 'COS' was the resounding force and rhythm behind every song, accompanied by his screams of support and comical speech just as the audience was leaving: "I've been trying to get a word in all night!"
Ben Hughes, singing and playing guitars in the role of Danny Kirwin was notably the band member most likely not to have been around in 1969, but despite his youth has accumulated quite the list of credits. It's easy to see why he's earned himself the name 'crazy fingers', contending with bassist James Harrison, reverberating as John McVie.
A conversation on stage went:
Goldberg: Who was here in 1969?
Whoops from audience
Ben Hughes: Who was not here in 1969?
More whoops from audience
Goldberg: You don't know what you missed!
Alan Hughes: They do know what they missed! That's why they're here!
Indeed, a nostalgic performance of illustrious Fleetwood Mac music, featuring sounds of their various members all on the same stage, to form a kind of 'super edition'; a show to immerse yourself in.
Reviewer: Natalie Romero
Reviewed: 6th March 2016