Performing to an almost full house at the Beautiful Grand Theatre Blackpool the stars of tonight's' show recalled performing there during the 60's and I have no doubt that many of the audience tonight were there then. The auditorium was buzzing before the show even started and the minute the music began with 'Hi Ho Silver Lining' the place erupted with a mass of arm waving and singing along, leaving no doubt this crowd were here to party, no matter that they were mostly of the older generation! (You could tell as they chatted before the performance rather than fiddle around on Phones!)
Kicking of the show were The New Amen Corner who also performed during the evening as backing group for the other artistes. Sporting matching grey jackets, black shirts and trousers we were transported back to 1968 with 'Bend Me Shape Me' followed by '123' and then a Beach Boys hit 'Darlin' which was sung by keyboards player Jules Benjamin. The other members are Glen Leon vocals/Guitar, Dave Howson Bass/vocals, Jack Howson drums, and Frogman Curtis Sax/Percussion. From our seats in the upper circle it was not possible to see if all performed tonight as our view of the entire stage was slightly restricted.
Following on was teenage pop idol Dave Berry now having a career spanning 55 years. Slipping onto the stage singing 'Memphis Tennessee 'he captured the style and movements he performed all those years ago. Dressed in his usual attire of all black he used the hand movements he used to do across his face, as in his own words from his autobiography, back in the 60's he attempted to "not appear, to stay behind something and not come out" In those days he hid behind an upturned collar or other stage props too. The autobiography was on sale in the foyer and Berry was signing them after the show. Next song was 'This Strange Effect' followed by 'A Heart Full of Soul' a song which went to number 2 in the charts for The Yardbirds in 1965 and was written by Graham Gouldman, who later became a member of the group 10cc. He went on to give fabulous portrayals of several other 60's hits many of other artistes, before the classic 'The Crying Game' which reached number 5 in the Uk charts in 1964. He returned to the stage for an encore with a Bee Gee's hit 'First of May' with the poignant lyrics' Don't Ask Me Why, But Time Has Passed Us By.'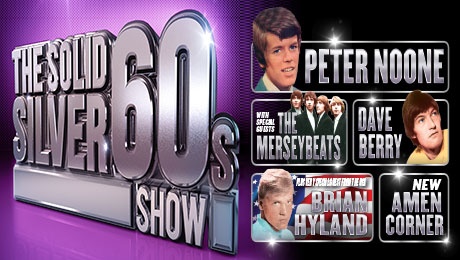 Next onto the stage were the popular Merseybeats who started off as a duo with Tony Crane and Billy Kinsley and were originally called the Mavericks. The Merseybeats line-up now includes Bob Packham bass guitar and backing vocals, Lou Rosenthal on percussion and Adrian Crane son of Tony on drums. Again, as was the style of the 60's they were all dressed alike in blue shirts, black trousers and tan shoes. Their songs this evening included many hits including 'The Price of Love' 'Don't Turn Around' and getting the audience involved with 'Runaway'. Hit after hit was belted out and I was happy to hear one of my favourites of the Everly Brothers 'Let It Be Me' which they gave full justice to. Ending with 'Hi Ho Silver Lining' and taking us to the interval it was quite spectacular to see all the audience in the stalls circle and upper circles all singing and waving along. There will be some hoarse voices in the morning!
The New Amen Corner returned to the stage and although not wishing to sound like a review on fashion they looked great all dressed in striped jackets of various colours and recreating the era's look. I loved hearing 'If Paradise is Half as Nice' which was a UK chart hit twice for them in 1969 and again when reissued in 1976 reaching number 1 and 34 respectively. They have given excellent performances all evening. Ending with the Hollies 'He Ain't Heavy' they remained on stage as support musicians to our next performer and from America, Brian Hyland.
Launching into 'My Baby She Wrote Me A Letter' the now silver haired heart throb has still got tremendous stage presence and with the help of two 'dubious models' in bikinis performed his first hit single which he achieved at the age of 16, 'Itsy Bitsy Teeny Weenie Yellow Polka Dot Bikini' Go on, admit it, you can't get this song out of your head now! There followed song after song of classic records evoking happy or sad memories for many and the party atmosphere continued. Slowing it down with 'Sealed With A Kiss' a big hit in both the US and the UK. Hyland has had a an unusual career musically recording a variety of songs from novelty, pop, ballads, rock, folk and soul and been successful with them all showing his extreme talent. Many of his songs tonight produced some excellent sounds from the band on guitars drums and enhanced with the keyboards.
Finally the last act of the evening Peter Noone formerly 'Herman' of Hermans Hermits fame. Sounding just like the original he took to the stage singing 'I'm Into Something Good' followed with 'Wonderful World'. It's always amazing at shows like this how many of the songs you had forgotten about surface, well that might depend upon age, as my 20 year old daughter only knew a few and some of them were just because they have been used in TV adverts! Nevertheless she enjoyed the evening which spanned a full 3 hours. Noone barely paused for breath between singing so many of the hits of the 60's that just had to be sung along to such as, 'Sleepy Joe' 'Mrs Brown You've Got A Lovely Daughter' and 'My Sentimental Friend' and finally ending with 'A Kind of Hush' which certainly wasn't the case in the theatre tonight!
With all stars returning to the stage at the end of the evening they performed the Beatles 'I Saw Her Standing There'.
What a fabulous evening's entertainment which was littered with jokes relating to age, stairlifts and memory loss, and although some of the stars may sport less hair, silver hair and a little added weight these guys tonight prove one thing…Older Guys can still Rock!
If you love the sound of the 60's get along to a show you won't be disappointed. https://www.ents24.com/uk/tour-dates/the-solid-silver-60s-show
Reviewed: 8th May 2016
Reviewer: Lorna Weekes