A Wind Orchestra, or as it was when I was at school, a Wind Band (I guess the word 'orchestra' gives the ensemble more veritas) is a large woodwind section, a selection of brass instruments, percussion and a double bass; and this particular wind orchestra is made up of students at the Royal Northern College Of Music, and last night they performed an entire concert of the works of the American composer Robert Russell Bennett. [Not to be confused with the English composer, Richard Rodney Bennett!].
Robert Russell Bennett (1894 - 1981) is perhaps best remembered as an arranger and orchestrator of many well-known Broadway and Hollywood Musicals, but he was also quite a prolific composer in his own right too. The one overriding thing striking me last night was that all his compositions strike a very delicate balance between the concert hall and the dance hall. His works present a dichotomy between the 'classical' and what is usually ascribed as 'easy listening', (marches, folk, jazz, country etc) and it is this heady mix of classical training and popular influences that makes his music so alive and obviously lending itself so absolutely to the stage or screen. I heard Wagner mixed with Colonel Bogey and Frere Jaqcues with a little Mahler! (Or at least that's how it sounded!) I am unfamiliar with Bennett's compositions but last night's concert made me a huge and instant fan! I loved his jocular and playful style, his melodic and harmonic structures, but most of all I loved the endings of all his pieces!! Every one a surprise; either clever and witty, unexpectedly quiet and plaintive, or just downright bold and brash!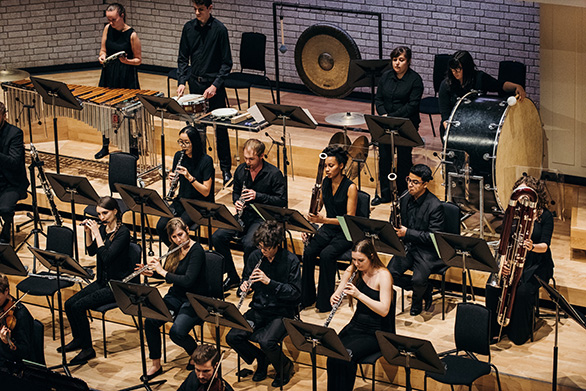 Looking at the programme and seeing that there were 24 individual pieces of music to be played I sat down expecting to be being served breakfast for the finale! However, each movement from each suite lasted only a few minutes, and once again, I harp back to the Musicals idea, when a song or dance routine on stage would last a similar length. The pieces on offer last night were; Autobiography I and II, Down To The Sea In Ships, Suite Of Old American Dances, Four Preludes, and Symphonic Songs For Band. It was a well thought out concert and a perfect introduction to his music for the uninitiated like myself. I also felt quite privileged since I was hearing this concert prior to it being recorded this weekend on the Chandos label; so if anyone out there would like to get to know Mr. Bennett, then this superb concert will be available on CD shortly!
The other thing that was so easy to forget last night was that this orchestra was made up of students! Their professionalism, both as musicians and in the way they conducted themselves (no pun intended there!) was gratifying. I felt sorry though for the poor xylophonist who was doing a lot of running between instruments with trailing sheet music... he certainly had his work cut out!
For this concert there were 4 conductors, Clark Rundell, Mark Heron, Sam Hairsine and Matt Weites. Each had their own particular style, ranging from the flamboyant and energetic arm waving Mr. Rundell; the rigid and minimalist military precision of Messrs Hairsine and Weites; to the absolute solidity of Mr. Heron who placed his trust completely with the orchestra, refusing to conduct them at times, just standing there and then enthusiastically bringing them in at the more crucial moments. I wonder, do these styles reflect in the way the orchestra plays the pieces? I assume they must but not being familiar with the music it is impossible for me to tell.
What a lovely concert, and a great introduction to both Mr. Robert Russell Bennett and the RNCM Wind Orchestra; I look forward to coming along again to hear more from these talented musicians.
Reviewer: Mark Dee
Reviewed: 15th January 2016