Part of the New Music North West Festival at RNCM.
There were three parts to this concert devoted to original compositions; all inspired by and a response to pop music from Manchester.
In the first part of the concert, we heard 'Ia Kamuh Ai Cayunah' by Laurie Tompkins. It is a piece for solo flute and electronic sounds, and the flute was played by Kathryn Williams.
I did not 'get' this piece at all. To say that it left me completely cold would be an understatement, however I have always said that as an 'artist' myself, I should always be open to anything and everything. That way, and only that way can you broaden your own horizons and become more au fait with what is happening around you.
So, in order for me to tell you something about the piece I must quote from the programme. "In The Fall's Bury parts 2 and 4, Mark E. Smith splutters 'composition on a fluted instrument, I can't I can't'. At least I though he did. It turns out it's really, 'I can, I can'. Ia Kamuh Ai Canyah is an accurate spelling of Smith's garbled delivery of the line, but the piece is a mashed-up version of The Fall's muscle".
The flautist needs to be a little bit more though than just a flautist since the piece requires her to hum and sing a single note whilst playing, to blow air through the mouthpiece making a rap rhythm, and to sing and dance her way off stage at the end.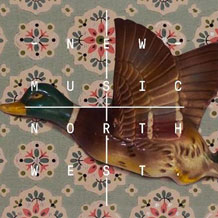 Part 2 was, thankfully much more acceptable, as the trio of Anna McLuckie (singer), James Davis (piano / keyboard) and Sean Rogan (guitar) took to the stage. They played their own arrangements of Take That's 'Patience', The Buzzcocks' 'Ever Fallen In Love' and Oasis' 'Half The World Away', finishing with a cover of Nina Simone's 'Please Read Me' by The Beegees. These all had a very retro feel to them. Their electronic treatments of the music being something that experimentalists were doing in the early days of electronic music. There was nothing new here, and the woofers and weefers just got in the way of listening to the rather lovely voice of Ms. McLuckie.
Part 3, and we were now treated to not just one but two World Premier performances. The North Winds Quartet played first 'Please Don't Feed The Fish' an RNCM commission by Carmel Smickersgill, and the concert finished with another RNCM commissioned work, 'Soul Spectrum' by Charlotte Marlow.
Marlow's work explored the Salford band Joy Division's 'Dead Souls', whilst Smickersgill's piece was written in response to The Chemical Brothers' track, 'The Salmon Dance'. And this was actually my favourite piece of the concert. I think basically because it proved to be the most melodic!
I can understand and appreciate New Music (as it is now being called, to distinguish it I guess from Progressive, Experimental, Modern and other nomenclatures), but it doesn't mean to say that I like it! Give me late Romantic and early Twentieth Century music any day!!
All the performers and indeed all the composers, who were all in attendance, were all students at the RNCM. It was genuinely fantastic to appreciate that the college will commission and perform new works from its own students.
The concert was part of the RNCM's New Music North West Festival which runs until the 29th January. For details of other concerts and events in the festival please see www.rncm.ac.uk/nmnw
Reviewer: Mark Dee
Reviewed: 23rd January 2016