In the rather incongruous setting of Manchester Cathedral; good for the acoustic but little else - pillars obstructed the view for the audience and sight lines for conductor and musicians, with a backdrop of tarpaulined scaffolding covering the central screen and supports where they are building a new organ - all 121 members of Chetham's Symphony Orchestra gathered to play music by Rossini, Respighi and Shostakovich.
All members of the orchestra are also students at Chetham's School and I was not only amazed by how young some of them actually were, but also by how incredibly talented and unified they were as a group.
It was a rather odd programme. An Italian sandwich if you like. The central piece of Shostakovich's First Violin Concerto seeming somewhat out of place between two Italian greats. However, first to the Rossini....
The Overture to his opera, La Gazza Ladra (The Thieving Magpie) is a very well known and loved piece of music, and played far more often than the whole opera ever is. He was a rather odd and charismatic man who wrote 39 operas, and, although he lived until 1868, he 'retired' from composition in 1829 refusing to write any more music! Chetham's Symphony Orchestra played it superbly. The changes in dynamic from piano to forte and the tiny little pauses between the transitions were excellently observed. A most wonderful start to the evening.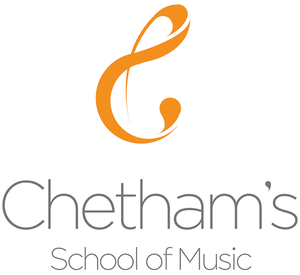 We were then treated to music of a totally different kind. Dmitri Shostakovich (1906 - 1975) was a Russian composer, dissatisfied and at odds with what Russia had become. He was a proud man, but was often very depressed, and all of this plus more infused his composing. In his own life-time he went from being hailed as one of Russia's great composers to being hounded, black-listed and denounced as being anti-Russian. No wonder there is so much turmoil and emotion in his writing. The first violin concerto is no exception. It starts slowly, a sad melody wending its way to an even sadder ending. Not the traditional bright start normally associated with a concerto, but a very atmospheric and powerful start nonetheless. The second movement starts quickly, it is a scherzo, a joke, but an ironic one, which soon turns sour as we enter the third movement, an andante section, and now the soloist really has her work cut out. Shostakovich put untold demands on the violin and the cadenza at the end of the movement for the solo violin is both technically and emotionally straining for even the best. A powerful and strident theme from the orchestra starts the final movement, allowing the soloist a little respite. The concerto finishes with a long and slow climb from pianissimo to fortissimo becoming more violent and frenetic as the piece reaches it's final climax.
The violinist was Coco Inman, a seventeen year old Japanese musician, currently studying at Chetham's, and despite her tender years, is someone we need to keep an eye out as being a future virtuoso. With already a string of international credits to her name, she proved last night to be a technically perfect performer. There was a little lack of passion, but that will come with age and experience, and the playing was nevertheless utterly superb!
After the interval [no refreshments and only one toilet] we came back to Italy once again, and to the music of Ottorino Respighi. The orchestra played two of the three suites collectively known as the Roman Triptych. First we heard The Fountains Of Rome, followed by The Pines Of Rome. And what better way to end a brilliant concert than to listen to the Roman army returning home from battle, marching victorious down the Appian Way, being greeted by a drunken beggar, the gates of the city open to a bugle call and all hailed and saluted as heroes. Once again the observation of dynamic and the ability to play so quietly at first to lead up to such a rousing and fff finish was astounding.
The orchestra richly deserved their seemingly unending applause, and all the pieces were conducted by Chetham's Director Of Music, the very experienced and talented Stephen Threlfall. What an incredible sound they made together. I really am unable to put into words how wonderful it was to be watching so many young talented musicians come together and create such sublime and uplifting sounds worthy of any or all of the great orchestras of the world. All I can say is that I hope to be able to watch you perform again very soon and bravi, bravi, bravissimi tutti!!
Reviewer: Mark Dee
Reviewed: 19th February 2016